Sonia Sotomayor's Dissent On A Death Penalty Case Is A Powerful Wakeup Call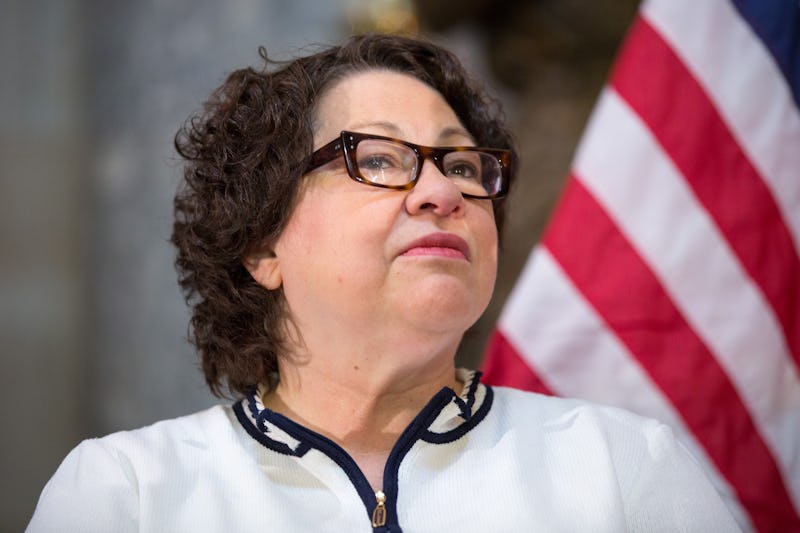 Allison Shelley/Getty Images News/Getty Images
In a partially conservative Supreme Court, decisions sometimes tend to sway in favor of the death penalty — even if that means allowing lethal injections that could result in painful, extended deaths. While the majority of the court moved to let a potentially torturous death proceed Thursday, Judge Sonia Sotomayor's dissent on the death penalty case serves to turn heads and hearts around the nation.
Billy Ray Irick, who has spent decades on death row for the 1985 rape and murder of a 7-year-old girl, was seeking a stay in his sentence to combat the method of execution. Tennessee, where he's held, is one of the states that uses a drug cocktail to carry out executions, but history shows the painkilling chemical is often ineffective.
"If the law permits this execution to go forward in spite of the horrific final minutes that Irick may well experience, then we have stopped being a civilized nation and accepted barbarism," wrote Sotomayor.
According to Sotomayor's dissent, Irick would "experience sensations of drowning, suffocating, and being burned alive from the inside out" as a result of this drug mixture. "The entire process will last at least 10 minutes, and perhaps as many as 18, before the third drug (potassium chloride) finally induces fatal cardiac arrest," she continued.
This experience has been described as "the chemical equivalent of being burned at the stake," according to the dissent, yet the court feels it does not violate the Eighth Amendment prohibiting cruel and unusual punishment.
"In refusing to grant Irick a stay, the Court today turns a blind eye to a proven likelihood that the State of Tennessee is on the verge of inflicting several minutes of torturous pain on an inmate in its custody, while shrouding his suffering behind a veneer of paralysis," wrote Sotomayor. "I cannot in good conscience join in this 'rush to execute' without first seeking every assurance that our precedent permits such a result."
In the Tennessee Supreme Court earlier this year, Irick and 32 other inmates attempted to challenge the constitutionality of the state's drug cocktail, but were unsuccessful, reports the Tennessean. The judge heard expert witnesses state the painkiller may not work as intended, but questioned whether the resulting pain would amount to torture, at which point it would be unconstitutional.
Sotomayor dissented to this reasoning, writing, "As to the prediction that this Court would deem up to 18 minutes of needless torture anything less than cruel, unusual and unconstitutional, I fervently hope the state courts were mistaken."
On a mostly conservative Supreme Court bench, Sotomayor has issued a number of scathing dissents since she was appointed by President Obama in 2009.
She's dissented in favor of minority rights in a number of cases, including those involving voting and police behavior. In one dissent, she noted the disproportionate number of people of color who are targeted by police.
"For generations," she wrote, "black and brown parents have given their children 'the talk'—instructing them never to run down the street; always keep your hands where they can be seen; do not even think of talking back to a stranger—all out of fear of how an officer with a gun will react to them."
Sotomayor, a Latina raised in the Bronx, always aims to show how the law affects society as a whole in her opinions.
"I want people to understand what I am saying, not in legal terms, but in legal terms that touch the heart," said Sotomayor at an event earlier this year, according to CNN. "I want people to understand the consequences of law and how it affects them."