Sonny Perdue Is A Climate Change Science Skeptic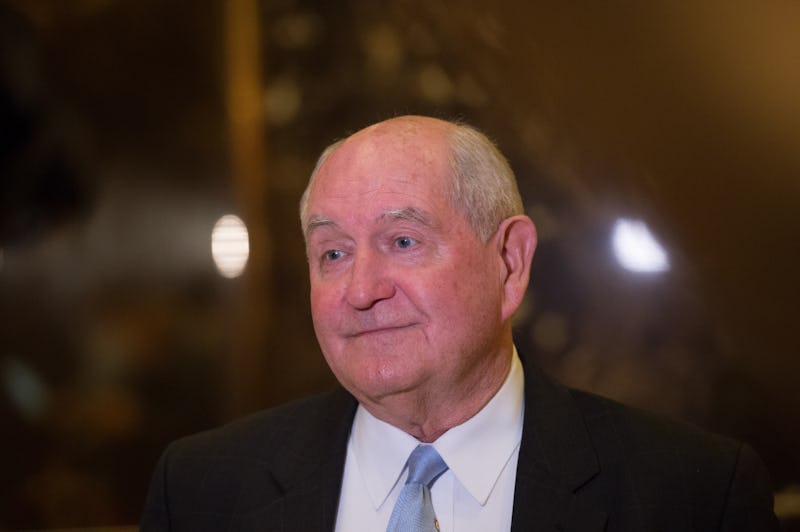 BRYAN R. SMITH/AFP/Getty Images
Two days before his inauguration, President-elect Donald Trump finally decided who should head the U.S. Department of Agriculture. But his choice raised a few eyebrows. Former Georgia Gov. Sonny Perdue, Trump's USDA pick, drew attention when he held a public prayer for rain in the midst of a severe drought. However, he's also criticized the science behind the climate change that impacts droughts in the first place.
To be fair, this isn't to say he did nothing else about the drought. Perdue declared a state of emergency in Georgia in 2007 and spoke about increased conservation, NPR reported.
But seven years later, Perdue also denied the impacts of climate change in a 2014 op-ed in the National Review, calling it a "running joke among the public," and claiming that "liberals have lost all credibility when it comes to climate science because their arguments have become so ridiculous and so obviously disconnected from reality." And somehow this is the man our next president has chosen to head a department that is in charge of our national forests and grasslands.
Perdue, who got his start as a veterinarian, is the son of a Georgia farmer. He was part of Trump's agricultural advisory committee during the President-elect's campaign, and is Trump's final nomination to fill his proposed cabinet.
Before being elected governor, Perdue, the first Republican governor in the state since Reconstruction, served as a state senator. He now runs an agricultural consulting firm that focuses on global trade, Perdue Partners, with his cousin, Sen. David Perdue. As USDA secretary, Perdue will be in charge of a large department that oversees national forests and grasslands, food safety, food stamps, and advising farmers.
But when it comes to the environment, left-leaning Americans aren't at ease with Trump, who has suggested that regulations are "undermining our incredible farmers," or his Cabinet picks. And in regards to Perdue, the Environmental Working Group released a statement:
It's certainly hard to imagine that a former fertilizer salesman will tackle the unregulated farm pollution that poisons our drinking water, turns Lake Erie green, and fouls the Chesapeake Bay and the Gulf of Mexico.
Hopefully he'll have a change of heart and embrace the science behind climate change, but for now we'll have to wait and see how Perdue decides to oversee the USDA. If anything, it comes as little surprise that Trump has added yet another member who's skeptical of the science behind climate change to his Cabinet.