Sophia Bush Is Thrilled To Be In 'Incredibles 2' For The Coolest Reason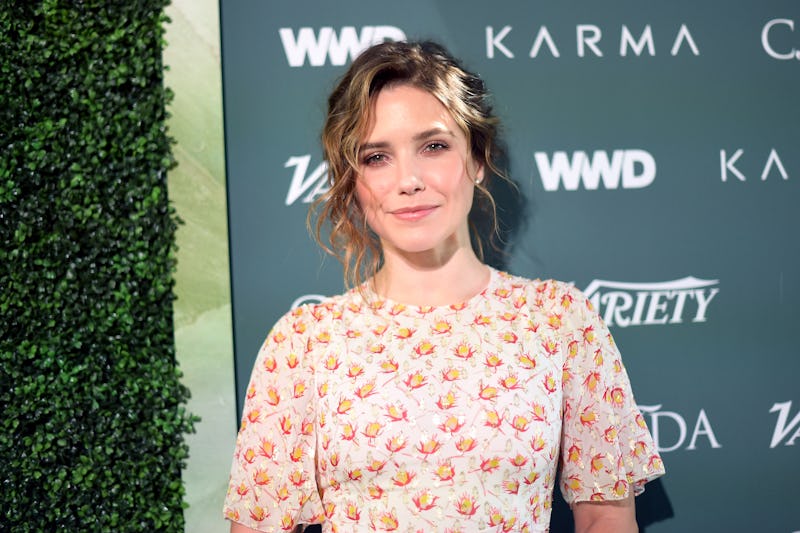 Matt Winkelmeyer/Getty Images Entertainment/Getty Images
The original Incredibles stars are returning for the long-awaited sequel, but there are some new voices joining the cast, too. Sophia Bush is starring in Incredibles 2, and it sounds like the One Tree Hill alum is stoked about her new role as the animated superhero Voyd.
Bush talked to Entertainment Tonight about the upcoming movie, and why she's so excited to be in the sequel. She told the outlet that when she learned she'd be starring in the movie, she screamed in the middle of a restaurant, because she was so excited. Bush told ET:
"I screamed. I was actually at lunch with a friend. I never check email; it's like a thing that I'm sort of famous in my inner circle for. So, I got a text message saying, 'Open your e-mail right now!' I was like, 'OK...' So, I did. There was a letter — like an old-fashioned, beautiful letter that has all the Incredibles characters on the bottom — and it's from Brad Bird, who's the writer and the director, asking me to be in Incredibles 2. I screamed out loud."
Bush also told ET that 2004's The Incredibles is her "favorite animated movie ever made." So being in the sequel holds a particular significance for the actor.
So far, fans know that Bush's character Voyd is an up-and-coming superhero who's also a huge fan of Elastigirl, a.k.a. Helen Parr. In the trailer for the sequel, Elastigirl is taking on what appears to be a high-profile new job (and her husband seems to be a tad bit resentful about it, too). Voyd doesn't appear in the trailer for the sequel, but Disney has revealed that her superpower is connected to her name. Apparently, Bush's character can create voids that make objects disappear and reappear — a pretty nifty power for a superhero to have.
And while Voyd is officially described as a superhero, some people are already speculating that Bush's character might be the sequel's villain. Jealousy is a prime motivator among Disney villains, like Maleficent and Ursula. And it's not uncommon for characters who appear to be good guys to turn out to be villains, too — think of Lots-o'-Huggin' Bear in Toy Story 3 and King Candy in Wreck-It Ralph. Could Voyd be jealous of the Incredibles' fame, and resentful of her own idol Elastigirl, to the point where she hatches a diabolical plan? That's all speculation for now, but it's not outside the realm of possibility, either.
Voyd isn't the only new character in The Incredibles 2, though, and there are also signs that point to Catherine Keener's new character, Evelyn Deavor, being the movie's villain. As commenters on i09 have pointed out, "Evelyn Deavor" sounds like "Evil Endeavor," which could be more than a coincidence. Evelyn and her brother Winston Deavor, voiced by Bob Odenkirk, are two new characters, siblings who lead a telecommunications company and want to make superheroes legal again. (Well, unless they're villains, in which case they probably don't.)
The first Incredibles movie left off with the Parrs and Frozone defeating villain Syndrome. By the end of the movie, the family is stronger than ever, though Bob tested his relationship with his wife by keeping his return to vigilantism a secret. Based on the sequel's trailer, though, it looks like the tables have turned, and Elastigirl is engaging in more superhero antics than her husband is. (It also looks like that despite the 14 years between the two movies, the family, especially baby Jack-Jack, hasn't grown up at all.) There's always room for new characters and adventures in superhero franchises, though, and it sounds like Bush and the other newcomers are ready to carry on the Incredibles' story.