Sophie Turner & Joe Jonas Are Engaged & Fans Are Freaking Out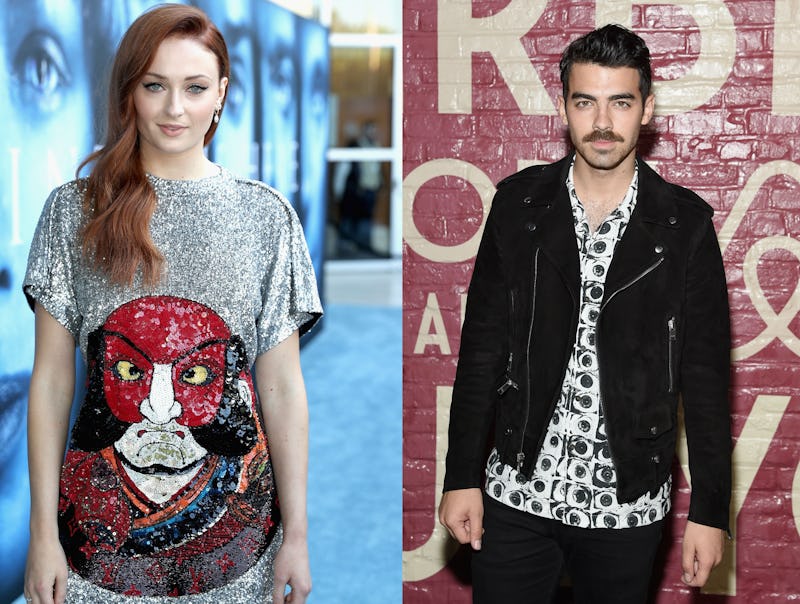 Getty Images
Sophie Turner and Joe Jonas are wrapping up their weekend by giving fans some big news worth celebrating. Turner and Jonas are officially engaged, and they just announced the news via Instagram on Sunday, Oct. 15.
As part of the announcement, both celebs took to their personal Instagram pages to share the same photo that features Turner resting her hand on Jonas's, casually showing off the gorgeous, pear-shaped diamond ring that the former Jonas Brothers member popped the question with.
"I said yes," 21-year-old Turner captioned the photo, while the DNCE musician wrote, "She said yes."
The newly-engaged couple has been dating since November of last year when they were spotted spending time together at a Kings of Leon concert in the Netherlands, but they've kept the details of their relationship relatively private as far as social media is concerned. It wasn't until over a month after the two became a couple that their romance became Instagram official, when the Game of Thrones star shared a photo of Jonas holding a cigar while lounging around on a boat in Miami back in January.
And things managed to heat up between the two pretty quickly. Back in June, a unnamed source close to Joe Jonas dished to People that they had both been spending lots of time around each other's families and even attending weddings together.
"Joe is taking this relationship very seriously," the source said. And judging by the engagement announcement that followed just a few months later, it looks like the unknown source was right.
Naturally upon hearing the great news, Twitter users are reacting exactly as one would expect them to. Some fans are currently crying tears of joy.
While others are just a little crushed at the fact that one of their childhood crushes is officially off the market.
Or maybe a little more than crushed.
And let us not forget about those who are just a mixture of emotions.
Or this person who knows exactly how you feel and just added a brand new word to your vocabulary.
After the happy couple officially broke the news themselves, Nick Jonas also shared the photo of the ring on his Instagram account to congratulate his older brother and soon-to-be sister-in-law. "Ahh! Congratulations to my brother... and sister in law [sic] to be on your engagement. I love you both so much," the "Chains" singer captioned the photo.
And if you still thought he wasn't super excited for his big bro, he also left a super supportive "YES!!!" in the comments section of Joe's original photo while Maisie Williams also left a sweet comment under her bestie and Game of Thrones co-star's post. "Queen," she wrote next to a queen emoji followed by a pink heart. "I love you so much xo."
It's obviously way too soon to be on the lookout for any details regarding the upcoming wedding — that's if they even decide to have a big wedding at all. But I can't imagine that, however it all turns out, it won't be anything less than amazing. Maybe Maisie Williams will be a part of the bridal party. Or maybe Nick and Kevin Jonas will be there and the three brothers will perform a few Jonas Brothers songs at the reception just for old times sake. (That probably won't happen, but the 12-year-old in you would still love that, don't lie.)
If anything, Turner and Jonas will keep just as much of their wedding information under wraps as they already have with their year-long relationship, which is also totally cool. Either way, enthusiastic congratulations are in order for Sophie Turner and Joe Jonas.