These #SOTUBlackout Photos Of Women At Trump's SOTU Will Make You Go Hell Yeah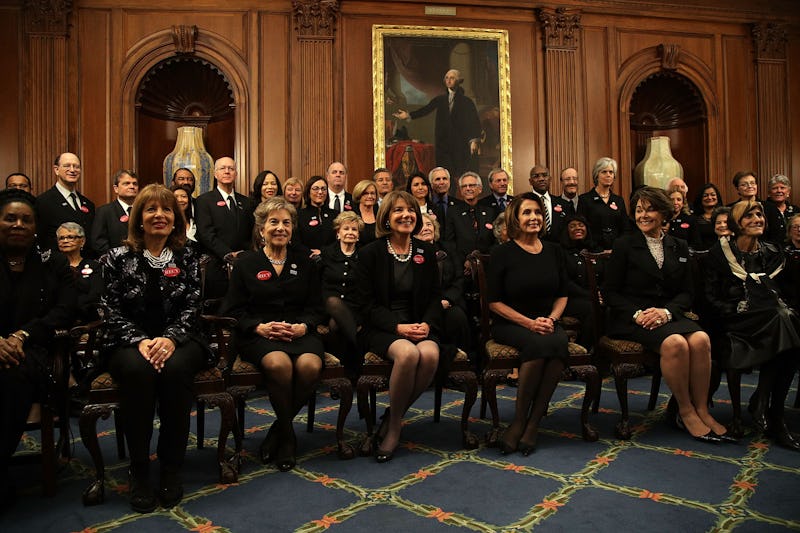 Alex Wong/Getty Images News/Getty Images
In the spirit of #MeToo and #TimesUp, a slew of Democratic lawmakers attending Donald Trump's inaugural State of the Union Address (SOTU), are organizing under #SOTUBlackout. And if the photos of dozens of representatives donning all black are any indication, these congresspeople mean business.
Participants in the protest, which was organized in part by Rep. Lois Frankel, intend to send a message to both the government and the American people that lawmakers are serious about combatting sexual misconduct and gender iniquity. In an interview with Vox, Frankel, who is also the chair of the Democratic Women's Working Group, said that those wearing black want to express "a message of solidarity with those who are seeking economic security and a cultural shift that enables men and women to work side by side, in safety and dignity, free of sexual harassment, and be paid fairly for the value of their work."
According to Racked, the female Democrats behind the demonstration extended the invitation for participation to men and Republicans. "We're not trying to make this partisan," Frankel said. "Sexual harassment knows no party." While male Democrats began posting photos of themselves dressed in all black, and donning #TimesUp pins on their lapels, whether any GOP lawmakers will participate is not yet clear.
The #SOTUBlackout protest will imitate the #TimesUp demonstration that took place at 2018's Golden Globes. Here are some of the highlights: