15 Soup Quotes For National Soup Month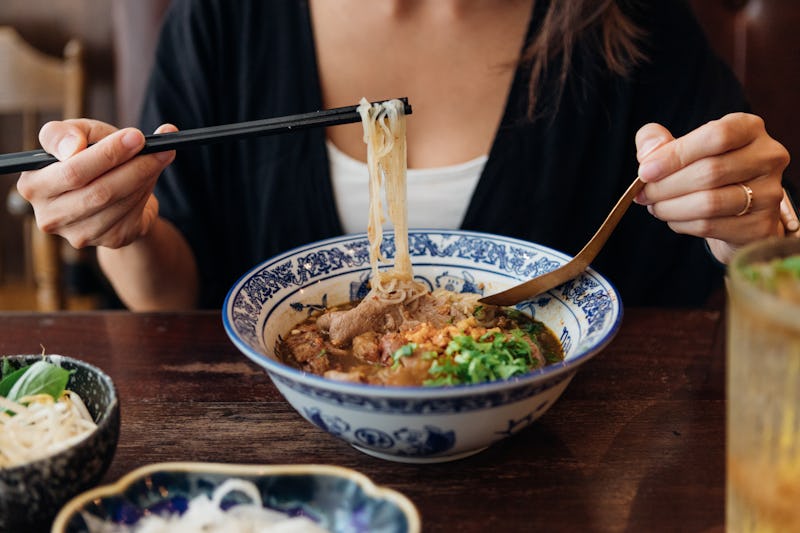 Oscar Wong/Moment/Getty Images
Does the long, cold winter ahead have you feeling blue? If so, then you might find it exciting to know that January is National Soup Month, and these 15 soup quotes for National Soup Month are the perfect encouragement we all need to slurp our way through the chilly, winter days. Whether you're a chicken noodle kind of soup-lover, or a creamy broccoli cheddar fan, these quotes will remind you exactly why it is that soup is good for the soul.
January tends be tough with no holidays in sight and temperatures that always seem to drop way too low. Fortunately, there's nothing a warm, steamy bowl of homemade soup can't fix. In fact, the more I think about it, the more appropriate it seems that January would be National Soup Month. Does anything sound better than cozying up to the fire with a giant bowl of noodles, broth, and vegetables while the snowflakes fall outside the window? I doubt it.
You might be wondering what there is to say about soup. Well, as these 15 quotes prove, there's actually quite a bit! From capturing the creativity that goes into making a soup to the feelings of warmth and safety that come with guzzling one down, these thoughtful quotes cover all the bases.
1. "To feel safe and warm on a cold wet night, all you really need is soup." — Laurie Colwin
2. "A soup like this is not the work of one man. It is the result of a constantly refined tradition. There are nearly a thousand years of history in this soup." — Willa Cather
3. "Soup is the song of the hearth... and the home." — Louis P. De Gouy
4. "A first-rate soup is more creative than a second-rate painting." — Abraham Maslow
5. "Do you have a kinder, more adaptable friend in the food world than soup? Who soothes you when you are ill? Who refuses to leave you when you are impoverished and stretches its resources to give a hearty sustenance and cheer? Who warms you in the winter and cools you in the summer? Yet who also is capable of doing honor to your richest table and impressing your most demanding guests? Soup does its loyal best, no matter what undignified conditions are imposed upon it. You don't catch steak hanging around when you're poor and sick, do you?" — Judith Martin
6. "Only the pure of heart can make good soup" — Beethoven
7. "There is nothing like soup. It is by nature eccentric: no two are ever alike, unless of course you get your soup in a can." — Laurie Colwin
8. "Of all the items on the menu, soup is that which exacts the most delicate perfection and the strictest attention." — Auguste Escoffier
9. "Bouillabaisse, this golden soup, this incomparable golden soup which embodies and concentrates all the aromas of our shores and which permeates, like an ecstasy, the stomachs of astonished gastronomes. Bouillabaisse is one of those classic dishes whose glory has encircled the world, and the miracle consists of this: there are as many bouillabaisses as there are good chefs or cordon bleus. Each brings to his own version his special touch." — Curnonsky
10. "I live on good soup, not on fine words." — Moliere
11. "Soup is cuisine's kindest course. It breathes reassurance; it steams consolation; after a weary day it promotes sociability, as the five o'clock cup of tea or the cocktail hour." — Louis P. De Gouy
12. "Good manners: The noise you don't make when you're eating soup."— Bennett Cerf
13. "One whiff of a savory aromatic soup and appetites come to attention. The steaming fragrance of a tempting soup is a prelude to the goodness to come. An inspired soup puts family and guests in a receptive mood for enjoying the rest of the menu." — Louis P. De Gouy
14. "Cold soup is a very tricky thing and it is the rare hostess who can carry it off. More often than not the dinner guest is left with the impression that had he only come a little earlier he could have gotten it while it was still hot."— Fran Lebowitz
15. "Soup puts the heart at ease, calms down the violence of hunger, eliminates the tension of the day, and awakens and refines the appetite." — Auguste Escoffier
Images: Oscar Wong/Moment/Getty Images; Giphy