South Carolina's Governor Vetoed Millions In Funding Just To Punish Planned Parenthood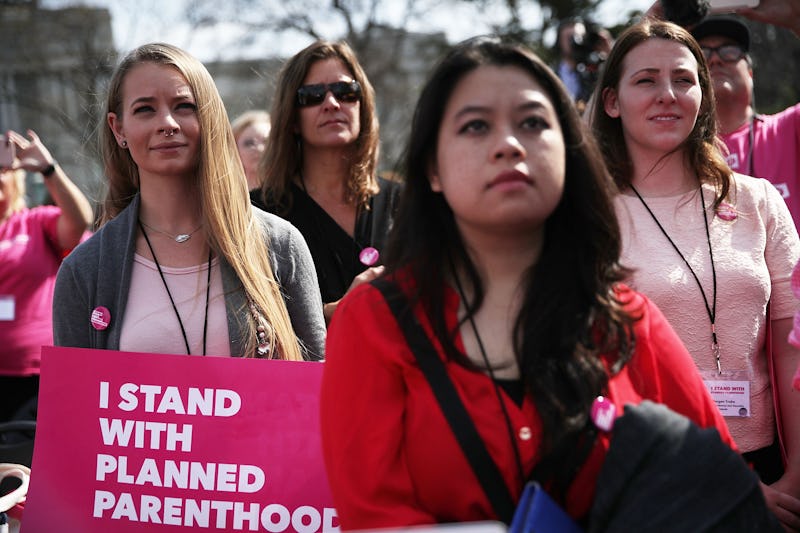 Alex Wong/Getty Images News/Getty Images
Planned Parenthood, as well as a number of other health care providers, are taking a hit in South Carolina. In a move to fulfill a campaign promise, Republican Gov. Henry McMaster cut millions from the South Carolina budget so Planned Parenthood wouldn't get a dime. The thing is, the money that would have gone to Planned Parenthood was a tiny fraction of the funding cut.
The line item vetoes, which McMaster announced Thursday, remove $15,779,259 of federal Medicaid money from South Carolina's health care budget. Only about $100,000 would have gone to Planned Parenthood. "I have stated many times I am opposed to what Planned Parenthood is doing. And the veto I have is the most direct way," McMaster said in a press conference.
But because there is no single line item for Planned Parenthood in the budget, McMaster's veto removed funding for a number of other health services as well. Among those cut are thousands of federally approved family planning providers for Medicaid patients.
Some South Carolina Republicans — even anti-abortion legislators — criticized the governor for going out of his way to punish Planned Parenthood, at the expense of additional funding for other crucial services. "You are voting for a budget with an illusion at the expense of a reality," said Republican Rep. Kirkman Finlay, during a budget debate last month after McMaster had made it clear he would veto any state budget that funded Planned Parenthood.
Other Republicans urged McMaster to actually veto a total of $34 million in Medicaid funding, but his office refused, saying that such a cut would cause 700,000 women and children to lose their Medicaid prescriptions. Last year, McMaster told the South Carolina Department of Health and Human Services to apply for a waiver from the federal government that would allow the state to single out Planned Parenthood in budget cuts from federal Medicaid money, but it is unclear whether they will be approved.
In a statement on Friday, Planned Parenthood South Atlantic spokesperson Vicki Ringer called the vetoes a "political stunt" with "very real implications for South Carolina's women and families". She continued, "In an effort to prevent South Carolinians from accessing reproductive healthcare services at Planned Parenthood, [McMaster] is rejecting all federal family planning Medicaid dollars, regardless of the provider."
McMaster, who is running for election in the fall, has repeatedly come out against abortion rights. Last August he issued an executive order to prevent state and local money from funding abortion clinics.
In his veto statement on Thursday, McMaster defended his budget cuts, claiming:
There are a variety of agencies, clinics and medical entities in South Carolina that receive taxpayer funding to offer important women's health and family planning services without offering abortions.
He emphasized that he would continue vetoing budget proposals that include Medicaid family planning money until South Carolina is granted the federal waiver, in order to "prevent taxpayer dollars from directly or indirectly subsidizing abortion providers like Planned Parenthood."
For critics, McMaster's vetoes are a political move in a competitive gubernatorial race in which candidates are attempting to bolster their anti-abortion positions in order to win over conservative voters.
"It is clear that the governor is singularly focused on his election bid in November and that is at the expense of South Carolina women," Ringer said in her statement. "The veto does not 'defund' Planned Parenthood, but it will ensure that South Carolinians who use Medicaid as their primary insurance will be unable to access affordable, basic health care."
Tony Keck, South Carolina's former Medicaid director, told The Post and Courier that McMaster's vetoes will increase the number of abortions in the state. "Access to birth control for men and women reduces unwanted pregnancies," he said. "Reducing access to birth control will increase unwanted pregnancies and increase abortions. You can't have it both ways."
The South Carolina legislature, a primarily Republican body, does have the opportunity to override the veto with a two-thirds vote, though it is unclear if or when a vote will be held.