This State's Attempt To Defund Planned Parenthood May Cost More Than Just Funding It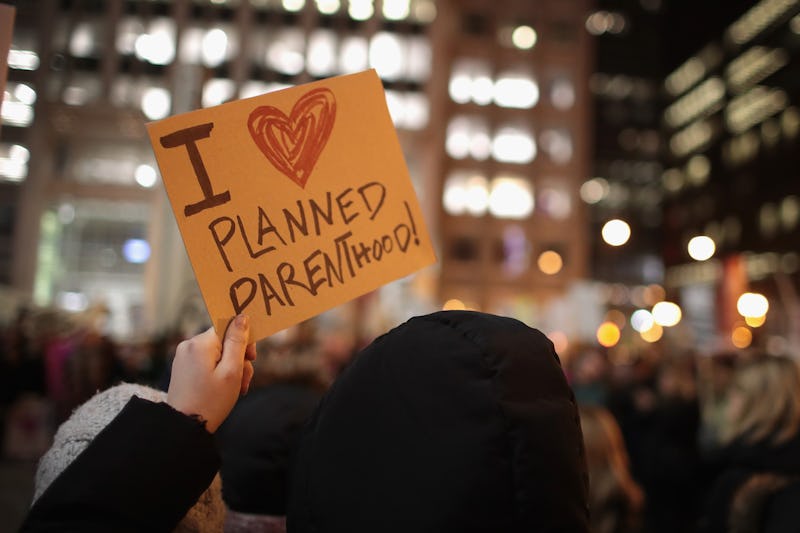 Scott Olson/Getty Images News/Getty Images
South Carolina Gov. Henry McMaster has said he's committed to blocking Planned Parenthood from receiving federal funds, and the state has racked up tens of thousands of dollars in legal fees defending his efforts to do just that. But South Carolina's attempt to defund Planned Parenthood may actually end up costing taxpayers more money than if the state had simply funded the health care organization under Medicaid and federal Title X family planning programs, according to The Post and Courier. Bustle has reached out to McMaster's office for comment.
In July, McMaster signed an executive order that removed Medicaid funding from Planned Parenthood, sparking a legal battle between the organization and the state. South Carolina's defense of the governor's efforts to defund Planned Parenthood of Medicaid funding hasn't been cheap, The Post and Courier's Andrew Brown reported. According to an invoice recently obtained by the paper through a Freedom of Information Act, the state owes the Jolley Law Group, the firm representing South Carolina's Department of Health and Human Services in its lawsuit against Planned Parenthood, at least $17,510. But according to The Post and Courier, that bill could grow as the state moves to appeal a recent court ruling favoring Planned Parenthood — not to mention the costs incurred if the state ultimately looses the lawsuit and is ordered to pay Planned Parenthood's legal fees, too.
That means that taxpayers in South Carolina could end up having to pay more for the state's efforts to defund Planned Parenthood — a health care organization that provides critical health services like contraception, prenatal care, cancer screenings, and STD testing and treatment — than the organization would have received through the state's federally-funded health care program.
Planned Parenthood in South Carolina has previously received somewhere between $32,000 and $83,000 worth of funding through the state's federally-funded Medicaid program, according to The Post and Courier. South Carolina's current legal bill from the Jolley Law Group already translates to an estimated 21 to 54 percent of what Planned Parenthood would have received in federal funds, The Post and Courier reported.
But the governor doesn't appear to be hung up about how much his efforts to defund Planned Parenthood are costing. While the governor's office did not immediately return Bustle's request for a comment, a spokesperson for McMaster told The Post and Courier that the governor "is willing to do whatever it takes to make sure taxpayer dollars don't directly or indirectly fund abortions."
Earlier this year, McMaster issued an executive order that effectively barred Planned Parenthood from being a provider on the state's Medicaid network by prohibiting state agencies from giving funds to any health care provider or organization affiliated with abortion clinics. The governor then used his power of veto to cut roughly $14 million in federal funding from the state's budget as a means of further defunding Planned Parenthood clinics in the state.
But while state Democrats have condemned the governor's actions, McMaster isn't the only legislator in South Carolina willing to defund Planned Parenthood. According to The State, South Carolina's House of Representatives voted to uphold McMaster's budget veto earlier this month, effectively pulling the organization's Medicaid and family planning funding.