'Southern Charm' Star Kathryn's Reaction To Ashley's Apology Is Exactly What You'd Expect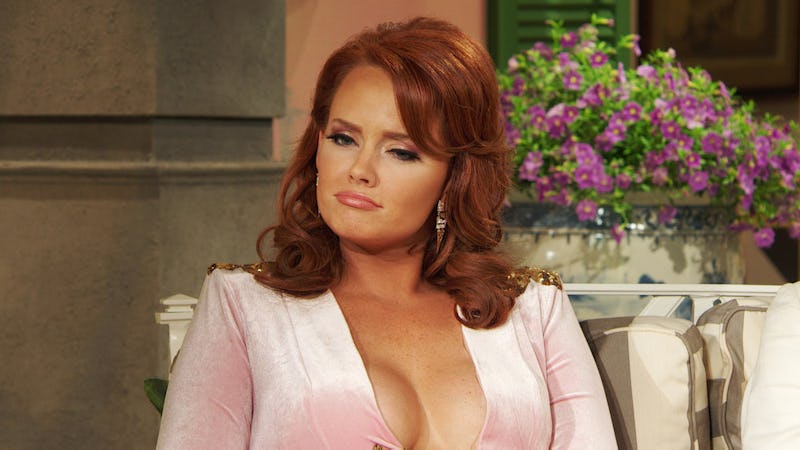 Bravo
Southern Charm Season 5 had a lot of drama between Kathryn Dennis and Ashley Jacobs. And, in an apparent effort to smooth some things over, Ashley issued an apology to Kathryn and the fans on Aug. 22 for her behavior. Now, Kathryn has reacted to Ashley's Instagram apology and it's exactly what the fans would expect: she did not take to it fondly.
Southern Charm cast member Danni Baird shared a video on her Instagram Story on August 22 of Kathryn reading Ashley's apology letter. During the video, Danni asked, "Have you seen Insta lately?" Then she warned her friend, "Don't freak out." In the video, Kathryn sits there with her mouth open in visible shock. Kathryn reacted to Ashley writing that she had "learned a tremendous lesson," by saying "This lesson? That's a tremendous word for you!"
Kathryn also took issue with Ashley ending the letter with "Yours Truly, Ashley." She also pointed out that Ashley was "writing this to nobody," and that the note was not personally directed at her since it began, "To all the Southern Charm fans, in general. And to Kathryn, in particular."
Kathryn reacted to that with "To Southern Charm fans, in general. Also Kathryn. I just wanted to let you know, Kathryn." It seems that Kathryn didn't appreciate her second billing, nor the fact that the apology was first to fans and not her."
Kathryn and Danni weren't the only ones who criticized what Ashley wrote in her apology post. Plenty of fans tweeted about it, noting that Ashley's apology didn't seem genuine. One user, @ThePettyMess_ accused Ashley of apologizing publicly to gain favor with fans, not because she was actually sorry, writing, "Also she's going to apologize to Kathryn via social media for attention but not actually to her in person just so she can make people think she's actually a good person." And others agreed.
Ashley's Instagram apology was rather lengthy and it was very public, especially when one considers that she could have arranged a one-on-one conversation with Kathryn. Furthermore, it was unclear exactly to whom Ashley was even apologizing too. She wrote:
"I owe you all an apology. I'd like to apologize for how I treated Kathryn, and how badly I disrespected her. I'm not sure what made me think it was OK to speak to a mother that way. It wasn't."
That sentiment is addressed to the fandom, but talks about her interactions with Kathryn. Was the apology to Kathryn or was it to the fans? Ashley continued, "It was not my place to say anything at all, much less the reckless comments I made. I crossed a line and hurt people who don't deserve it."
In order to dissect Ashley's apology, t's important to get into the background of why there was tension to begin with. Ashley joined the show when she began dating Thomas Ravenel, who is also the father of Kathryn's two children. And throughout this past season of Southern Charm, Ashley took multiple digs at Kathryn's parenting, many of them uncalled for. Without rehashing the entire season, the Season 5 finale episode confrontation between Ashley and Kathryn got especially heated, resulting in Ashley telling Kathryn, "You're a baby mama," and "You're nothing but an egg donor." Many viewers felt that Ashley crossed a line with that comment, and they didn't hesitate to let her know on social media.
The Southern Charm fans are very passionate. A lot of the #TeamKathryn viewers are going to read Ashley's apology through one lens, while #TeamAshley will read it through another. Needless to say, the apology post caused quite the stir and Kathryn's reaction undoubtedly will as well. But, regardless of how fans feel about the two women, it's clear that this is one reality show feud that isn't close to being over.