'SpongeBob SquarePants' Creator Stephen Hillenburg Has Died At 57 & Fans Are Paying Tribute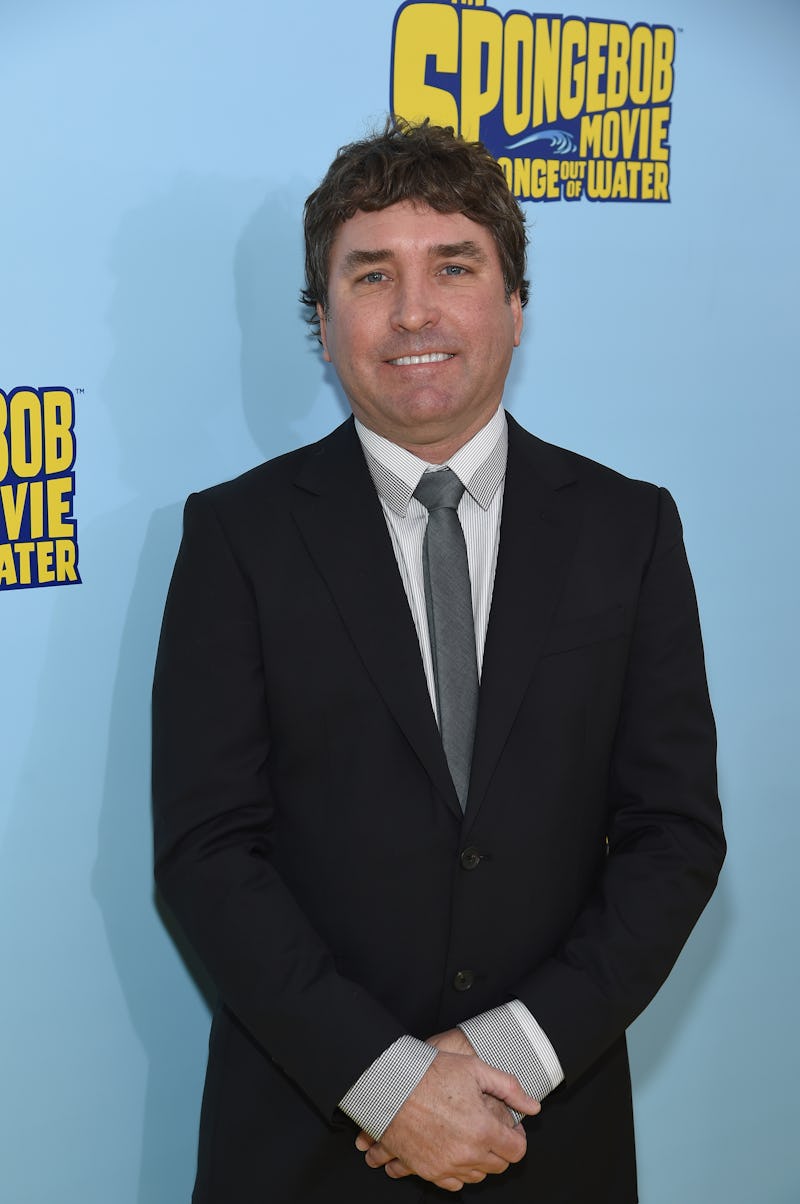 Dimitrios Kambouris/Getty Images Entertainment/Getty Images
One of the most beloved cartoon characters is SpongeBob Squarepants. With his highly recognizable theme song right down to his perfectly accurate name, SpongeBob and his world were a safe haven for many, and simply pure enjoyment for most. Sadly, SpongeBob SquarePants' creator Stephen Hillenburg has died at 57, and fans are mourning the loss.
On the morning of Nov. 27, the Twitter account for Nickelodeon — the channel that SpongeBob is on — announced Hillenburg's passing. They wrote, "We are sad to share the news of the passing of Stephen Hillenburg, the creator of SpongeBob SquarePants. Today, we are observing a moment of silence to honor his life and work." The news, comes one year after he announced that he had been diagnosed with ALS — Amyotrophic Lateral Sclerosis or Lou Gehrig's disease. For anyone not familiar with the disease, ALS targets the nervous system and impacts the motor neurons used to control muscles. While there is treatment to reduce the speed of symptoms, there is no cure.
At the time of his diagnosis, in March of 2017, Hillenburg released a statement to Variety, proclaiming his determination to continue working on SpongeBob. The statement read:
"I wanted people to hear directly from me that I have been diagnosed with ALS. Anyone who knows me knows that I will continue to work on SpongeBob SquarePants and my other passions for as long as I am able. My family and I are grateful for the outpouring of love and support. We ask that our sincere request for privacy be honored during this time."
SpongeBob Squarepants premiered in 1999 and just completed Season 11, with the rest of Season 12 set to premiere in 2019. There have been two SpongeBob movies released theaters, with a third coming in the summer of 2020. Hillenburg, as the creator and executive producer, was nominated for nine Primetime Emmys for his work on the show. Recently, in February, Hillenburg was awarded with the Winsor McCay honor for his career contributions to animation at the Annie Awards, and Tom Kenny, who voices SpongeBob, accepted on his behalf. According to THR, Hillenburg stayed in his seat as the crowd delivered a standing ovation.
Hillenburg, in addition to creating a beloved talking sponge, was a marine biologist, which makes the creation of his character SpongeBob all the more interesting. After college, Hillenburg taught children at the Orange County Marine Institute, where their main goal was to educate others about marine science and nautical history. After that, he returned to school for animation, and, as detailed in an article from the Daily News, he later combined his two interest to create SpongeBob SquarePants.
With such a great show, that has touched many peoples' lives, there are of course many fans that are reminiscing on Hillenburg's creation. Following the news of Hillenburg's death, fans took to Twitter to share some of their feelings on his passing and what SpongeBob means to them.
Jordan Cwierz, writer and director for Rooster Teeth Animation, noted how Hillenburg's work has inspired many current animators.
Jon Adams, creator of "Jon On Film," an entertainment and pop culture blog, tweeted out a sincere message, saying that Hillenburg had a great mind and made "one of the most impactful" shows on TV.
Stephen Hillenburg's creation of SpongeBob SquarePants has given almost two decades worth of laughs, iconic scenes, and of course a copious amount of memes. On top of it all, it gave viewers a look into the fun life of a little sponge and his friends. Hillenburg will be remembered for that, and for the impact he had on the cartoon community for generations to come.