Spotify Just Turned Its Most Streamed Songs Of All Time Into The Ultimate Playlist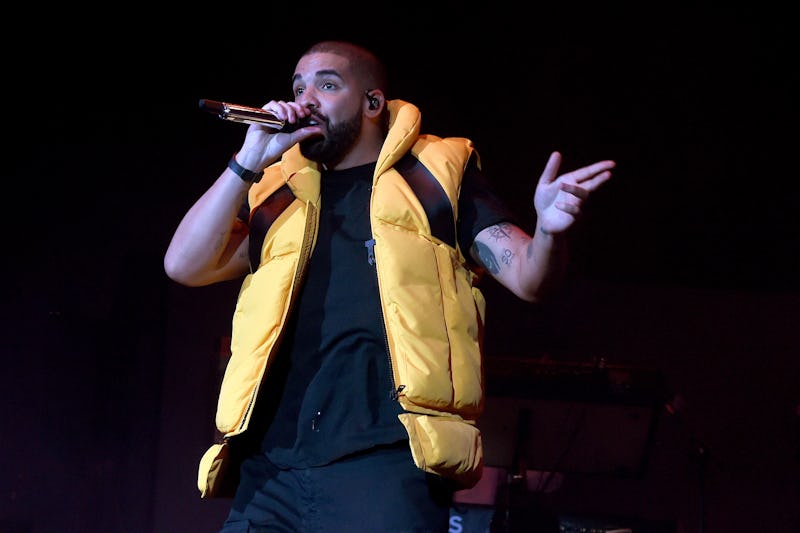 Kevin Winter/Getty Images Entertainment/Getty Images
If you're looking to put together a playlist of bops, perhaps you should start with the recently released list of Spotify's most streamed songs of all time. The songs that cracked the top ten will likely be little surprise to anyone who's even remotely familiar with pop music. There's Justin Bieber, Drake, Justin Bieber, The Chainsmokers, and did I mention Justin Bieber?
In celebration of the music streaming platform turning ten years old, Spotify revealed which songs hold the record for the most streamed songs of all time as well as stats like which artists are the most streamed as well as most streamed songs of each year. That time you spend listening to Spotify on your commute, while you're working, while you're getting ready, etc. adds up. According to the company's press release, the collective time we've spent streaming Spotify is 16.8 million years. For context, scientists estimate human lineage dates back 6 or 7 million years. So, the amount of time we've been streaming Spotify is more than twice as long as humans have even existed. Us modern humans sure love our bops.
But which bop is the most beloved or at least the most streamed? Spotify's most streamed song of all time is "Shape of You" by Ed Sheeran. This, again, likely comes as little surprise to anyone who has turned on a radio, gone shopping in a store that plays music, or has heard "Shape of You" even once. It's catchy. Like, "most streamed song of all time on Spotify" catchy.
The rest of the list will also come as little surprise. Ed Sheeran's "Thinking Out Loud" takes the number five most-played spot. Justin Bieber's name come up not once, not twice, but three times on the list. The Chainsmokers also have two songs on the most-played list.
Here's the complete list of Spotify's most streamed songs of all time, if you want to see if your favorite overplayed bop made the cut:
"Shape Of You" by Ed Sheeran
"One Dance" by Drake
"Closer" by The Chainsmokers and Halsey
"Rockstar" by Post Malone (feat. 21 Savage)
"Thinking Out Loud" by Ed Sheeran
"Lean On" by Major Lazer, MØ, and DJ Snake
"Despacito - Remix" by Luis Fonsi, Daddy Yankee and Justin Bieber
"Love Yourself" by Justin Bieber
"Sorry" by Justin Bieber
"Don't Let Me Down" by The Chainsmokers
And if you really feel like reminiscing, check out Spotify's Decade of Discovery playlist which features 162 of the most played songs of the past ten years.
Even though Ed Sheeran and Justin Bieber make up more than half the first list, they don't get to claim the number one spot for Spotify's most streamed artist of all time. That title goes to Drake. Champagne Papi. The artist formerly known as Jimmy from Degrassi. Drake's "One Dance" was also the most streamed song of 2016.
However, neither Ed Sheeran nor Justin Bieber nor Drake hold the number one spot for first artist to reach one billion streams. Queen RiRi holds that title. Rihanna hit one billion streams on Spotify back in 2013, before David Guetta and Eminem also hit the one billi mark later that year. Drake was the ninth artist to his one billion streams.
If you want to take a trip to a simpler time, you can see what we were listening to a decade ago, in 2008 when Spotify was just a baby. "Human" by The Killers was the most streamed song of the year. In October of 2008, the month Spotify launched, we were apparently all listening to a lot of Coldplay. "Viva La Vida" to be exact as it was the most-streamed track of the time. Coldplay's Viva La Vida Or Death And All His Friends was also the most-streamed album. Coldplay, however, was not the most streamed artist. That was Lady Gaga.
Lady Gaga's debut album The Fame had been released in August and "Poker Face" has just come out as a single at the end of September. Lady Gaga is currently in the U.S. Top 50 for "Shallow," her duet with Bradley Cooper from the soundtrack of the recently released A Star Is Born. The more things change, the more they stay the same? Happy boppin', everyone — whether you're living your 2008 dreams or 2018.