Auntie Anne's Is Considering Releasing Sriracha Pretzels & You Can Help Make It Happen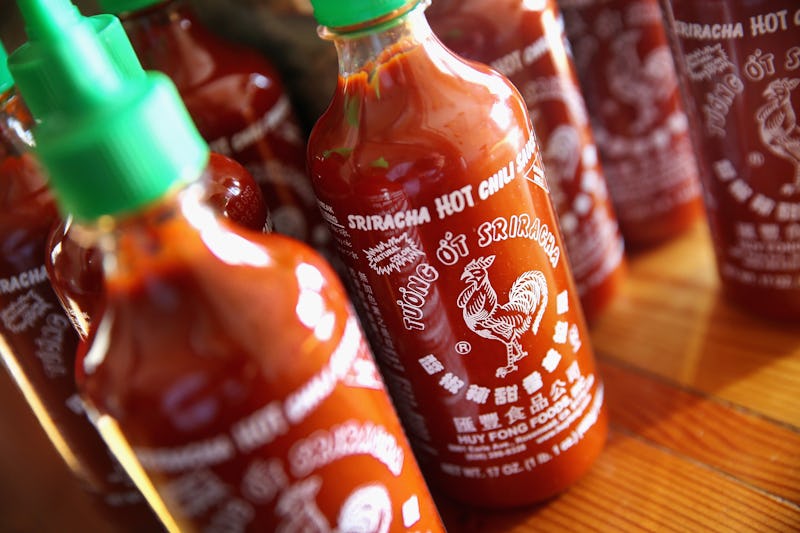 Scott Olson/Getty Images News/Getty Images
Everyone knows that the best part of going to the mall is going to Auntie Anne's for a pretzel. I mean, I remember frequently convincing myself that I needed something from the mall just to have an excuse to go get myself some soft, buttery, salty, puffy pretzels (or, on occasion, pretzel bites). But screw the excuses — you don't need one to convince yourself to drive out of your way to get a pretzel anymore, because Auntie Anne's is introducing new flavors soon. And even better, you van vote on which they introduce — and even even better, one of the contenders is a Sriracha-flavored pretzel. Dreams do come true.
As a part of their Pretzel Nation Creation poll, Auntie Anne's is expanding their pre-existing menu featuring cinnamon & sugar, raisin, jalapeno, pepperoni, garlic & parmesan, sour cream & onion, and sweet onion pretzels, to let their fans vote for their new favorite flavor contender to add to the menu. The voting period last for 10 days, between July 21 and July 30, and fans can vote for their favorites as many times as they want. READ: this is your opportunity to click the heck out of your favorite flavor (aka, Sriracha — right? Right?!) and help to raise the votes. Guys, this is a big moment for snack foods.
Scaled down from an original selection of 1,200 flavors, all collected via Twitter suggestions, the official 10 candidates are (drumroll please): s'mores, maple brown sugar, apple pie, chocolate cherry, pink lemonade, Sriracha, dill pickle, taco, Korean BBQ, and buffalo wings.
Currently, Sriracha is in the lead, followed by s'mores and buffalo wings, with Korean BBQ and pink lemonade in last place. With a few more days to vote, it's hard to say which flavor will take the pretzel, but with Sriracha taking such a lead, it's looking good!
But that doesn't mean you should slack on voting, of course. We all know voting can take a turn within seconds...
To see the real winner's announcement, we'll all have to wait until later this year when Auntie Anne's officially debuts it, in all of its (hopefully spicy) glory. Until then, happy voting. May the best flavor win. (Also, I'mma let me finish, but Sriracha is the best flavor of all time.)
Also, this kind of interactive influence between food eaters an food creators is genius. Can you imagine if all of your favorite food companies let their fans help to pick a new flavor?