Stacey Abrams Just Ended Her Bid To Become Georgia's First Black Female Governor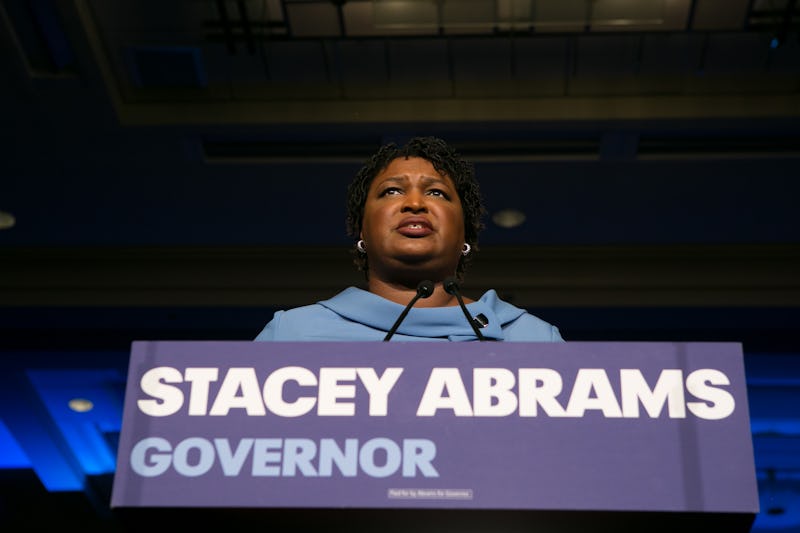 Jessica McGowan/Getty Images News/Getty Images
Ten days after Election Day, Democratic candidate Stacey Abrams ended her bid for Georgia governor during a press conference on Friday evening. Decrying the "suppression of the people's vote," Abrams said that she was not delivering a "speech of concession," but acknowledged that her Republican opponent Brian Kemp will be the winner of the contentious race.
"I will not concede because the erosion of our democracy is not right," Abrams said.
The Georgia Democrat criticized the election process, alleging that Kemp had practiced "systemic disenfranchisement" that affected the election's ultimate outcome. Kemp was the state chief elections administrator, per NBC News, and came under fire ahead of the midterm elections for alleged voter roll purging. During her speech on Friday, Abrams said that she would file "a major federal lawsuit" contesting Kemp's "gross mismanagement" of the election.
"Under the watch of the now former secretary of state, democracy failed Georgia," Abrams said, highlighting the alleged voter suppression that primarily targeted black voters. "I know that eight years of systemic disenfranchisement, disinvestment and incompetence had its desired affect on the electoral process in Georgia."
Although the governor's race was extremely close, Kemp declared victory one day after the midterms, and resigned as Georgia's secretary of state. But Abrams refused to concede, and she and her allies spent more than a week demanding that all votes be counted, in the hopes that she could force a run-off election at the beginning of December.
With Friday evening marking the deadline for all Georgia counties to certify their votes, however, Abrams acknowledged during her speech that she could find "no further viable remedy" to challenge the election results.
Abrams explicitly chose not to give a concession speech, but Kemp released a statement shortly after her speech noting that she had "conceded the race and officially ended her campaign for governor," per the Atlanta Journal-Constitution.
"I appreciate her passion, hard work, and commitment to public service," Kemp said in his statement. "The election is over and hardworking Georgians are ready to move forward. We can no longer dwell on the divisive politics of the past but must focus on Georgia's bright and promising future."
Abrams, meanwhile, said during her speech that even though she could not concede "as a woman of conscience and faith," she will nonetheless "pray for the success of Brian Kemp that he will indeed be a leader of all Georgians."
"It is not about me, it is about us, it is about the democracy that we share," Abrams said. "I can certainly bring a new case to keep this one contest alive, but I don't want to hold public office if I need to scheme my way into the post. Because the title of governor isn't nearly as important as our shared title — voters. And that is why we fight on."
However, the Associated Press reported that Abrams' legal team is still "considering all options," and may rely on a statute that allows losing candidates to challenge election results on the basis of "misconduct, fraud, or irregularities."