Why Stacey Abrams Won't Apologize For Burning Georgia's Flag All Those Years Ago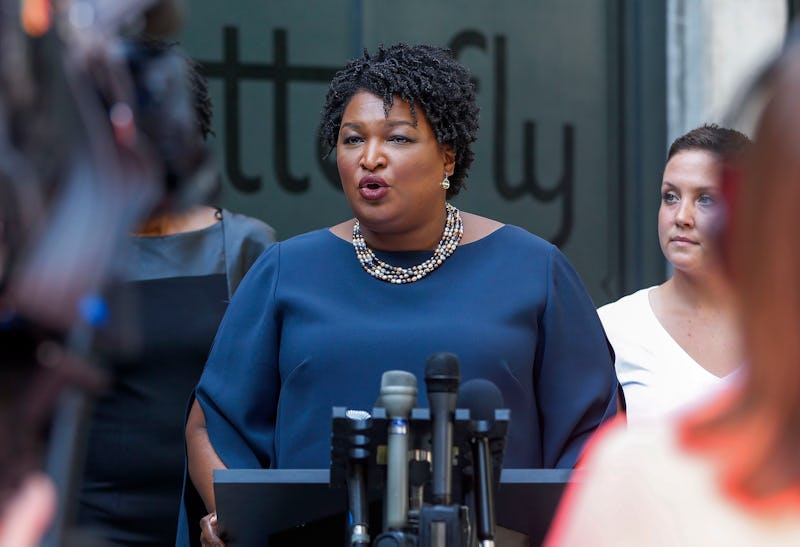 ERIK S LESSER/EPA-EFE/Shutterstock
A Democratic candidate's political protest from the 1990s has resurfaced as she seeks to win Georgia's gubernatorial seat. According to The New York Times, Stacey Abrams burned the Georgia flag carrying the Confederate emblem in 1992 in an incident that she addressed in a statement Monday.
The Democrat was completing her freshman year at Spelman College in Atlanta when she set the flag on fire 26 years ago. At the time, the Georgia flag included a Confederate design, which is strongly associated with white supremacy and slavery; the state had changed the flag to incorporate the Confederate pattern in 1956.
Abrams', who will debate Georgia's Secretary of State Brian Kemp later on Tuesday, doesn't regret protesting. In a statement to Bustle, the Director of Strategic Communications at Abrams' campaign, Abigail Collazo says:
During Stacey Abrams' college years, Georgia was at a crossroads, struggling with how to overcome racially divisive issues, including symbols of the confederacy, the sharpest of which was the inclusion of the confederate emblem in the Georgia state flag. Stacey was involved with a permitted, peaceful protest against the confederate emblem in the flag. This conversation was sweeping across Georgia as numerous organizations, prominent leaders, and students engaged in the ultimately successful effort to change the flag. Abrams' time in public service as Deputy City Attorney and as a state legislative leader have all been focused on bringing people together to solve problems. Over the last 18 months as Stacey Abrams has traveled the state, Georgians have shared with her their top concerns: expanding Medicaid, investing in our kids and public education, and creating good-paying jobs in all 159 counties.
If locals in Georgia want further assurance about Abrams' protest, they can look to political columnist Ed Kilgore. In a piece for The Daily Intelligencer in The New York Magazine, Kilgore wrote that he was present the day when Abrams and other protesters set the defunct, Confederate symbol-carrying Georgia flag on fire.
"The protests in which Abrams participated were righteous then and now," Kilgore wrote, "and posed no threat to public safety or order. Brian Kemp, however, as supervisor of Georgia's elections, has battled Abrams for years as part of his efforts to suppress votes, or as he would put it, to fight 'voter fraud.'"
In an audio clip obtained by The Rolling Stone, Kemp complained about more people actively voting. The publication reported that Kemp specifically lamented Abrams' attention toward absentee ballots. "They have just an unprecedented number of that," Kemp reportedly said, "which is something that continues to concern us, especially if everybody uses and exercises their right to vote — which they absolutely can — and mail those ballots in, we gotta have heavy turnout to offset that."
There might be some critics who want to condemn Abrams for her right to peacefully protest but the Democratic gubernatorial candidate has shown no signs of mincing her words. In 2017, for instance, Abrams blasted Confederate memorial carvings on Stone Mountain. That summer, she tweeted, "Paid for founders of the second [Ku Klux Klan], the monument had no purpose other than [the] celebration of racism, terror, and division when carved in 1915."
Based on her past record, it seems like Abrams will continue to hold her political convictions close to her heart.