Stacey Abrams Just Gave An Incredibly Powerful Election Night Speech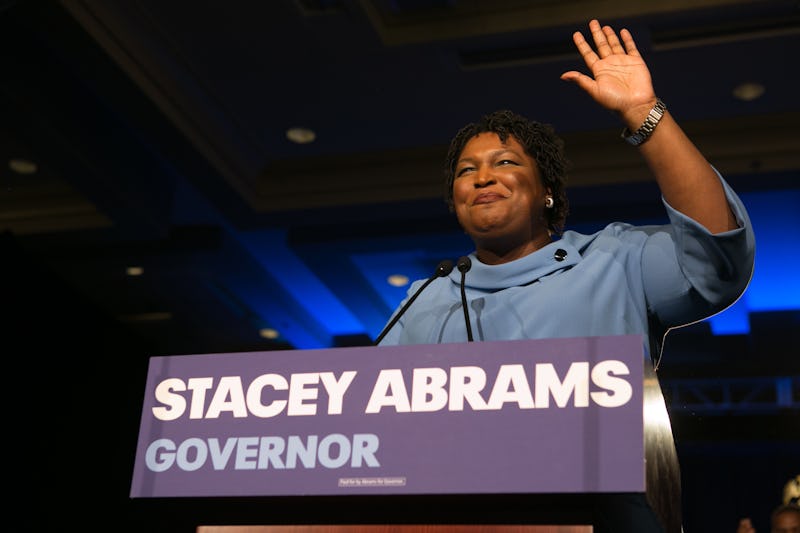 Jessica McGowan/Getty Images News/Getty Images
Early Wednesday morning, the Democratic candidate for governor in Georgia gave a rousing speech to her supporters. Stacey Abrams' election night speech expressed gratitude to Georgians for their civic participation and emphasized the importance of making your voice heard at the ballot box. Right now, as the Associated Press, CBS, and Fox News, reported, Abrams is trailing Brian Kemp in her gubernatorial bid, but the race is too close to call.
In her speech, Abrams drew on Georgia's long history of civil rights advocacy to reflect on the importance of voting. As the gubernatorial candidate described:
Tonight we have closed the gap between yesterday and tomorrow. But we still have a few more miles to go. But ... this, too, is an opportunity to show the world who we are. Because, in Georgia, civil rights has always been an act of will and a battle for our souls. And because we have been fighting this fight from our beginnings, we have learned a fundamental truth: Democracy only works when we work for it. When we fight for it. When we demand it. And apparently today, when we stand in lines for hours to meet it at the ballot box, that's when democracy works.
Abrams then continued and emphasized that the race between her and Kemp has not yet come to a close — and that she wants to guarantee that every vote cast in Georgia is counted. As the Democratic candidate put it:
I'm here tonight to tell you that votes remain to be counted. There are voices that are waiting to be heard. Across the state, folks are opening up the dreams of voters in absentee ballots. And we believe our chance for a stronger Georgia is just within reach. But we cannot seize it until all voices are heard. And I promise you tonight, we are going to make sure that every vote is counted. Every single vote. Every vote is getting counted.
Toward the end of her speech, Abrams hinted that voters may have another chance to cast their ballots for her. "Georgia still has a decision to make," Abrams said. "If I wasn't your first choice, or if you didn't vote, you're going to have a chance to do a do-over."
As NBC described, Abrams seemed to be implying that Georgia's gubernatorial race could potentially be headed to a runoff. In the state, if no candidate secures over 50 percent of the vote, the top two candidates face each other in a runoff election. Should a runoff election occur, it would take place on Dec. 4 and would be the first-ever gubernatorial runoff in the state's history.
For his part, Kemp gave a speech to supporters at around 2:30 a.m. on Wednesday. As First Coast News reported, the Republican candidate acknowledged that votes are still being tallied, but indicated that he was confident that he would be elected governor. "Make no mistake, I am very proud of team Kemp and I am proud of what we all have built." he said. "There are votes left to be counted, but we have a very strong lead. The math is on our side to win this election."
Overall, Abrams' impassioned election night speech stressed the importance of ensuring that all Georgians' voices are heard. As votes continue to be counted, many around the state are likely anxiously waiting to see how the gubernatorial race will unfold.