Stacey Abrams Just Dropped A Sly Hint About Running For Office Again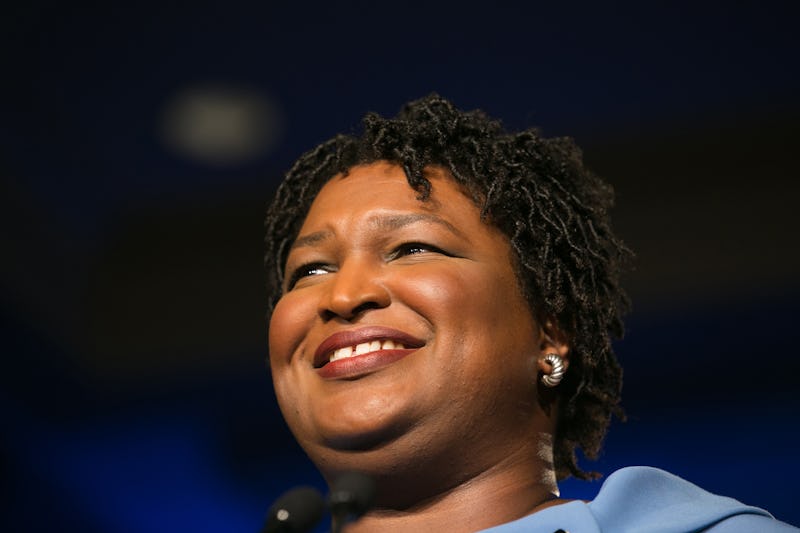 Jessica McGowan/Getty Images News/Getty Images
During an appearance at the TEDWomen 2018 conference in California on Friday, Stacey Abrams hinted at running for office again. The Democrat's not-so-subtle remarks come a few weeks after she ran against former Georgia Secretary of State Brian Kemp during the midterm election.
"I am moving forward knowing what is in my past," a determined Abrams said. "I know the obstacles they have for me. I'm fairly certain they're energizing and creating new obstacles now. They've got four years to figure it out. Maybe two."
Now, if she runs in two years, Abrams would be challenging Republican Sen. David Perdue of the Peach State. In four years, her rival would most likely be governor-elect Kemp once again. In comments to Politico, Abrams said, "I am open to all options, and it's too soon after the election to know exactly what I'm going to do."
Speaking at the TEDWomen 2018 conference, Abrams said that three fundamental questions should surround everything one does in their life. Firstly, what do you want? Secondly, why do you want this thing? And thirdly, she said, how do you get to your particular goal? Abrams said that she knew what she wanted: Justice, because "poverty is immoral and a stain on our nation," she said.
For the second question, Abrams said that you shouldn't feel obligated to want something; the desire needs to be direct and from the heart. "It should be something that doesn't allow you to sleep at night unless you're dreaming about it," she explained.
Abrams also noted that no matter how tough things get, revenge was not an option. The Democrat talked about her younger days and how, once as a valedictorian, she said that she and her parents went to visit the governor of Georgia at the time.
The group took a bus to see the governor but Abrams said that they were told off by a guard at the gates when they reached the area.
Abrams said that she couldn't recall if she got a chance to see the governor that day. But she said the guard judged her family based on the transport they took. And that experience, she noted, left an indelible impression on her.
"The only clear memory I have from that day," Abrams said, "was a man standing in front of the most powerful place in Georgia, looking at me, and telling me I don't belong." From there on, Abrams had a clear vision for her life. "I decided to be the person who got to open the gates," she told the crowd on Friday.
Abrams is not known for mincing her words. In November, the Georgia Democrat told NPR about how difficult it can be to vote in her state. Personally, she said that she was almost turned away from a polling station in October when she went to vote early. Abrams noted that she didn't want to turn it into a "major conversation" but she still wanted the issue fixed.
The problem was resolved after a conversation with an on-site manager, according to Abrams. But that may not be the case for everyone, she was quick to point out to NPR. "It was also emblematic to me of the privilege that I have," Abrams said, adding that she knew the law. But she said that there were "millions in Georgia who do not know what their rights are" and who ended up having to wait hours to cast their ballot. And that had to change.
Given her tradition of speaking freely, it's no surprise that Abrams took on the same tenor in California on Friday.