Stacey Abrams Said She Almost Wasn't Allowed To Vote In The Midterms — Here's Why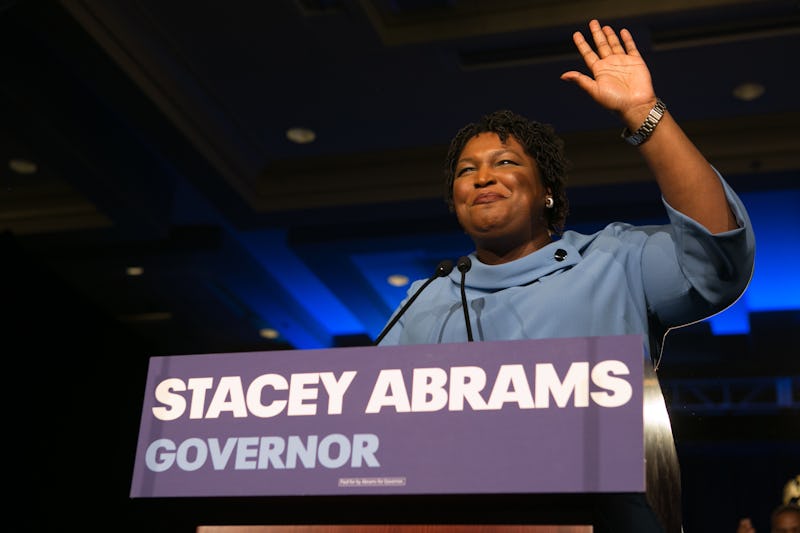 Jessica McGowan/Getty Images News/Getty Images
Although it's been a bit over two weeks since the American midterm election took place on Nov. 6, the subject of possible voter suppression in Georgia continues. On Tuesday, as the former gubernatorial candidate discussed her own experience when she went to vote early in the midterms, Stacey Abrams said a poll worker almost turned her away from casting her ballot.
The Democrat, who ended her campaign on Friday, gained national attention as she ran against and ultimately lost to Republican Brian Kemp in the Peach State's midterm race.
Abrams told NPR's Morning Edition's Steve Inskeep about the incident from October. The Democrat said that when she reached the voting station, a poll worker informed her that she could not cast an in-person vote as she had already asked for an absentee ballot. This was news to Abrams, and she said she told the poll worker that she never requested an absentee ballot. The issue was brought up to a manager at the station, she told Inskeep, and was resolved after that.
Abrams said that she did not want to attract attention toward the incident. "I did it quietly," she told Inskeep. "I didn't turn it into a major conversation because, for me, it was about getting through the process. I was not trying to embarrass anyone, but I did want it fixed."
She said that her experience reminded her that not everyone had the resources to address the problem the way she did. "It was also emblematic to me of the privilege that I have," Abrams said. "I know the law. ... There are thousands, millions in Georgia who do not know what their rights are and therefore do not know that they shouldn't have to wait in four-hour lines in the rain with their children."
Voters who don't have her kind of privilege, Abrams said, "shouldn't have to worry about whether they will lose their jobs in order to exercise their democratic right to vote for their leaders."
The topic of voter suppression continued to come up during Abrams' interview with NPR. She pointed to Kemp — who was the secretary of state and thus was responsible for overseeing the very election he ran in — as the reason for election mismanagement.
"The totality of the errors made," Abrams said, "of the gross mismanagement, of the incompetence — 1.5 million people purged [from voter rolls], 53,000 [votes] put on hold, 3,000 denied the right to register as new citizens, long polling lines, misplaced provisional ballots — the totality of the issues demonstrates that there has been gross mismanagement of our elections."
Kemp, however, previously called Abrams' claims of voter suppression a "farce." In October, the Republican dubbed Abrams' claim "a distraction to take away from Ms. Abrams' extreme agenda that she has."
On Friday, in a speech ending her bid for governor, Abrams announced the launch of the political action committee, Fair Fight Georgia. In one of its first moves, Abrams' committee will file a federal lawsuit against Georgia.
The Democrat said that idea is to "look at the totality of the challenges facing the state of Georgia, from broken machines to voter suppression and voter purges to the actual execution of the election through early voting on Election Day." In other words, Abrams' fight against voter suppression is far from over.