Staffers At This Migrant Kids Detention Center Were Reportedly Never Vetted By The FBI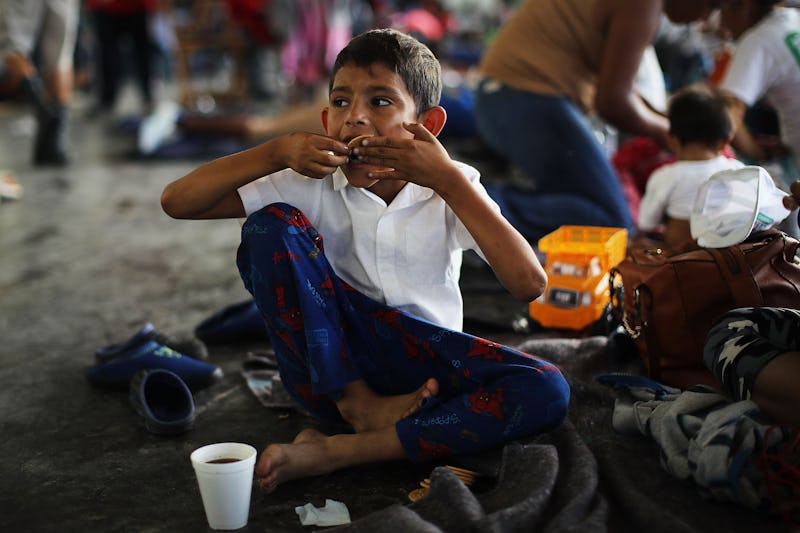 Spencer Platt/Getty Images News/Getty Images
According to a federal watchdog report, staff at a Texas kids' detention center were allowed to skip FBI background checks by way of an allowance made by the Trump administration. The camp, which holds thousands of migrant children in Tornillo, Texas, was not conducting standard FBI background checks for its employees as of September. Bustle has reached out to the Administration for Children and Families for comment.
A Health and Human Services inspector general memo was released on Tuesday in response to the report. The memo read in part, "Tornillo is using checks conducted by a private contractor that has access to less comprehensive data, thereby heightening the risk that an individual with a criminal history could have direct access to children."
In addition to pointing out the detention camp's total lack of comprehensive background checks for employees, the inspector general further claimed that the facility does not have enough clinicians to properly care for the mental health needs of the boys and girls it houses.
The detention camp currently holds over 2,300 migrant children between the ages of 13 and 17. The Associated Press reports that the camp also employs over 2,100 staffers, none of which have undergone rigorous background checks.
According to Vice News, the Office of the Inspector General first became aware of the insufficient background checks at Tornillo in the midst of an ongoing investigation of 45 facilities. But the problems at Tornillo were supposedly so bad that they warranted an "early alert" memo, before the rest of the investigation was completed.
It's unclear how many other facilities, if any, have been found to have a similar inadequacy regarding background checks. But HHS guidelines expressly require the need for FBI background checks. Those background checks must include a minimum of the following: fingerprinting, a child protective services check, and a background investigation, among other stipulations.
According to Vice, the background checks were first waived by Scott Lloyd, the former director of the Office of Refugee Resettlement, in June, immediately following the opening of the camp.
The Trump administration first announced the establishment of the camp as a temporary measure for less than 400 migrant children in the beginning of the summer. However, The Associated Press reports that the camp is appearing increasingly "permanent" as time goes on; in October alone, an additional 1,300 migrant teens arrived to the camp. What started as a temporary shelter (that the Trump administration originally estimated to exist for a month or less) might now cost taxpayers over $430 million.
It's worth noting that none of the teenagers at the Tornillo camp were involved in the family separation crisis earlier this summer. Rather, they were the result of the Trump administration's increased strictness on immigration policy, with most of them having been detained after trying to cross the border to meet family members already living in the United States.
A spokesperson for the nonprofit that's running the facility denied that any wrongdoing was occurring at the camp. "We don't have anything to hide," she said. "This is an exceptionally run operation. This isn't our first rodeo."