Why Stanford Scrapped Its Plan To Place A Plaque Where Brock Turner Assaulted A Woman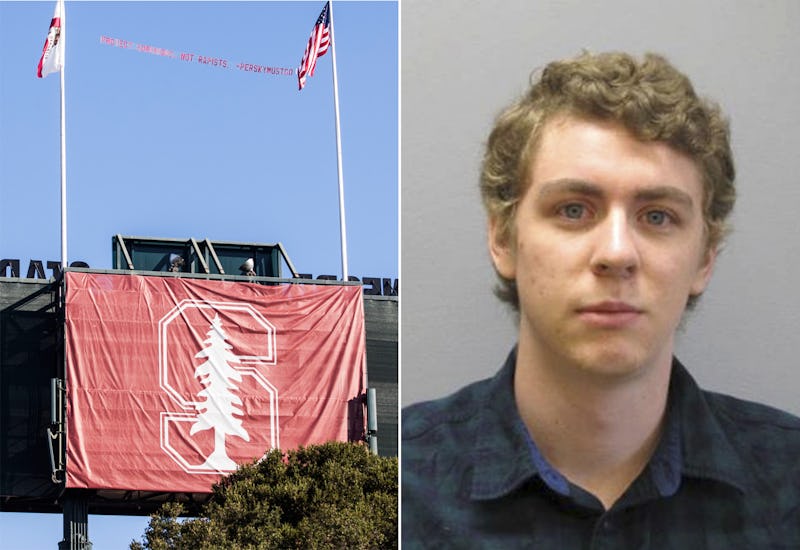 Ramin Talaie/Getty Images / AP/Rex/Shutterstock
Stanford has replaced a dumpster on campus behind which Brock Turner sexually assaulted a young woman in 2015 with a new sitting area, but the final touch was nixed when the university and survivor couldn't agree on the details. Stanford cancelled plans for a plaque at the scene after rejecting two quotes chosen by Emily Doe to mark the location where she was assaulted three years ago. A university spokesperson tells Bustle Doe's quotes couldn't be accepted because "they were not consistent with a contemplative space and the intention of a place where members of our community could seek solace."
The survivor, who chose to protect her identity, decided not to participate after the school rejected two quotes she offered from the victim impact statement she read at Turner's 2016 sentencing hearing. Doe's statement was published by BuzzFeed News at the time, though it's unclear which quotes she suggested to Stanford. Doe then rejected three quotes the university suggested from the same statement.
Turner's criminal case became a national spectacle, especially after he was sentenced to just six months in jail for sexual assault. He ended up only serving three months. Despite the leniency granted to Turner, the survivor's impact statement, which was read aloud in court, struck a chord with women across the nation. "To girls everywhere, I am with you," she wrote. "On nights when you feel alone, I am with you. When people doubt you or dismiss you, I am with you."
A university spokesperson tells Bustle that one of the quotes Doe proposed wasn't accepted because sexual assault counselors advised the university that it could be triggering for survivors. "The university proposed multiple alternate quotes, all eloquent statements from Emily Doe's letter, that were consistent with the purpose of the garden," they said. The quotes proposed by the university were:
"You are beautiful, you are to be valued, respected, undeniably, every minute of every day, you are powerful and nobody can take that away from you."
"On nights when you feel alone, I am with you. When people doubt you or dismiss you, I am with you. I fought every day for you. So never stop fighting, I believe you."
"I'm right here, I'm okay, everything's okay, I'm right here."
Doe's lawyers did not accept any of the university's choices and said Doe was no longer interested in putting up a plaque, according to the university spokesperson.
Michele Dauber, a Stanford law professor, was disappointed neither of Doe's suggestions were chosen. "Emily Doe's impact statement inspired millions around the world," she told the Associated Press. "It would have been a real benefit to the Stanford community to have a quote from this important piece of writing selected by the author for that location."
Dauber has petitioned for months to remove the judge who gave Turner a light sentence from the bench. The Santa Clara County judge was cleared of misconduct by the California Commission on Judicial Performance and subsequently moved to a civil court in San Jose. Now, Judge Aaron Persky will face a recall vote in June after more than 90,000 signatures were submitted.
"Emily Doe wrote that when she learned that Judge Persky sentenced Brock Turner to only six months in jail, she was 'struck silent,'" Dauber said in a statement. "But today the voters of Santa Clara County have spoken loud and clear. This historic campaign is part of a national social movement to end impunity for athletes and other privileged perpetrators of sexual assault and violence against women."
Turner was released from jail in September 2016, but sexual assault activists are still fighting for justice to be served.