Starbucks' New Holiday Cups Are Not Only Instagrammable, They Also Have A Beautiful Message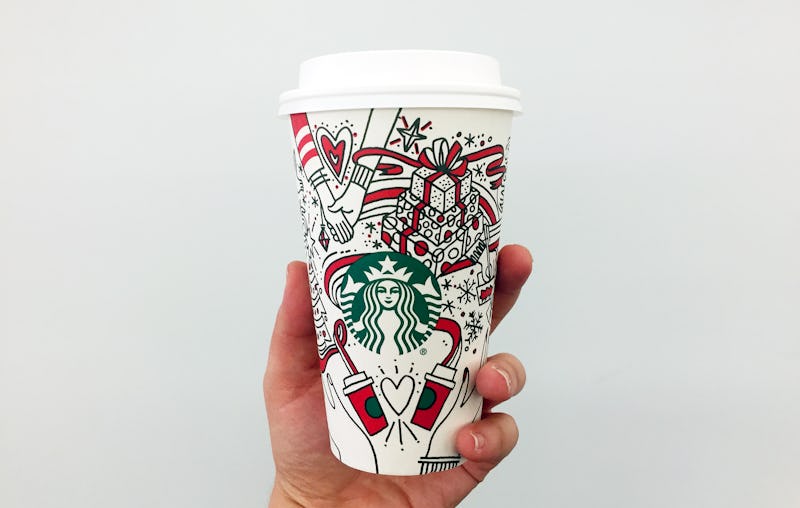 Tanya Ghahremani/Bustle
Once the Starbucks holiday cups roll in, it's officially holiday season. Nothing helps the transition from fall to winter like a seasonal cup that's bursting with holiday cheer. But you're going to want to know what Starbucks's 2017 holiday cups are all about, because they feature all new designs that stand for a lot more than holiday cheer.
Every year, there's a lot of hullabaloo over the Starbucks holiday cups. People are overly excited about the beginning of the season, and also conflicted because they can't seem to agree on how the holidays should be depicted, universally. But this year, Starbucks is beating us all to the punch. They know that the holidays mean something different to everyone of all faiths, so they're introducing a cup that's unlike any other they've had before. Oh, and they have a DIY aspect to them that's bound to create some interesting (and super Instagrammable) art.
They're not red, they're not green, and they don't represent a basic idea of the holidays — in fact, they represent a much more complex idea of the holiday season that can be shared and appreciated by people from all walks of life. Even better, the new holiday cups literally look like a page from a holiday coloring book, which means that you're going to have a lot of fun crafting and coloring ahead of you when you finish up your delicious coffee or tea drink. The new holiday cup design, as revealed Nov. 1, is actually an outline of a variety of different holiday scenes. There are all different kinds of couples and traditions on the cup, and the way they're drawn on is meant to encourage customers to add their own designs and colors and to make the cup look like your own brand of the holidays.
"Our cup, your creativity," is the Starbucks slogan this year. Once you decorate your cup, you can upload it onto social media with the hashtag #givegood and connect with other people who have decorated their cups to see how everyone else celebrates their holiday season. And of course, to show off your cup and get those likes. The theme of the cup is giving and spreading kindness rather than the holidays them self, which I think is something that we can all agree is of utmost importance. Perhaps you can start that trend by leaving nice comments on other colored-in cups, to create a positive vibe online.
Let the cups inspire you to make a bit more effort to be your best self. You can start small — perhaps that's holding the door for someone who has their hands full, even if you're in a rush — or you can go all in and sign yourself up for some holiday volunteer work. There is no shortage of institutions that would be grateful for you help this season. It's never to early to start giving good, so get on with your random acts of kindness. Make a list if you like, or go with the flow and find ways to incorporate kindness into your every day life. Yes, even if that means letting someone go in front of you in line, donating clothing you no longer need, or just smiling at someone. Think about how much a smile can brighten your day, and remember that you have that power every time you cross paths with someone.
The new holiday cups will be rolling out over the next week, so expect to see a lot of different holiday expressions on your morning commute. Regardless of what you think of the cups, they will certainly give you a great excuse to spark up a conversation with a stranger — cheers to that.