Starbucks Wants To "Make Things Right" After A Racial Slur Was Written On A Customer's Cup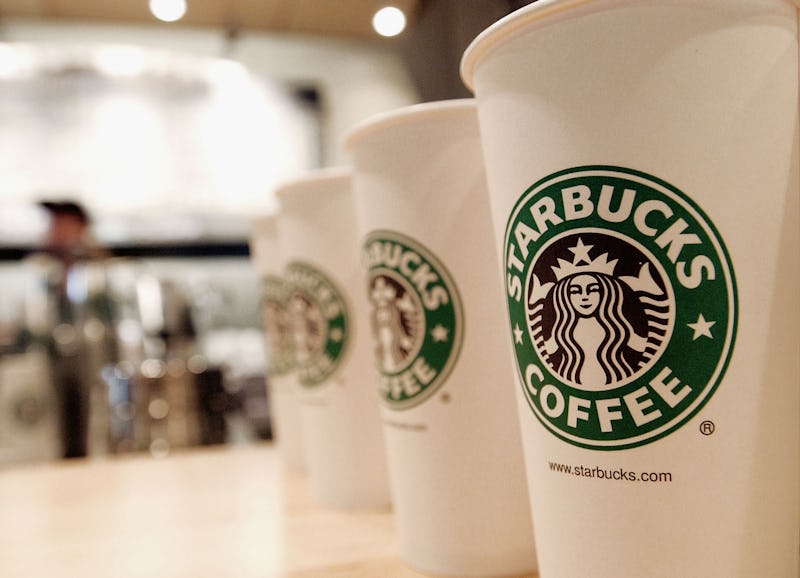 Stephen Chernin/Getty Images News/Getty Images
Just one month after the coffee mega-chain Starbucks drew scrutiny for the arrests of a pair of black patrons, another race-related scandal has taken place. In fact, it has already put out a response ― Starbucks apologized for a racial slur on a Latino customer's cup on Thursday, maintaining that what happened was "not indicative of the type of interaction" it wants its customers to have.
Los Angeles CBS News affiliate KCBS reached out to Miguel Acosta, a friend of the man who had the slur written on his cup, to get the full story. Acosta said that the customer ― a Latino man named Pedro ― told a Starbucks employee that his name was Peter. When he got his coffee, however, the label had the word "beaner" printed on it, a derogatory slur often used against Mexicans.
"He went to Starbucks, and they asked for his name, and his name is 'Peter,' and they wrote this 'beaner,'" Acosta reportedly told KCBS. "And he's saying that's not fair."
Priscilla Hernandez, one of Pedro's co-workers, reportedly called the Starbucks location to complain. She claimed to CNN that the particular Starbucks location said the employee who took Pedro's order couldn't understand his name. She added that they were offered a $50 gift card as a response to the slur.
The company has since put out a statement apologizing for what happened, suggesting that it's reached out to Pedro to "make things right." Bustle has reached out to Starbucks to ask what steps it plans to take.
"This is not indicative of the type of experience we want our customers to have when they walk into our stores," the company said, as KCBS detailed. "We have apologized to the customer directly and are working to make things right."
This latest incident comes just weeks before Starbucks is scheduled to close all 8,000+ of its U.S. locations for the afternoon of May 29 to conduct anti-racial bias training for all its employees. That decision was made as a response to the arrests of a pair of black men, Donte Robinson and Rashon Nelson, at a Philadelphia Starbucks last month; an employee at the coffee shop called the police on the men when they asked to use the bathroom and sat at a table without buying something first.
Starbucks reportedly reached a confidential settlement with Robinson and Nelson, who were waiting at the Starbucks for a business-related meeting when the police were called and they were arrested. The incident resulted in nationwide conversation on racial bias, and the company's CEO, Kevin Johnson, called the arrests "reprehensible."
Starbucks is one of the largest and most profitable coffee companies on Earth, boasting more than 26,000 locations worldwide. As such, the planned May 29 closures for bias training will represent nearly a third of all their locations shutting down for an afternoon. The training is only for U.S.-based locations, however.
None of the reports on the incident have provided Pedro's last name, which suggests he's probably opting to keep his privacy intact. He did reportedly speak to NBC News, however, calling the slur on his cup "an offensive word used towards Latinos," and saying that he found the offer of a $50 gift card "insulting," which is why he refused it.
According to the report, Pedro went into his Thursday meeting hoping that the barista who printed the slur on his cup would face "serious consequences."