Starbucks Has Its Own Credit Card Now & It Includes A Way To Earn Free Coffee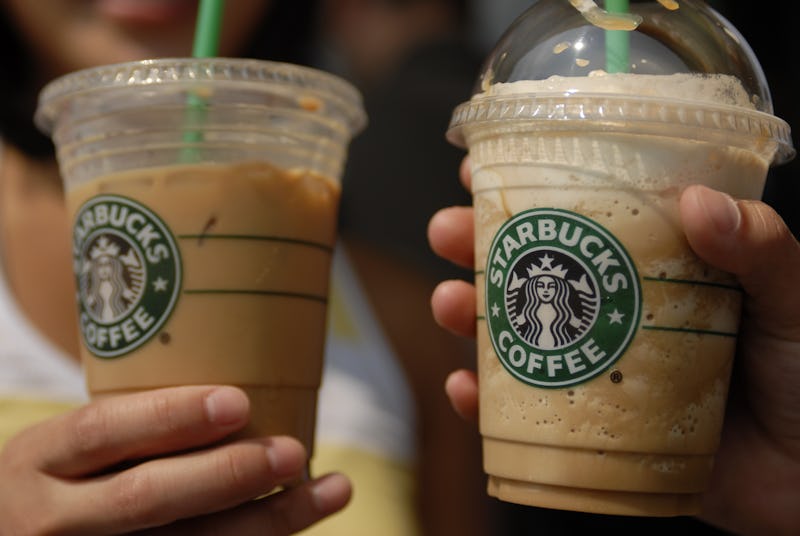 Melanie Conner/Getty Images News/Getty Images
Starbucks has just found a way to marry your love for coffee to your obsession with collecting loyalty rewards: the Starbucks credit card. It's Starbucks' first credit card and the incentives look huge, particularly if you're a frequent Starbucks customer.
America's most famous coffee shop chain launched the Starbucks Rewards Visa Card in partnership with Chase Bank. The Starbucks credit card works pretty much like other credit card loyalty program where you get points every time you use that card to buy something, and then later you can cash those points in for a reward of some sort.
Starbucks integrated its credit card into the pre-existing Starbucks Rewards loyalty program. For those of you who don't know: Members of the Starbucks Rewards loyalty program can earn "stars" every time they make a purchase at a Starbucks. Those who reach Gold status can earn other perks, including free in-store refills and ordering drinks ahead of time via phone. With the new credit card, cardmembers can earn Starbucks Stars anywhere that accepts Visa, not just Starbucks stores.
If you become a Starbucks credit card holder, you can earn one Star for every $4 you spend anywhere and up to three Stars for every $1 you spend at Starbucks. But Chase lures you in from the beginning with bonuses: When you sign up for the Starbucks credit card and link it to your Starbucks account, you'll get 250 Stars. If you spend $500 in the first three months, Starbucks will gift you with 2,500 Stars.
For every 125 Stars you collect, you can redeem them for one free menu drink, food item, or bottled beverage at a participating Starbucks. That means if you do spend $500 the first three months and connect the card to the Starbucks mobile app, you could get up to 22 freebies. On top of that you will receive eight annual Barista Picks. Each year Starbucks Visa cardmembers can pick up eight free drinks or food items selected for you.
Not that you need another excuse to fuel any expensive habits you have. At least now you can feel a tiny bit less guilty about your shopping addiction or how much money you spend on Frappuccinos knowing that it will bring you free Starbucks drinks and food.
There are a few drawbacks to consider. Chase hits its Starbucks Visa cardmembers with an annual $49 fee. And you can only redeem your rewards for Starbucks food and drink items, which puts you in a Starbucks cycle. The Stars also expire six months after the first month in which you earn them. This means if you're not a Starbucks superfan who goes there all the time, you'll have to remind yourself to redeem your Stars before they expire.
Back on the financial side, make sure to read the fine print. Like with any credit card, the Starbucks Visa card comes with interest rates. If you struggle to pay off your credit card bills already, signing up for another card might not be a good idea.
Some Starbucks customers were less thrilled about the annual fee and interest rates.
Both Nerd Wallet and The Points Guy, the go-to sites for comparing credit card rewards, have weighed in on the Starbucks credit card.
The yearly Barista Picks can make up for the annual fee, wrote Claire Tsosie for Nerd Wallet. In her opinion:
This card isn't worthwhile for those who visit Starbucks just once in a while, or those who prefer to redeem rewards for cash back or travel. But for Starbucks fans who prefer earning rewards in food-and-drink form and want VIP treatment at their favorite store, this card is a solid deal.
Emily McNutt for The Points Guy did not recommend using the Starbucks Visa card for purchases outside Starbucks. "Earning only 1 star for every $4 spent on non-Starbucks purchases is a pretty unfavorable rate," McNutt said.