Starbucks Is Facing New Racism Allegations For What Was Written On A Coffee Cup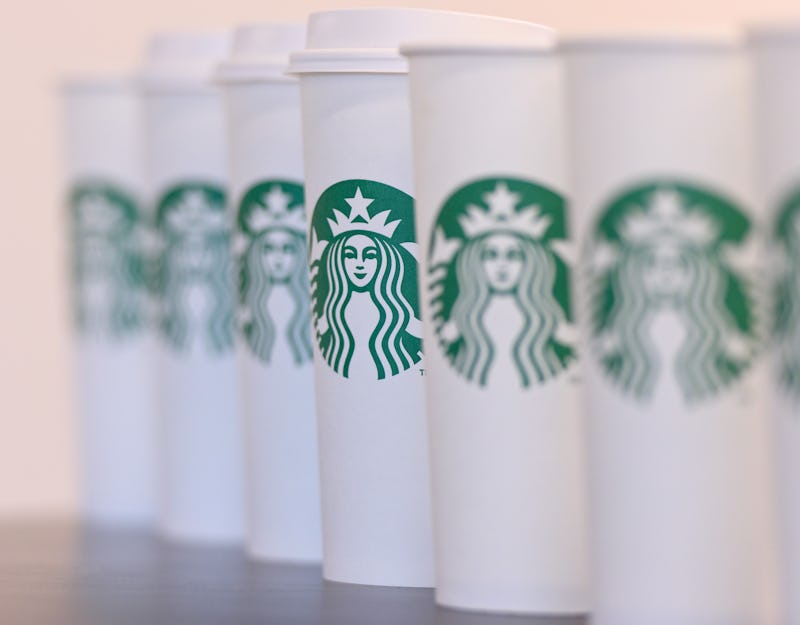 Ben Pruchnie/Getty Images News/Getty Images
Starbucks has faced multiple allegations of racism following two back-to-back incidents in Philadelphia and Torrance, California, last month, leading the company to announce the closure of 8,000 stores for a racial bias training. The store closure is slated to take place on May 29, but less than than two weeks before the training, Starbucks is facing new allegations of racism, this time in La Cañada, California.
A Latino customer named Pedro has accused Starbucks employees of writing a racial slur on his cups. According to CBS Los Angeles, Pedro ordered two cups of coffee under his name, and when he received it, the word "beaner" — which is a slur for someone who is Hispanic or of Hispanic descent — was allegedly on his cup. Miguel Acosta, a friend of Pedro's who translated for him, told CBS News that his "friend was also sad" about the unfair treatment.
In a statement to NBC4 and other news outlets, Starbucks said that the company was launching a full investigation into the incident.
"This is not the experience that we want for our clients," the statement said. "We asked for [Pedro's] forgiveness and we are working to correct this. Also, we are investigating the incident to ensure this will not be repeated."
Customers who frequent the La Cañada Starbucks told CBS that they were shocked when they heard about the incident. "I'm disappointed in Starbucks, I mean, that's — when you put something in the computer and put a name on something, you're labeling someone, and I think that's not right," said one man whose name was not mentioned.
Another customer named Ana Garcia criticized Starbucks after she found out about what had happened. "That's clearly really racist," Garcia told NBC4. "What can I tell you? It's sad to hear that, to be honest."
Starbucks has been facing significant backlash across the country after allegations of racism at two different locations came to light. First, a barista reportedly called the police on two black men who were waiting for someone at a Philadelphia Starbucks. The two men — Rashon Nelson and Donte Robinson — were real estate developers who hadn't yet purchased anything because they were waiting for an investor to meet them there, but were accused of trespassing after asking to use the bathroom. Police officers subsequently arrested the men and escorted them out of the store.
Not longer after that first incident, a black man named Brandon Ward accused a Starbucks in Torrance of racism, claiming that baristas had denied him the code to the bathroom. In a video of the incident, Ward alleged that a white man who was waiting in line was given the code to the bathroom without any questions asked, but Ward — who was also in line — was not given the code.
According to The Washington Post, Starbucks CEO Kevin Johnson met with Nelson and Robinson — the two men who had been arrested in Philadelphia — to offer them his apologies face-to-face. The following day, Starbucks announced its racial bias training for 175,000 employees across the country. CBS Los Angeles suggested that the incident in La Cañada might become a case study for employees to discuss during the training, alongside the incidents in Philadelphia and Torrance.
According to NBC4, the Starbucks in La Cañada offered Pedro a $50 gift card as an apology, but he told Telemundo 52 — NBC4's sister station — that he refused to accept it because "it's like an insult overall." Pedro also didn't think the slur's presence on his cups was an accident, because the barista reportedly called out his name when his coffee was ready.