Starbucks Launched 3 Pink Drinks For Breast Cancer Awareness Month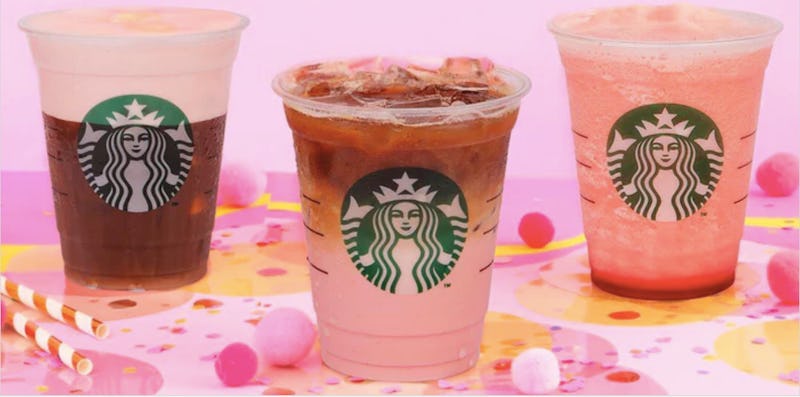 Starbucks Indonesia
Starbucks has a ton of delightfully pink drinks on their menu already, ranging from the Serious Strawberry Frappuccino to that viral favorite, the Pink Drink. During October, though, a whole bunch of new pink Starbucks drinks for Breast Cancer Awareness Month have arrived — and they look just as Instagrammable as you probably think they do. They're for a good cause, too which is an added bonus; however, there's one tiny little catch: You have to go to Indonesia to get them.
The three new pink drinks — the Iced Pink Macchiato, the Fantasia Yoghurt Frappuccino, and the Strawberry Cold Foam Iced Espresso — are part of the #PINKVOICE campaign, a joint effort from Starbucks Indonesia and the non-profit breast cancer advocacy and awareness organization Lovepink Indonesia. Founded in 2012, Lovepink Indonesia focuses on early detection efforts like breast self-exams and clinical breast checks. Run by a community of breast cancer survivors, it also offers mentoring and support for people who have been diagnosed with breast cancer. The #PINKVOICE campaign is Lovepink Indonesia and Starbucks' Breast Cancer Awareness Month program; it will run for the entirety of October.
The theme of the 2018 #PINKVOICE campaign is "Chat That Matters." Supported by the mantra "Talk About, Share It, and Save More," it aims to break the stigma that can prevent people from talking about breast cancer — which, in turn, can often halt prevention efforts in their tracks. The idea, according to a press release, is to "cheer and invite everyone to take a preventative approach on breast cancer by talking more about it in their daily lives."
Starbucks' contribution to those efforts include three pink drinks offered at Starbucks Indonesia stores specifically for the month of October, with proceeds from sales benefiting Lovepink Indonesia. The Iced Pink Macchiato layers milk flavored with vanilla and strawberry syrup with espresso; the Fantasia Yoghurt Frappuccino — which sounds similar to what's referred to in the United States as a Crème Frappuccino — blends together ice, milk, and strawberry and vanilla syrup before topping the whole thing off with raspberry whipped cream; and the Strawberry Cold Foam Iced Espresso takes that magical creation Starbucks debuted in 2017 known as cold foam, flavors it with strawberry, and piles it on top of a slug of iced espresso.
The hope is that the sale of these drinks will not only help Lovepink in their mission, but also to get people talking about breast cancer more freely than they might typically feel they can.
2018 marks the #PINKVOICE campaign's second year running. Starbucks and Lovepink Indonesia teamed up for the first time in 2017; throughout the month of October last year, Starbucks stores in Indonesia offered four limited edition pink drinks — an Iced Pink Macchiato, a Pink Yogurt Frappuccino, a Pink Blossom Frappuccino, and an Iced Raspberry Latte — with 10 percent of the proceeds from sales going to Lovepink. The campaign launched with a video featuring Indonesian actor and breast cancer awareness advocate Chelsea Islan.
It was a massive success. "The campaign received positive response and great enthusiasm from the public," said Anthony Cottan, Director of Starbucks Indonesia, in a press release following the conclusion of the event. "More than 200,000 cups contributed over IDR 500 million to support [the] Lovepink program, which will be utilized to increase breast cancer awareness-related issues and emphasize … the importance of regular breast checking as the basic breast cancer prevention." IDR 500 million is equal to nearly $33,000 USD.
There may be fewer drink options this year; however, two of them are new, and even the returning drink, the Iced Pink Macchiato, has been slightly revised: Whereas all the 2017 drinks were raspberry-flavored, the 2018 ones get their fruity kick from strawberries instead.
Plus, the 2018 #PINKVOICE campaign isn't just about the drinks; there's a whole host of programming going on, as well. Throughout five cities — Jakarta, Bandung, Surabaya, Bali, and Yogyakarta — both "Pink Talks" aimed at dispelling myths about breast cancer and "Pink Zumba" sessions will be occurring regularly over the course of the month. The first of these events has already occurred, but there are plenty more to go; you can see the full schedule here.
Even though we might not be able to get these gorgeous and no doubt tasty drinks in the United States, though, there are still plenty of ways to support the cause. If you want to donate, Charity Navigator can help you figure out the best places to donate to support whatever angles are most important to you, from research to support services. And don't forget to perform regular breast self-exams while you're at it — it can literally you're your life.