This New Starbucks Store Will Serve ALCOHOL & The Cocktails Sound Amazing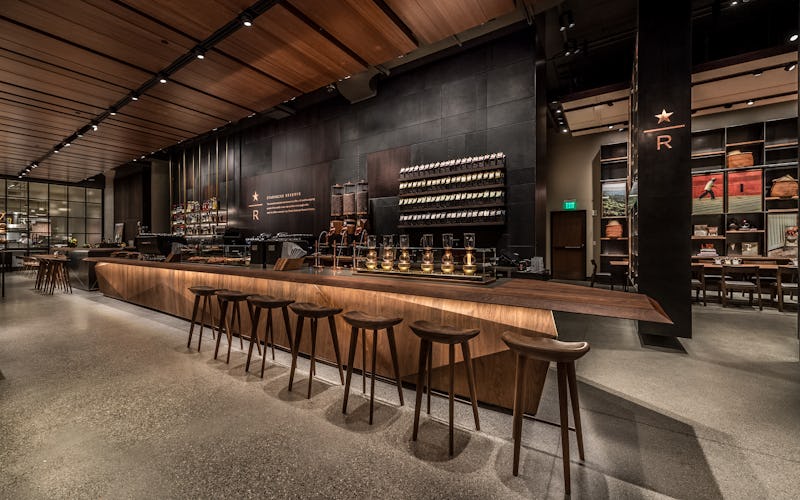 Starbucks
If you didn't think Starbucks could get any better, get ready to have your mind blown. Starbucks just announced the introduction of their first Starbucks Reserve Store, which is open to the public beginning Feb. 27 and located on the first floor of the company's corporate headquarters in Seattle, Washington. In addition to serving all of the coffee drinks and Princi food items that are available at Starbucks Reserve Roasteries around the country, the new Reserve Store will feature a "marketplace-style environment" to showcase their Reserve brand (think: coffee cups, Reserve espresso beans, etc.), as well as a full bar. That's right: Starbucks' new Reserve Store will sell alcohol, including traditional Italian cocktails as well as local beer, wine, and spirits.
While Starbucks reports that right now, this Seattle store is the only Reserve Store location, the company has plans to eventually open 1,000 Reserve Store locations around the world. Aside from adding boozy beverages to the menu, the stores will be designed as open, market-style cafés with a full mixology bar, where you can sample traditional Italian Aperitivo and aromatic Italian cocktails such as an Aperol Spritz, a Milano Torino, and a Negroni Sbagliato during the afternoons and evenings.
As for coffee options, customers will be able to get Nitro Draft Lattés and Spiced Ginger Cold Brews on tap, as well as treat themselves to freshly baked foods such as cornetti, brioche, and pizza from the famed Italian bakery Princi. (Up until now, these drinks and foods were only offered at Starbucks Reserve Roasteries, which are basically specialized Starbucks locations offering more coffee options). Between the coffee, food, and alcohol options, customers will totally be able to pretend they're spending the day at an open-air piazza in Italy basically by just going to Starbucks in Seattle.
Piggy backing on the success of its roasteries, the Starbucks Reserve Store will offer an immersive experience like no other. "Starbucks Reserve is the complete and total commitment to the immersive experience of coffee craft and the ongoing pursuit of the world's rarest, most exalted, most sought-after small-lot coffees," Starbucks Reserve Roasteries' website explained. And, you can expect a similar vibe at the new reserve store, plus a bar. "It is the acknowledgement, the wonder and the intuition of knowing that everything you taste, smell, see and touch is the result of the vigorous pursuit of a new definition of quality, craftsmanship and innovation."
If you're wondering what this Starbucks fantasy land might be like, Vogue reported that the Starbucks Reserve Roastery in Shanghai, China, is akin to a coffee amusement park. Though it doesn't include a mixology bar like Seattle's new Starbucks Reserve Store does, this coffee kingdom is described by the company as the largest Starbucks in the world. "As part of their experience, customers can visit many attractions including one of three coffee bars offering multiple brewing methods, explore specially-crafted teas at the 3-D printed tea bar, enjoy freshly baked Italian artisanal food by Princi, and marvel at the ceiling made of 10,000 handmade wooden hexagon-shaped tiles, inspired by the locking of an espresso shot on an espresso machine," Starbucks noted in a press release about the December 2017 opening of the Shanghai store.
I mean, who can top that? Other than Starbucks themselves, of course: The new Reserve Store will bring all of this to Seattle, plus beer, wine, and spirits. Plus, feng shui decor!
If you don't live in Seattle and you have major FOMO after reading this, it might be worth a pilgrimage to the rainy city while you wait for other locations to open. From the small-lot coffee, to the food, to the bar, to the thoughtful design, everything about this new Starbucks Reserve Store feels equal parts warm and modern. Like, an ideal place to bring your laptop and kill an hour... or 10.