Starbucks' First Store For Deaf & Hard Of Hearing Customers In The U.S. Just Opened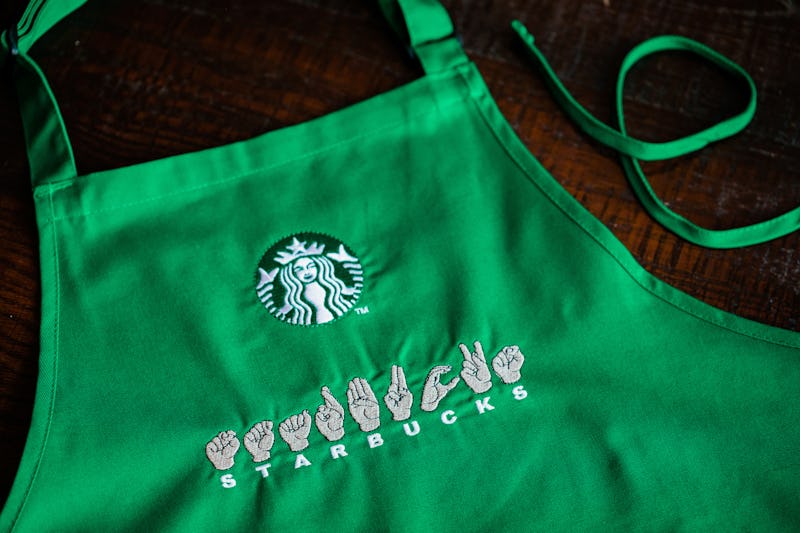 Starbucks
Coffee lovers and Starbucks fans take note: Starbucks has officially opened its signing store near Gallaudet University, a four year university for the Deaf and hard of hearing community in Washington, D.C. "Starbucks' decision to open a signing store in Washington D.C. expands the definition of what most people think of when they consider diversity," Gallaudet University President Roberta J. Cordano said in a press release about the opening sent to Bustle. The store is modeled off a similar Deaf-friendly location that opened in 2016 in Kuala Lumpur, Malaysia.
In addition to "creating an ambient and fully accessible environment for members of the Deaf community, this new store creates employment and advancement opportunities for Deaf and hard of hearing people." Cordano said. "As a worldwide market leader, Starbucks can use its leverage to set an example for other business enterprises." According to CNN, while the new signing store has all the familiar features of your typical Starbucks location, there is one important difference: All employees are fluent in American Sign Language (ASL).
Cordano also said that the new signing store's H Street location near Gallaudet is adjacent to hundreds of businesses — both large and small — that benefit daily from "the economic power of the deaf community." She further stated that "It is to their advantage to cater to the access needs of their customer base, and to invest in Deaf and hard of hearing employees at all levels."
According to The Washington Post, the new Starbucks store does have some distinctive new features: Tech pads are available for writing orders down, and an entire wall is covered in a multicolored mural created by a local Deaf artist and Gallaudet faculty member. Also, rather than baristas calling names out when orders are ready, a customized screen shows customers when it's time for pick-up.
The store was also designed to maximize lighting and visibility for people signing to each other. Non-signing customers are also encouraged to communicate via visual cues instead of vocal ones, The Washington Post further reports. And per Starbucks' press release, the new signing store "was designed with accessibility in mind, with more open space, anti-glare surfaces, and visual displays for customers to check and pick up orders."
The Washington Post further reports that the new signing store was converted from a previous Starbucks location. The new ASL-friendly location features customized store design and technology in order to better serve the Deaf and hard of hearing community.
"This is a first for us, and though it's a mix of hearing, hard of hearing, and Deaf partners, the common denominator is sign language," Marathalee Galeota, senior manager for accessibility at Starbucks, said in the press release. "We really want people to experience the excitement of talking to somebody differently than they might have before."
While no future signing stores have been announced by the coffee chain yet, they may well be in the works. For now, if you're in the D.C. area, you can check out the new store whenever you like. Here's hoping that more signing stores will follow, and that other businesses will be inspired to also create spaces where access is made available for everyone.