The 2019 State Of The Union, As Told Through Reactions From Members Of Congress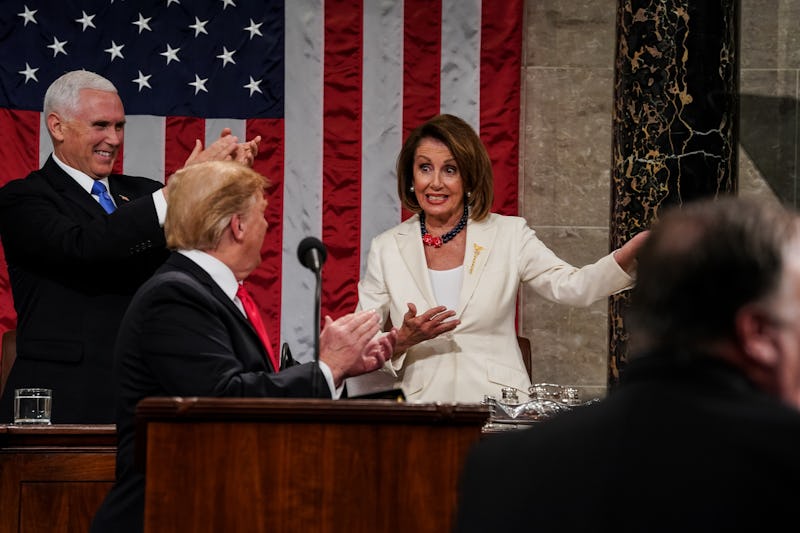 Pool/Getty Images News/Getty Images
President Donald Trump delivered his second State of the Union (SOTU) address in the House chamber on Tuesday evening. In typical SOTU fashion, throughout his speech, members of Congress showed their agreement or lack thereof with Trump's words by respectively standing and clapping or remaining seated. In addition to using applause to convey their thoughts, though, many members also exhibited some telling facial expressions. Indeed, these State of the Union reaction GIFs show that Trump's speech wasn't necessarily a hit with everyone in the room.
During his speech, which, at 82 minutes, was the longest SOTU since the year 2000, Trump addressed a variety of topics, NBC reported. For example, he repeatedly stressed that he believes border security needs to be strengthened and reiterated his desire to construct a wall along the U.S.-Mexico border, CNN noted.
CNN added that Trump also touted the economic growth that has taken place in the United States while he has been in office. Furthermore, he lambasted what he believes are "calamitous" global trade policies, further delving into a topic which he has frequently — and sometimes controversially — addressed during his time in office, Business Today reported. These represent just a few of the many topics the president covered on Tuesday.
For some in the audience, Trump's thoughts on various policy areas elicited not-so-subtle responses that seemed to indicate their disagreement with the president's assertions. The GIFs below offer a look at some of the best SOTU reactions of the evening.