More Than A Dozen States Are Suing The Government To Save DACA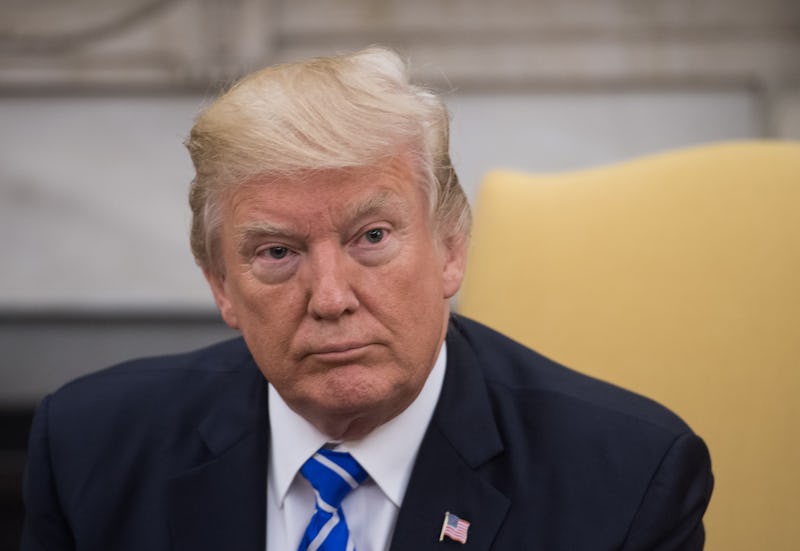 NICHOLAS KAMM/AFP/Getty Images
On Wednesday, 15 states and the District of Columbia filed a lawsuit against Trump over DACA, claiming that his decision to end the Deferred Action for Childhood Arrivals (DACA) program was motivated by discrimination. The lawsuit said that most DACA recipients are of Mexican extraction and therefore Trump's negative past comments about Mexico and Mexicans must be taken into account.
"As President Trump's statements about Mexico and those with Mexican roots show, the President has demonstrated a willingness to disparage Mexicans in a misguided attempt to secure support from his constituency, even when such impulses are impermissible motives for directing governmental policy," the attorneys general wrote, according to CNN.
A notable example of Trump's anti-Mexican comments includes the highly controversial remarks made in his speech announcing his presidential bid: "They are not our friend, believe me," he said in 2015. "They're bringing drugs. They're bringing crime. They're rapists. And some, I assume, are good people." On the campaign trail, Trump also boasted that as president he would build a wall along the Mexican-American border that Mexico would pay for.
Beyond bullying the Mexican president, President Trump has done little to achieve that goal. Responding to the Mexican president saying his country would not fund the wall, Trump said on a private phone call with him: "We cannot say that anymore because if you are going to say that Mexico is not going to pay for the wall, then I do not want to meet with you guys anymore because I cannot live with that."
The DACA program, which was implemented by President Barack Obama in 2012, has been contentious since its inception, in part because Obama created it through an executive action after Congress failed to pass the DREAM Act. Ending the program, which has granted work authorization to 800,000 young undocumented people who were brought to the U.S. as children, was one of the current president's many campaign promises.
On Tuesday, Trump's Attorney General Jeff Sessions announced that DACA's coverage of undocumented young people would end in six months' time, at least partially because Obama's executive action was "unconstitutional." Sessions's claim has been debunked by legal experts, but nonetheless the Department of Justice stands by its position.
"As the attorney general said yesterday: 'No greater good can be done for the overall health and well-being of our Republic, than preserving and strengthening the impartial rule of law,'" Justice Department spokesman Devin O'Malley told CNN. "While the plaintiffs in today's lawsuits may believe that an arbitrary circumvention of Congress is lawful, the Department of Justice looks forward to defending this administration's position."
Nonetheless, according to legal experts interviewed by CNN, the lawsuit filed by the 15 states and DC faces an uphill battle, since the president has the authority to exercise "prosecutorial discretion" when it comes to how immigration laws are enforced. ""Given the general deference that most courts provide to executive branch decisions on immigration, because immigration touches on national security and national sovereignty issues, they're going to have an uphill battle in court," Cornell law professor and immigration attorney Steve Yale-Loehr told CNN. "I wish them well, but as far as I can tell, I think they've got a less than 50% chance of winning in court."
The 15 states sponsoring the lawsuit are: New Mexico, Connecticut, Delaware, Hawaii, Illinois, Iowa, Massachusetts, New York, North Carolina, Oregon, Pennsylvania, Rhode Island, Vermont, Virginia, and Washington.