Stephanie Perez Brings A Glorious Cultural Food Fest To Your Insta Daily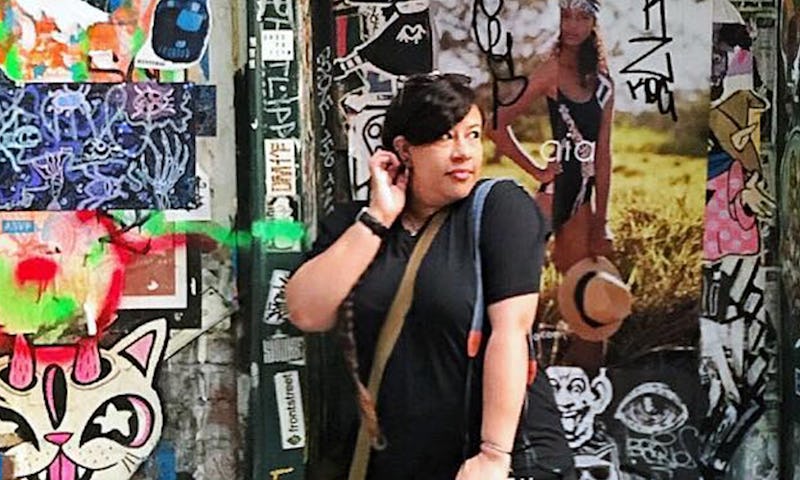 Photo courtesy of Stephanie Perez
Stephanie Perez had us at her Instagram name. Her account @yeahfoodbeer is a gloriously curated collection of food, drinks, and desserts (and cheese). Her feed not only celebrates dishes Latinx dishes, but foods from a host of other cultures as well. That's why she's included in this special edition of Bustle's Must Follow, in which we highlight the incredible Latinx voices you need to follow on Instagram and Twitter.
Describe yourself in one line, including how you identify and what you do.
"I am a mermaid and cheese-loving Latina. Born and bred in NYC. I'm also a visual storyteller with a love for the delicious things in life."
What do you hope people take away from following you on social media?
"Finding beauty in everything from delicious Russian imperial stouts to bubbling bowls of mac & cheese. I also work with businesses and brands that really put an emphasis on quality — there is a story in everything and if it's one thing that helps fuel stories and bring people together it's food and drinks :). I also love helping people figure out where to go to have great experiences with friends, family, and significant others."
When did you first feel that you were a voice for the Latinx community?
"I didn't really think about it until about my first year of my food blogging when I didn't feel like Latin food was represented a lot in the NYC food Instagram scene (not counting burritos and tacos), so I made a contentious effort to include more rice and beans, chicken, pernil, tostones, patacones, mofongo, bacalao, etc. I love foods from all around the world and pride myself on having a diverse feed where burgers, platanos, ropa vieja, pasta, sushi, falafels, and pizza can all get along and be one (freakin' yummy AF) family. The Latinx community is so diverse, so my goal is to show that there is beauty in diversity and cultures should be a fun melting pot that seeks to educate instead of alienate."
Who's another Latinx person you would recommend to follow on social media?
"My entire life I've been a huge fan of Ricky Martin. He's always been known for being amazingly handsome and talented, but he's a trailblazer in every sense of the word. He opened doors for Latinx [people] in entertainment, is very outspoken on lots of causes – most notably human trafficking — and his social media feeds (Twitter and IG) often share a lot of current events that really affect our communities. His feed is usually a mix of sunshine and life's hard realities. He's great, follow him."
Follow Stephanie Perez on Instagram, @yeahfoodbeer.