Stephen Colbert & John Oliver Tried Boosting Trump's Ego For A Genius Reason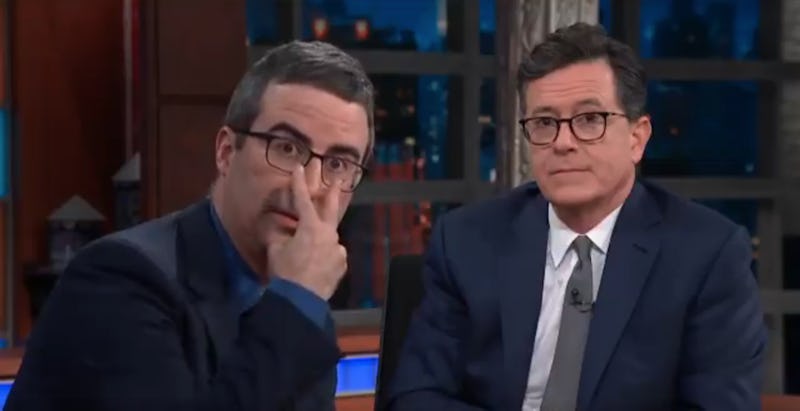 The Late Show with Stephen Colbert/CBS
President Trump's lawyers might be begging him not to talk to Special Counsel Robert Mueller, but these former Daily Show cohorts are taking a very different approach — the opposite approach, actually. In the heat of the Trump-Russia investigation and a possibly pending interview between Trump and Mueller, Stephen Colbert and John Oliver have teamed up to deliver this sound advice: "Do it, Mr. President."
Mueller's team is currently investigating whether the Trump campaign colluded with Russia to interfere in the 2016 election. Trump has vehemently denied the allegations, as has the Kremlin. Trump's lawyers reportedly have no desire for a Trump-Mueller meeting, and according to The New York Times, told the president to not agree to an interview with Mueller. Colbert and Oliver, however, are urging Trump to do the opposite because the president would be "excellent" at talking to Mueller.
Trump has already said he is willing to talk to Mueller under oath — a claim that Oliver doesn't doubt. As a guest on the Late Show, Oliver told Colbert:
[Trump is] going to have to eat his way through [his lawyers'] hands over his mouth, because they will tackle him to the floor before he opens his mouth in front of him. He would perjure himself before he finished his name.
Oliver was referring to a New York Times report on Monday that said Trump's attorneys, John Dowd and Jay Sekulow, plus other key advisers feared that Trump would lie to investigators and land himself in legal jeopardy.
Colbert, however, had another idea. Turning to the camera in mock seriousness, Colbert said calmly to the camera, "No, I think he would do a good job and I think he should do it."
Catching his drift, Oliver chimed in with a direct message to Trump. "If I can just cosign on that, I know I joke around a lot, Mr. President, but I also think you would do an excellent job," he said. "And I too think you should do it." As Colbert stared into the camera with urging eyes, Oliver repeated, "Do it. Do it."
White House lawyer Ty Cobb believes Trump should cooperate with all of Mueller's requests, but Trump's attorney Dowd says he has the final say on whether Trump will sit with Mueller. His concerns likely stem from Trump's reputation for lying or exaggerating the truth — Trump reportedly made nearly 2,000 untrue claims last year. The president's advisers are reportedly worried that Trump will make contradictory statements in the Mueller probe, which will make him liable to charges, as the Times noted.
Former House speaker and current informal Trump adviser Newt Gingrich weighed in during a segment of Fox & Friends, saying that Trump's team should allow Mueller to submit written questions to answer, but "I would not get involved in a free-for-all." Gingrich further elaborated:
I think the idea of putting Trump in a room with five or six hardened, very clever lawyers, all of whom are trying to trick him and trap him would be a very, very bad idea.
Although Trump said he is willing to talk to Mueller, he has also suggested that an interview might not be necessary.
"I'll see what happens. But when they have no collusion — and nobody has found any collusion at any level — it seems unlikely that you would even have an interview," Trump said during a January news conference with Norwegian Prime Minister Erna Solberg.
If Trump has nothing to hide, an interview with Mueller shouldn't be a problem, Democratic senators suggested. But refusing an interview with Mueller could give the public reason to believe that Trump indeed participated in the alleged collusion with Russia. Either way, some political commentators think there's no way Mueller will prosecute Trump — evidence or not. Colbert and Oliver, on the other hand, really hope Trump will sink his own ship.