Colbert Wrote A Carol For Trump To Warn Him About Who Else Is "Comin' To Town"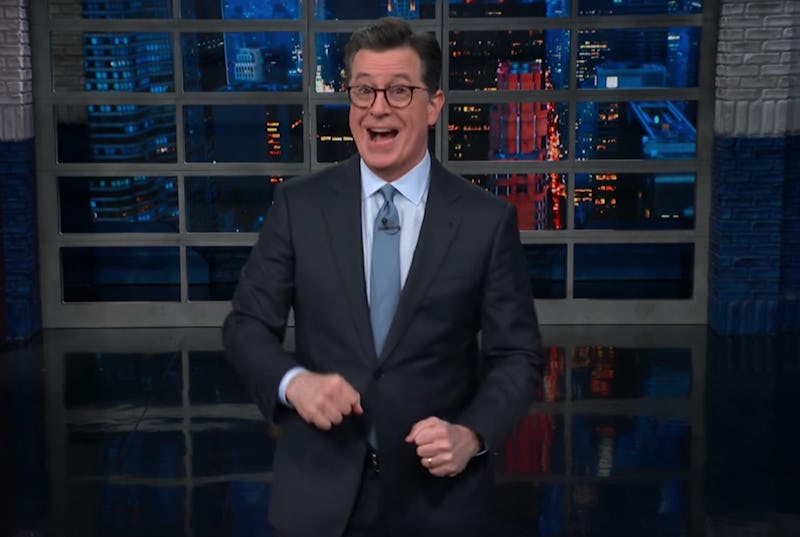 Forget the holidays — Stephen Colbert wants to celebrate the Mueller investigation. The probe had important developments this week and some people suspect it may be nearing a conclusion. Colbert wrote President Donald Trump a "Christmas" carol in honor of the occasion, warning him that Santa isn't the only one "comin' to town." So, apparently, is "Mueller Claus."
"Now we kick off a very special season," Colbert began. "We're all waiting for that magical man to check his 'naughty and nice' list. Because..."
Then he kicked off the carol:
Mueller Claus is comin' to town!
He sees you when you're tweeting,
He knows your hair is fake,
He knows when you've been bad — or bad,
'Cause you're bad, for goodness sake! (You're bad!)
On Monday, news broke that Paul Manafort, Trump's former campaign chairman who's been charged with 18 counts of criminality by Robert Mueller, had violated his plea deal with the Special Counsel's Office (SCO). Manafort agreed in September to plead guilty to many of the charges in return for cooperating with the SCO team, but now Mueller says that Manafort lied to him and the FBI in violation of that agreement.
Colbert offered some possible explanations for Manafort's decision to lie to investigators. "One, he's afraid to rat on the Russians, because he has a lifelong dream of continuing to live," he suggested. Or: "He's expecting Trump to pardon him."
Manafort didn't just lie — he's reportedly been keeping Trump updated on what's happening with the SCO probe, including which topics Mueller's looking into. "It was the long con," Colbert said on Wednesday. "You do this, you get a pardon. One tiny hand washes another."
Colbert also referenced a story from the Guardian — which some critics on the left and right have argued is too thinly sourced to be credible — alleging that Manafort secretly met with Julian Assange at London's Ecuadorian embassy before Wikileaks published hacked emails that ultimately hurt Hillary Clinton's candidacy in 2016. Manafort denies the allegations. "If this is true, the world's palest man met with the world's shadiest man," Colbert joked, referencing the fact that Assange has been cooped up in an embassy since 2012.
Colbert also mentioned an email exchange that we recently learned Mueller has obtained. In it, conservative commentator Jerome Corsi notified Trump's then-campaign adviser, Roger Stone, in advance that Wikileaks planned to release the hacked emails. "Get to (Assange) [a]t Ecuadorian Embassy in London and get the pending (WikiLeaks) emails," one of his emails read. "Word is friend in embassy plans 2 more dumps," read another.
"You don't put that in an email, you dummy," Colbert said on Wednesday. "You gotta use code names! What do you think — 'Mr. Bond, you are now a secret agent. Your code name is '00 James Bond Secret Agent.'"
It seems quite possible that Mueller will continue to drop bombshells related to the investigation during this holiday season. Bloomberg has reported that he plans to release "findings on core aspects" of the probe soon, while other commentators have pointed to signs that his team seems to be reaching a climactic end point.
Some commentators believe that Manafort's lies will end up doing him more harm than good. In that case, Mueller Claus really might be coming to town for critics of the president's administration.