Sterling K. Brown's Emmys Speech Is Not Only Historic, It's Funny As Hell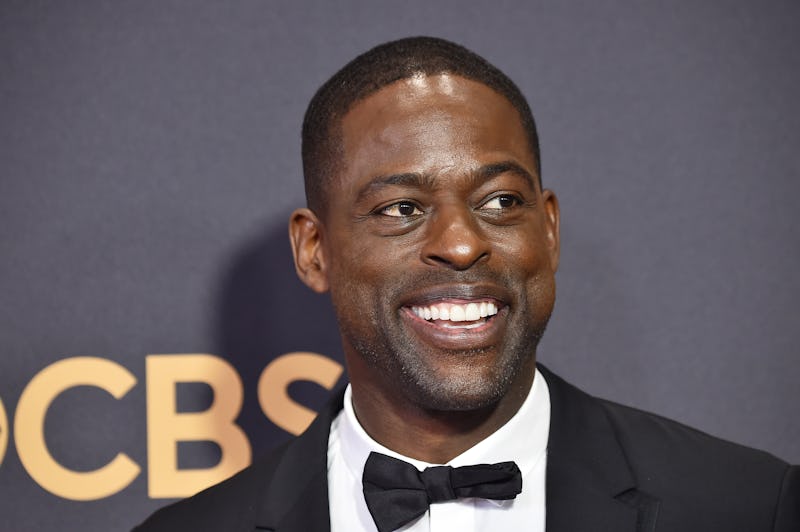 Frazer Harrison/Getty Images Entertainment/Getty Images
This Is Us' Sterling K. Brown made history Sunday night. The actor took home an Emmy in the lead actor in a drama category, and Sterling K. Brown's acceptance speech was not only historic, but funny as hell. Sunday night's win makes Brown the first black man to have taken home the award for Outstanding Lead Actor in a Drama Series in 19 years, and the fourth black man in history to ever have done so — after Bill Cosby, James Earl Jones, and Andre Braugher. Needless to say, Brown knew that winning this award would be a big deal, and so he came fully prepared to drop truth bombs on the mic.
Starting off, Brown kept it pretty calm and cool — thanking his fellow nominees for doing great work. "Before anything like this happened for your boy, I was a fan," he said. "First, last, and always, a fan." But once it really set in that the 41-year-old was standing in the shoes of many greats before him, he let his excitement take over. Brown continued,
"When I think about it, like Walter White held this joint. Dick Whitman held this joint. I mean, I know I lost some of ya'll there, but ya know, Google it. And 19 years ago, Detective Frank Pembleton held this joint as impeccably played by Andre Braugher. I just wanted to say, thank you Mr. Braugher. Whether it is at Stanford University or on this Emmys stage, it is my supreme honor to follow in your footsteps."
Oh, but it gets better, because Brown was only getting started. The actor turned up the heat when thanking his cast mates, Milo Ventimiglia, Mandy Moore, Chrissy Metz, and Justin Hartley for being the "best white TV family a brother has ever had" — to which he started to receive a standing ovation. Brown added that his white TV relatives were "better than Mr. Drummond," referring to Conrad Stafford Bain in Diff'rent Strokes, and "better than those white folks that raised Webster," referring to the 1980s series starring Emmanuel Lewis.
And when it came time to recognize his This Is Us work wife, Susan Kelechi Watson, Brown threw it back to Martin Lawrence's '90s self-titled classic, Martin. He said, "Susan Kelechi Watson, it is my pleasure to rep black love with you, sister. Let's keep doing it like Martin and Gina."
Eventually, Brown's speech was cut off by the "your time is up" music, but he later finished his speech backstage:
This isn't the first time Brown has graced audiences with an amazing speech. The This Is Us star took home the Best Supporting Actor Emmy for his role in The People v. O.J. Simpson: American Crime Story during the 2016 show, and set off a chain reaction with his colleagues after dedicating an infamous JAY-Z lyric to his wife, Ryan Michelle Bathe.
Brown thanked Bathe for her love and support, and called her the "hottest chick in the game rockin' my chain," a reference to how JAY-Z referred to Beyoncé in his 2003 hit "Public Service Announcement."
Brown pouring his charisma into everything that he does is just one of the many reasons why he's such a beloved actor. Though well deserving of the recognition he's received for his work, Brown never forgets to thank the people who helped him get to where he is today — and being vulnerable enough to share his admiration for his colleagues and loved ones is always wonderful to witness.
Bottom line: Everyone could use a Sterling K. Brown in their corner. He sure does know how to make his posse feel good.