Steve Bannon Has Finally Left The White House & Twitter Isn't Holding Back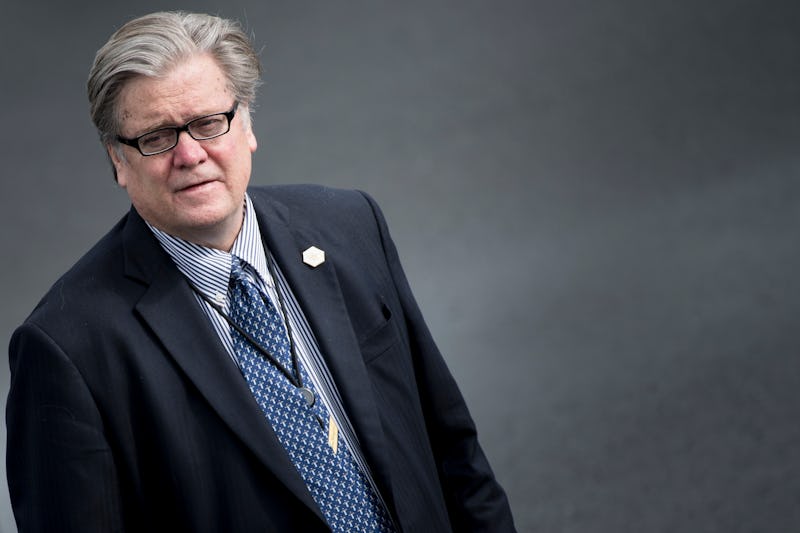 BRENDAN SMIALOWSKI/AFP/Getty Images
Well, he outlasted Sean Spicer, at least. On Friday, Aug. 18, the news officially broke: President Donald Trump reportedly decided to push out White House Chief Strategist Steve Bannon, the hyper-controversial, widely criticized former Breitbart chief who first joined the Trump campaign in its final months. And let's just say that the denizens of social media weren't shy about dishing up some takes and responses ― Twitter reacted to Steve Bannon's reported White House exit with just as much shock and delight as you might expect.
It's not exactly surprising that Bannon is getting the axe, given how much turnover has already been seen in the first year of the Trump administration. Despite only lasting roughly eight months as senior strategist, Bannon nonetheless outlasted the tenures of former Chief of Staff Reince Priebus and former Press Secretary Sean Spicer.
That's to say nothing of former incoming Communications Director Anthony Scaramucci, who notoriously once made some very vulgar remarks about Bannon to Ryan Lizza of the New Yorker, all while accusing him of being a leaker ― the so-called "Mooch" lasted less than two weeks in the gig. In other words, however Bannon feels about getting pushed out, he's got plenty of company. Here are some examples of how Twitter decided to celebrate.
1. In A Poignant Statement
2. Making His Way Out
3. A Part Of Him
4. Sources Say
5. Good News, Bad News
6. I Like Redemption Stories
7. The Festering Sore That Is Steve Bannon
8. Both Bannon And Trump
9. To Work On His Next Project
10. Steve Bannon Was Chained To A Rock
11. My Job Here Is Done
12. We're All So Collectively Exhausted
13. About To Appear On A Couch
14. In His First Proactiv Commercial
15. Rare Group Photo
16. Bannon Can Finally Molt
17. 19.1 Moochspans
18. Forever My Favorite GIF
19. Pretending Bannon Was The Problem
It remains to be seen what significant changes, if any, will stem from Bannon's departure from the White House. As for his future, however, he might be headed back to his old gig. According to Gabriel Sherman, a source close to Bannon believe's he'll reclaim his former job as the head of the far-right news outlet Breitbart, and judging from the response to Friday's news by one of its editors, the historically pro-Trump site could be heading for some open, roiling hostilities with the administration.