Steve Harvey's New Year's Eve Outfit Was Epic & Twitter Was Rolling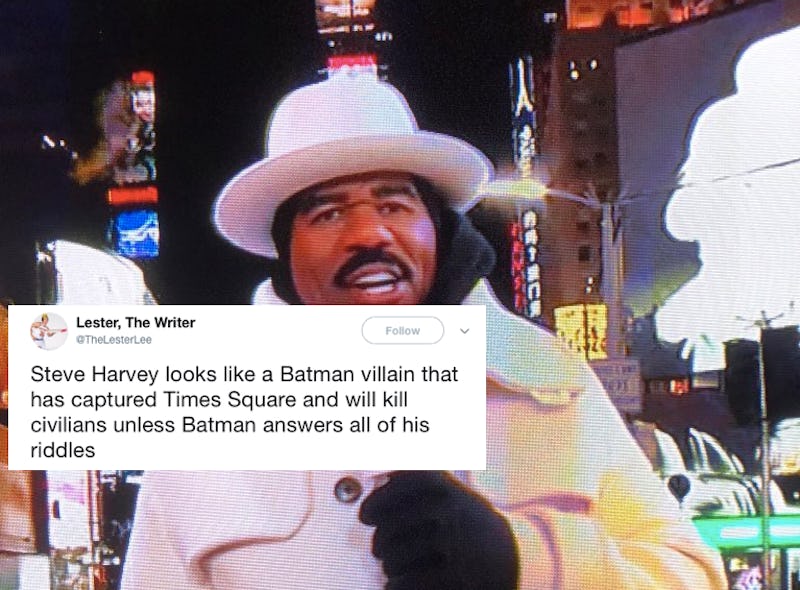 Steve Harvey has always been known for his fashion, and New Year's Eve was no exception. But instead of sporting a crisp tuxedo with an eccentric tie or flashy shoes, it was Harvey's winter wardrobe that had people smiling. On Dec. 31, Harvey helped host the New Year's Eve ball drop in New York City, which meant that he was outside for the better part of the evening, while we were all snuggled up at home under blankets and in our sweatpants. But just because he had to dress for tundra-like conditions didn't mean he couldn't still look as fly as possible. Skipping the typical puffer jacket and snow shoe combination, he instead opted for an all white outfit that Olivia Pope herself would approve of. Harvey wore an all-white outfit for New Year's Eve, and it had Twitter rolling. People started posting hilarious comparisons of the sleek and fashion-forward ensemble, getting a chuckle in before the clock struck midnight and ushered us into the New Year.
From doing side-by-side comparisons of TV show characters who donned similar all-white outfits, to playfully poking the TV personality for his bold outfit choices, there was a slew of hilarious tweets in everyone's timelines.
Some people saw his impeccably tailored coat and matching hat worthy of a superhero villain — and considering how villains have a tendency to be rich, stylish, and eccentric (here's looking at your Cruella De Ville,) one can totally see it.
Other users got hungry when they looked at the cream-colored coat and though of inside-out Oreos.
Others were sympathetic over the fact he had to stand in the frigid cold, but thought it was hilarious how many layers he had on to survive the evening in one piece.
The inevitable Olivia Pope comparison was made, showing him wearing a similar all-white ensemble, right down to the wide-brimmed hat.
Others thought he had a detective-like flair, probably pulling inspiration from the trench-coat-like design of the peacoat, and comparing it to Sherlock Holmes' iconic trench uniform.
Meanwhile, others saw some strong correlations between his NYE getup and the White Spy cartoon character.
Some thought he had the look of a person who would sell you a dime bag if you needed one.
Meanwhile, some people saw a correlation to the fancy grannies who sit in the front pew at church. Sporting a well-cut Sunday coat, a special-occasion-like hat, and stylish black pants and gloves, he is definitely giving off church matriarch vibes.
And if they didn't see the church lady aesthetic, they definitely saw the mom-like style. Someone asked who let him borrow their mom's best coat, making you think of your mom's hallway closet back home.
Some saw throwback '90s vibes, saying he looked ready to hit up the clubs with Diddy like it was about to be the turn of the millennium. To be fair, they're not far off.
Some people saw the loud fashion statement as very "Capitol inspired," a la Effie from The Hunger Games. They thought he looked like he would stop announcing bands at any moment and, instead, announce the dates for the Reaping.
Others thought he rifled through the closet of a famous lifestyle mogul. Which, I mean, I can kind of see it. And I would take it as a compliment.
But no matter how many jokes the all-white ensemble inspired, in the end you had to admit he looked fire. It was a little eccentric, a little loud, but that's just some people's style and you have to love it for what it is. Even if you might not step out wearing a white peacoat doesn't mean that Harvey didn't look amazing. And some people agreed.
Bless those of us who like to live out loud.