A Judge Tossed Stormy Daniels' Hush Money Suit Against Trump & She's Calling It A Win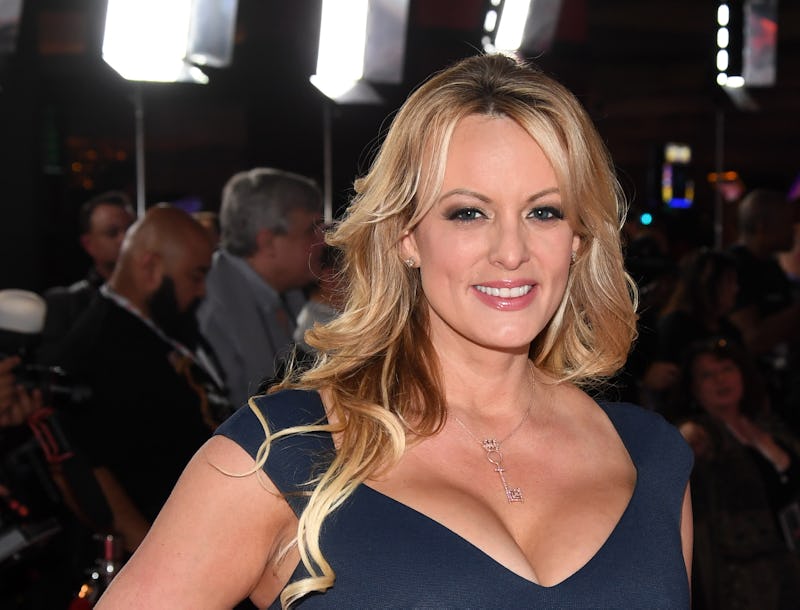 Ethan Miller/Getty Images Entertainment/Getty Images
In a ruling Thursday afternoon, a judge dismissed Stormy Daniels' hush money lawsuit against President Trump. But that doesn't mean she lost. In fact, Daniels got exactly what she wanted: she had asked the court to void a non-disclosure agreement between her and Trump, but Trump agreed over the course of the lawsuit not to enforce the agreement, and so the case was deemed irrelevant and thrown out.
"More than a year ago when I was being threatened with a 20 million lawsuit, I asked a judge to toss out this illegal NDA," Daniels wrote on Twitter after the ruling. "Glad I stood my ground & kept fighting."
Daniels' attorney, Michael Avenatti, celebrated the ruling on Twitter as well. He also denounced those who characterized it as a "loss" for Daniels.
"The Court specifically found that Stormy received everything she asked for in the lawsuit - she won," Avenatti wrote. "How people can claim this is a 'loss' after we forced Trump and Cohen to cave and Cohen has been convicted, etc. is a mystery."
The dismissal of the lawsuit brings an end to the legal saga between Daniels and Trump that began in the last weeks of the 2016 presidential election. That's when Trump, through his attorney Michael Cohen, paid Daniels $130,000 in exchange for signing a non-disclosure agreement. Trump, Cohen, and Daniels all now acknowledge that this happened — though initially, Trump falsely denied having any knowledge of the payment.
That's where the agreement ends, however. Daniels claims that she and Trump had an affair in 2006, and Trump paid for her silence about it for fear that it would hurt him in the presidential election. Trump denies having had an affair with Daniels, and says that he instead paid her the money to "stop the false and extortionist accusations made by her about an affair."
The non-disclosure agreement itself is quite lengthy and complicated, but the text forbids Daniels from revealing "any of [Trump's] alleged sexual partners," among many other things (Both Daniels and Trump used pseudonyms in the document). Daniels signed the agreement, but Trump didn't.
Daniels argued that the lack of Trump's signature rendered the agreement invalid, and in March 2018, she sued Trump in an attempt to have the agreement voided. Cohen, in turn, countersued Daniels for $20 million, arguing that she voided the argument.
Over the course of that year, Cohen was charged with campaign finance violations, with a judge determining that the payment to Daniels constituted an illegal, unreported campaign contribution. Cohen pleaded guilty to those and other charges, and will soon begin a three-year prison sentence.
More pertinently, in September, Trump's lawyers said in court filings that he "does not, and will not, contest [Daniels's] assertion" that the non-disclosure agreement was never valid to begin with, and promised that Trump "will not bring any action, proceeding or claim" against Daniels as a result of her speaking openly about her alleged affair with Trump. And thanks to that development, the lawsuit was thrown out — almost exactly a year to the day after Daniels initially filed it.