Stormy Daniels' Net Worth Shows She Probably Doesn't Need Trump's Alleged Hush Money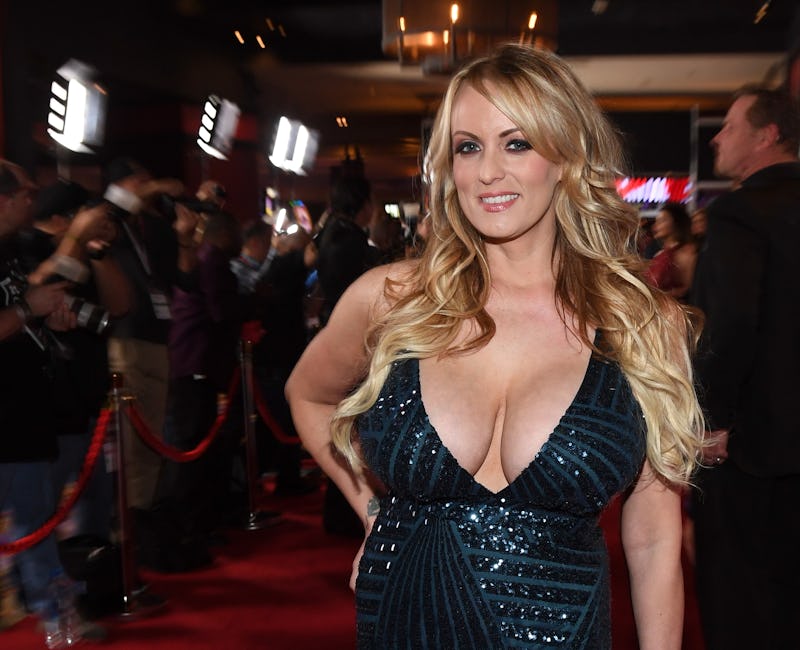 Ethan Miller/Getty Images Entertainment/Getty Images
If you're keeping up with the legal battle between Stormy Daniels and Donald Trump, you'll want to tune in Sunday evening when CBS airs a 60 Minutes interview between Daniels and journalist Anderson Cooper. The upcoming segment may have led some people to accuse Daniels of cashing in on all the publicity. But is the entertainer hurt for cash to begin with? Stormy Daniels' net worth is nothing to sneeze at, and she's denied on Twitter that she's receiving money for telling her story.
Daniels' personal wealth rings in at $2 million, according to Celebrity Net Worth. Prior to this year, her claim to fame was her adult film credits. Daniels, whose real name is Stephanie Clifford, has won several awards both as a director and an actress. She's directed over 70 adult films and, in 2016, was the most-awarded director in that industry.
But Daniels' credits also go way beyond the adult film industry. Daniels' IMDB page lists cameos in mainstream movies like The 40-Year-Old Virgin, Pineapple Express, and Knocked Up, as well as TV series like Dirt and Party Down. She also made a music video appearance for Maroon 5's "Wake Up Call" in 2007. It's unclear how much Daniels earned from those cameos.
Then in January, reports emerged that Trump's personal lawyer paid Daniels "hush money" right before the 2016 presidential election so that she wouldn't blab about allegedly having an affair with Trump in 2006. The lawyer, Michael Cohen, allegedly had Daniels sign a non-disclosure agreement and paid her $130,000, according to The Washington Post. On behalf of Trump, Cohen and White House press secretary Sarah Huckabee Sanders denied all of Daniels' allegations.
Years before Trump announced he was running for president, Daniels spoke candidly about her alleged sexual encounters with Trump. She detailed their first alleged encounter to InTouch Weekly way back in 2011, but the publication didn't run that interview until January.
Daniels has filed a lawsuit against the president to break her NDA, claiming it was invalid because Trump never signed it himself. She also offered to return the $130,000 payment, which Cohen acknowledged that he did make. Sanders, the White House press secretary seemed to accidentally confirm that there was indeed an NDA between Trump and Daniels while trying to shut down the accusations in a briefing:
The president has addressed these [allegations by Clifford] directly and made very well clear that none of these allegations are true. This case has already been won in arbitration and anything beyond that, I would refer you to the president's outside counsel.
Daniels is still crowdfunding for her lawsuit against Trump. As of March 22, more than 8,000 people had donated more than $280,000. The money is only being used to cover the legal expenses and potential damages, Daniels stated on her crowdfunding page.
But Daniels could face up to $20 million in damages. Essential Consultants LLC, an entity set up by Cohen, spelled out the potential damages in a filing in federal court in Los Angeles.
Daniels' lawyer, Michael Avenatti, took to Twitter to blast what he saw as an attempt to silence his client:
The fact that a sitting president is pursuing over $20M in bogus 'damages' against a private citizen, who is only trying to tell the public what really happened, is remarkable. Likely unprecedented in our history. We are NOT going away and we will NOT be intimidated.
Daniels is currently performing in strip clubs across the country for her "Make America Horny Again" tour. CBS will broadcast her interview on 60 Minutes Sunday at 7 p.m. ET. It will be the first time Daniels speaks on television about her alleged sexual relationship with Trump.