Stormy Daniels Described How Challenging Trump Brought On Death Threats & Hate Mail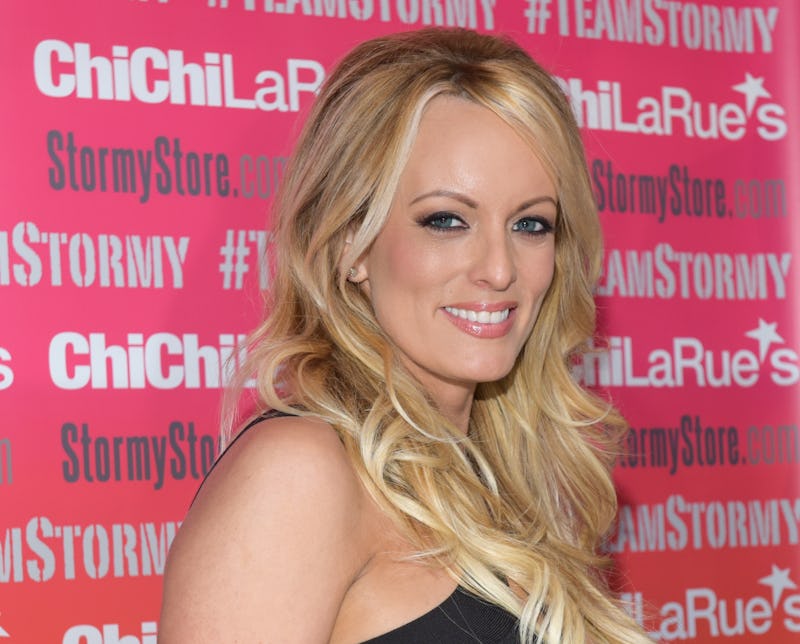 Tara Ziemba/Getty Images Entertainment/Getty Images
One of the most well-known women from the adult entertainment industry described her life after she decided to speak out about President Donald Trump. On the British interview show Loose Women, which was broadcast on Monday, Stormy Daniels said she got "death threats" after she claimed to have had an affair with Trump. Daniels first came forward with the claim in March on CBS News' 60 Minutes, saying she and Trump had an affair in 2006.
Ever since she went public with her statement, Daniels said life had changed to a remarkable degree. While discussing whether she felt she was in danger, Daniels said:
My answer to that question is going to change daily. Some days I can slip out and go about my day and I almost feel normal for a minute and then I look around and I've got two big bodyguards behind me. Another day, I get crazy hate mail and death threats.
Although Trump has denied having an affair through his spokesperson, Daniels told CBS News in March that Trump had offered her money to remain silent about the alleged tryst. Trump's former attorney Michael Cohen said he paid Daniels $130,000 to stay quiet about her claims. In May, Trump's current adviser and attorney Rudy Giuliani gave a stunning comment to Fox News' Sean Hannity, saying that Trump "reimbursed" Cohen for the payment and that it was "perfectly legal."
During the interview, Daniels also said that she sometimes worries for her 7-year-old daughter. "That's my biggest fear, that her life is going to be changed forever in a negative way. Which was also one of the reasons why I decided to come forward and start speaking up," she told Loose Women. "I wanted to be someone she could be proud of. If the story was out there on someone else … the story was out there, I had no control over that."
She also said, "I felt like owning it and standing up and saying, 'I'm not ashamed, this is what happened, I will not be bullied,' telling my side, inspiring other women to tell their stories and stand up for themselves and their own situations in their lives."
Does her daughter know about Daniels' claim? The adult entertainment performer said, "My daughter knows that a long time ago I knew … first of all she knows that Donald Trump is the President. She knows that mummy knew him. She knows that something happened and people are very curious about it because he is the President and they knock on the door all the time when mummy is home."
When asked about what she would like to happen in her future, Daniels responded, "Which part? That it becomes known that I am not a liar? That maybe some other women will continue to come up to me and say I changed their lives in a positive way by not being afraid? That someday, in the future, my daughter looks up to me and says, 'I'm so proud of how brave you were'?"
Going further, the adult entertainment performer didn't mince her words when it came to describing Trump. "I think that he is a man that's gotten in over his head," Daniels said.