Stormy Daniels Got Ready To Run For Senate In 2009 — Here's What She Stood For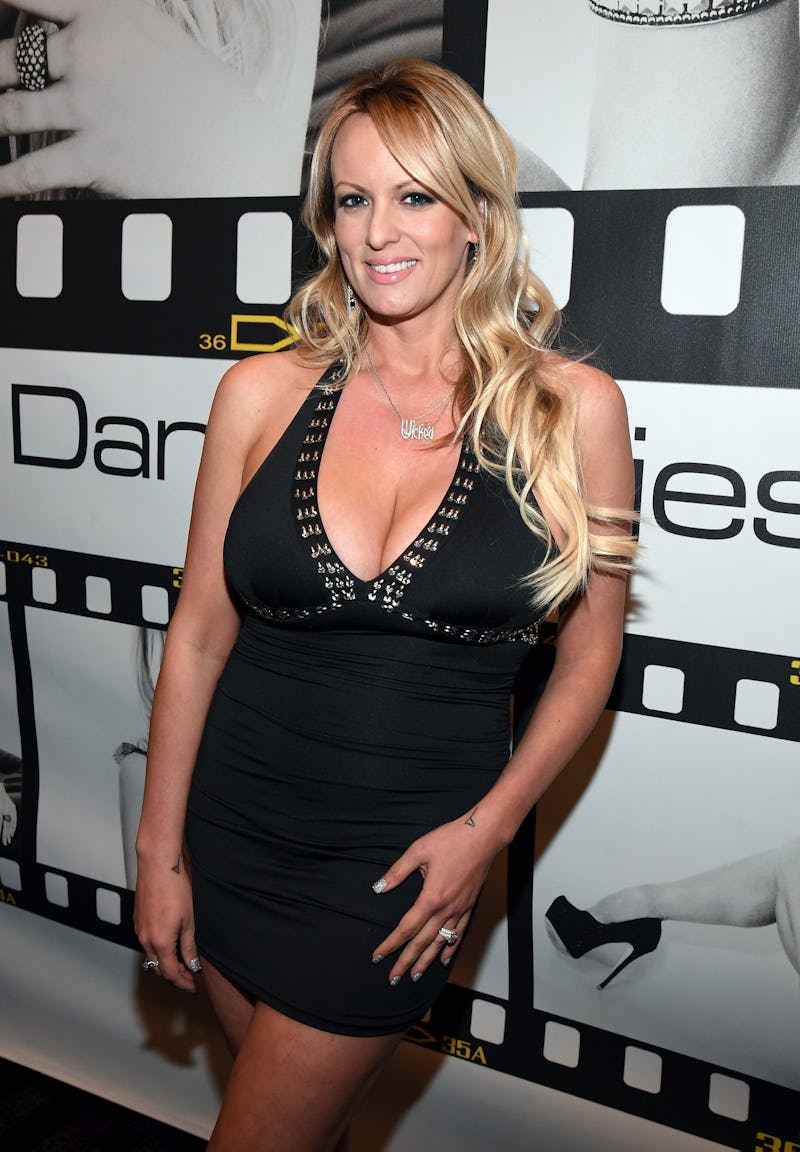 Ethan Miller/Getty Images Entertainment/Getty Images
Adult film star Stormy Daniels has been making headlines after it came to light that she allegedly had an affair with Donald Trump back in 2006, which he has denied. However, this isn't her first encounter with politics. In 2009, Daniels nearly decided to run for Senate in Louisiana, and made a flat tax proposal the main focus of her potential platform.
According to Talking Points Memo, Daniels launched an exploratory committee in 2009 as she considered running in the Republican primary against then-Louisiana Sen. David Vitter. In a statement, she said she started thinking about running for the seat after learning that Vitter — a conservative Christian — had apparently hired sex workers, thereby becoming entangled in the so-called "D.C. Madam" scandal.
"I do not take this step lightly," Daniels said at the time.
While I have been humbled by the overwhelmingly positive response my potential candidacy has generated thus far, my decision to run for United States Senate will only be made after I have had the opportunity to discuss this prospect with as many people across the state as possible. Too many in government ignore the voices of those whom they claim to represent. I promise you that I will not.
While she debated whether or not to officially run for elected office, Daniels decided to embark on a listening tour of Louisiana, to determine if it was the right time for a Senate bid. In the end, however, Daniels ultimately decided not to challenge Vitter in the election, claiming that "like Gov. Palin, I have become a target of the cynical stalwarts of the status quo."
Daniels said in a 2010 statement:
Simply because I did not fit in their mold of what an independent working woman should be, the media and political elite have sought to relegate my sense of civic responsibility to mere sideshow antics.
Despite not ever launching an official Senate campaign, Daniels was extremely focused on tax policy from the moment she launched her exploratory committee. One of her initial goals was to help reform "the tax code to a system that rewards, rather than penalizes, success, protecting our children and promoting personal responsibility as an alternative to government intrusion."
In Daniels' opinion, the FairTax would have helped her achieve this goal. The FairTax proposal would replace the current income tax code with a national retail-level consumption tax of approximately 30 percent.
Although taxes were an important issue for Daniels, she told CNN in 2009 that she initially considered running as a way of "bringing attention to the Senate race in general"; it was the subsequent, "overwhelmingly positive" response that made her consider a Senate bid more seriously. Consequently, she used her listening tour to discuss not only taxes and the economy, but also protection of children and women in business.
CNN told Daniels that Vitter would end up being a tough opponent, but she insisted that she was "always up for a good fight" — "Politics can't be any dirtier of a job than the one I am already in," Daniels added.
In addition to promoting individual enterprise — especially by protecting women in business — Daniels' platform also "promoted sexual health education, opposition to the Obama administration's stimulus package, abolishing the federal income tax, and an end to the Iraq War," The Washington Post reported. Indeed, her biography on the Draft Stormy website indicated that Daniels was committed to "sending a positive message to young people of the importance of practicing safe sex."
Even though Daniels ultimately dropped the possibility of a Senate bid, her 2011 interview with In Touch magazine — in which she detailed her alleged affair with Trump — was only published for the first time on Wednesday, thereby involving Trump in yet another scandal. According to The Wall Street Journal, Daniels was reportedly paid $130,000 to keep silent about the affair, though Trump's lawyer has denied that Trump and Daniels had a sexual encounter.