Stormy Daniels Took A Victory Lap On Twitter After The Plea Deal From Trump's Lawyer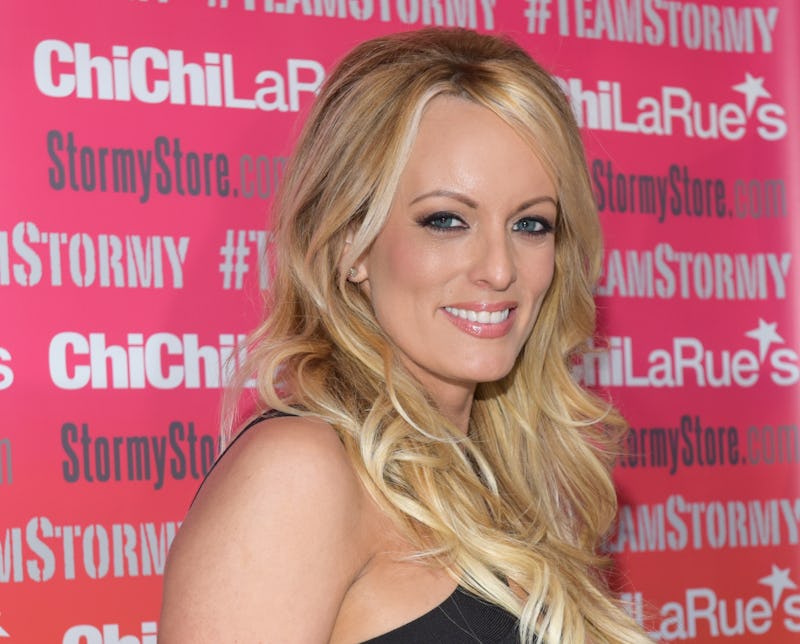 Tara Ziemba/Getty Images Entertainment/Getty Images
On Wednesday, President Trump's former attorney Michael Cohen pleaded guilty to eight felonies, including multiple campaign finance violations. Cohen told the judge that a presidential candidate directed him to break campaign finance law and pay $130,000 in hush money with the aim of influencing the outcome of the presidential election. Right on schedule, Stormy Daniels tweeted after Cohen's plea deal became public, and took a bit of a victory lap.
"How ya like me now?!," the adult film star wrote. In subsequent tweets, she thanked her lawyer Michael Avenatti, and retweeted his brief statement.
"We. Are. Coming," Avenatti himself tweeted Wednesday afternoon. "We are going to end this dumpster fire of a presidency one way or another."
Daniels, of course, has alleged that Cohen paid her $130,000 in the final weeks of the presidential campaign in exchange for her silence silence about an extramarital affair that she allegedly had with Trump ten years earlier. Trump denies that this affair happened.
Cohen had previously acknowledged that he made such a payment, but initially claimed that the money came from his own pocket. However, the president's (current) lawyer Rudy Giuliani said in May that in fact, Trump reimbursed Cohen for the Daniels payment, and Trump himself confirmed this shortly thereafter, though he still denies that an affair ever took place.
It's worth noting that Cohen did not identify Trump by name during his plea hearing or in the accompanying court documents he filed; he simply spoke of "a candidate for federal office." However, the charging documents make it pretty clear who Cohen was referring to: They state that in January 2017, Cohen was acting as the personal attorney to "Individual-1, who at that point had become the President of the United States."
Moreover, Cohen's own attorney Lanny Davis released a statement in day clarifying that his client was indeed talking about Trump. Davis tweeted that Cohen "stood up and testified under oath that Donald Trump directed him to commit a crime," adding that "if those payments were a crime for Michael Cohen, then why wouldn't they be a crime for Donald Trump?"
In a statement to NBC News, Daniels said that she felt "vindicated" by Cohen's guilty plea.
"Michael [Avenatti] and I are vindicated and we look forward to the apologies from the people who claimed we were wrong," Daniels said.
One question looming over all of this is whether Cohen will cooperate with federal investigators — specifically, the investigators on special counsel Robert Mueller's team. Mueller is already investigating the president, reportedly for possible collusion and obstruction of justice, and the prospect of Cohen signing a plea deal immediately fueled speculation that maybe, he would "flip" on the president and offer up incriminating information about Trump in exchange for a lighter sentence (Trump has not been charged with any crimes).
That question will remain unanswered for the time being: The deal that Cohen signed does not require him to cooperate with prosecutors, but it doesn't forbid him from doing so, either. As some experts have noted, the mere fact that Cohen didn't sign a cooperation deal does not necessarily mean that he's refusing to talk. It's entirely possible that Cohen did offer information to prosecutors, but that the prosecutors determined the information had no value to their case.
After pleading guilty, Cohen was released on $500,000 bail. He will be sentenced on Dec. 12.