Stormzy Met Jack And Laura From 'Love Island' At The Airport & It Was The Best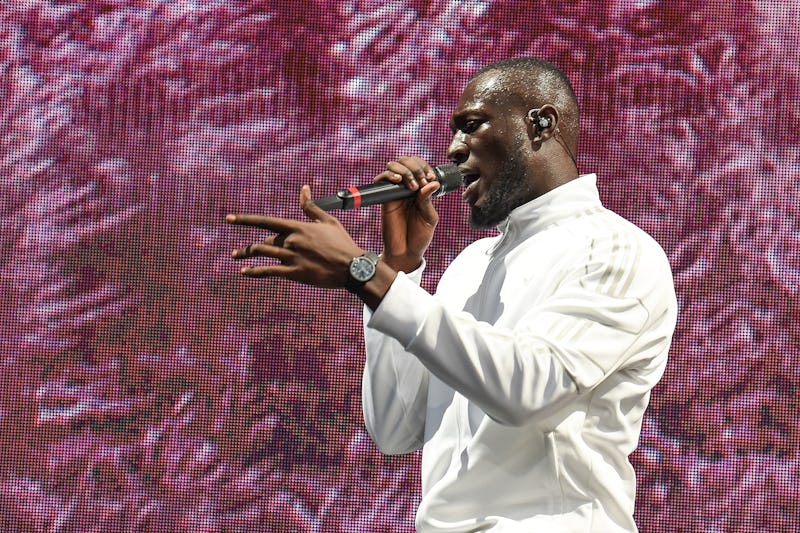 Tabatha Fireman/Getty Images Entertainment/Getty Images
There are, to be frank, too many reasons to adore Stormzy to cram into a single introductory paragraph. His superlative music, for instance. His tireless advocacy of Grenfell victims. The publishing imprint he launched with Penguin to elevate young writers. How frequently he shouts out his mum. And, of course, his long-running devotion to Love Island. In possibly the best news tangentially associated with the villa this week, a Twitter user revealed that Stormzy met Love Island's Jack and Laura at the airport as they returned to the UK — and the video is completely delightful.
Jack Fowler and Laura Crane were evicted from Love Island on July 25, after a vote that infuriated the Internet (including me) left Jack and Laura, cutest couple Josh Denzel and Kazimir Crossley (I won't be contested on this), and Wes Nelson and Megan Barton Hanson in the danger zone. But Jack and Laura's consolation prize was pretty fantastic: both Laura and a fellow airport goer captured the moment they ran into Stormzy in Arrivals. According to the Evening Standard, Stormzy didn't actually turn up specifically to meet the couple — he was on his way home from his 25th birthday trip to Menorca — but I'm choosing to believe he made the trip exclusively to meet Jack and Laura.
It's difficult to tell from the video who's more excited to meet who between Stormzy and Jack. (Laura got a quick hug too, but realistically, it was Stormzy and Jack sharing the real moment.) Either way, please join me in watching the above video ten consecutive times, taking a quick break, and then watching it a further ten times. The clip's clearly delighted the Internet, too: at the time of publication, it's at over 800,000 views.
True Love Island fans won't be surprised at Stormzy's excitement — he's a certified devotee of the show. Earlier in July, as Metro reported, he set reality TV snobs to rights on Instagram, telling them, "Asking me why I watch love island and telling us everyday that you don't watch Love Island doesn't actually make you any tougher in real life." His comments came after he shared his opinion on Dani's argument with Georgia, saying, "Dani is the only real g in here Danny dyer should be proud."
But Stormzy's biggest Love Island moment came, of course, on last year's show, when he made a cameo via video call to advise Chris Hughes, Kem Cetinay, and Marcel Somerville on their upcoming performance. (And got just a little embarrassed when he came face to face with Olivia Attwood, who rowed with boyfriend Chris after Stormzy tweeted, "Chris you're too good for her mate.") Said cameo was subsequently nominated for a BAFTA, as The Fader reported, which is exactly the recognition it deserved.
Honestly, I need more of Stormzy on Love Island. I want him present in the Aftersun studio. I want him there for the series finale. I want an entire spin-off show solely featuring Stormzy's opinions on the islanders. There's no doubt it would reel in the viewers, ITV. Can you please make it happen?