You Can Smell Like Eleven's Beloved Eggos With This Stranger Things Bath Bomb Set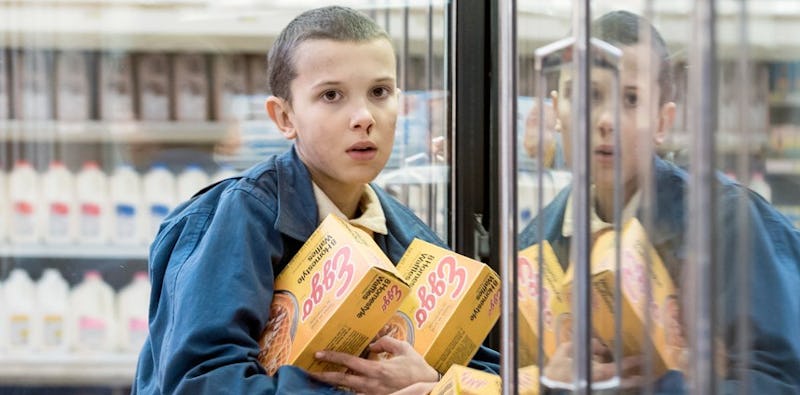 Netflix
If you want to join Eleven and her boy gang in the Upside Down, then you might be able to get there via your bath. Stay with me on this one. If you're part of the cult following of the '80s-themed sci-fi series, then chances are you've gone to pop up bars, own themed T-shirts, and have watched every episode at least twice. Now, you can channel your obsession through your beauty routine, by snapping up this Etsy Stranger Things themed bath set.
Created by the geniuses over at The Fizzy Filly, this bath kit is meant to nourish your skin while playing into your love of all things horror and science fiction. The Etsy store that created the set is a pro at creating fandom inspired bath products, carrying things like Dementor's Kiss bath bombs for Harry Potter lovers and Sailor Moon inspired roll-on perfumes. But this Stranger Things box set is their pièce de résistance.
"Celebrate the holidays Hawkins, Indiana style with these awesome Stranger Things inspired bath gift sets," the product detail reads.
You will receive five different items in the Upside Down kit. There is one Eleven's Eggo Extravaganza bath bomb, which is maple syrup and waffles scented to commemorate our heroine's obsession with Eggos. There will also be one Dustin's Slushside Down bath bomb, which is blue raspberry and cherry scented, and one Mind Flayer's Vale of Shadows bath soak that's meant to represent the monster that took over Will in Season Two. It's midnight pomegranate scented, giving off a spooky black-and-red aesthetic.
In addition to the bombs and soaks, there's also an Eleven's Eggo Extravaganza sugar scrub, which is appropriately maple syrup scented. Then, to throw in something that won't automatically disappear after use, there is also a magnet of Eleven that could decorate your fridge.
Christmas in the Upside Down, $24, Etsy
All the bath bombs are made with coconut oil and shea butter to nourish dry, winter skin, and they will fizz and foam to create bath art that will fit the theme of the show. The whipped sugar scrub is made with almond and avocado oils, which will also pamper your skin. And the best part is it's so affordable at only $24.
If you're looking for more Stranger Things beauty products, scroll down to see more options to help you drift to another dimension.