The Duffer Brothers Are Reportedly Leaving 'Stranger Things' Soon & Here's What Would Change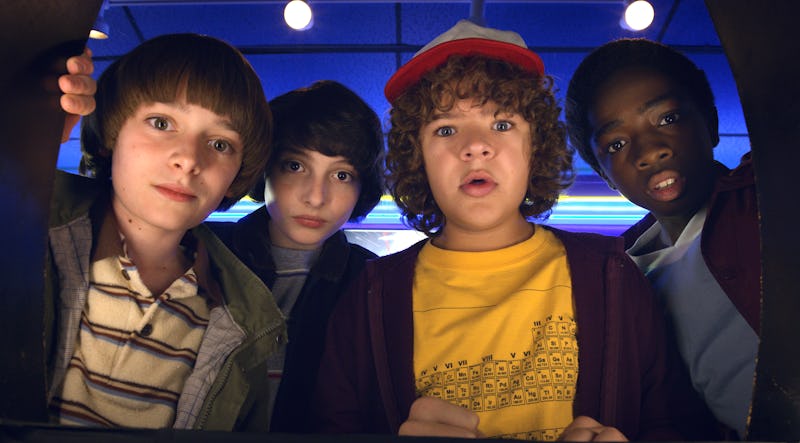 Netflix
The Upside Down might not be the same after next season. That's because Stranger Things Season 3 will reportedly be the Duffer Brothers last. A source close to brothers Matt and Ross Duffer told Moviefone the upcoming season will be "the last to feature the Duffers in the same active capacity as in previous seasons." (Bustle has reached out to Netflix and the Duffers for comment, but did not receive an immediate response.) This reportedly means Season 3 would be the last in which the Duffers write and oversee the writer's room, while also directing multiple episodes of the series. Though the report is unconfirmed, the real question is how Stranger Things will change without the Duffer Brothers. It could potentially be a lot.
UPDATE: On Tuesday evening, Netflix tweeted out a statement, shutting down the rumors. The streaming service wrote:
"Don't drop your Eggos. Rumors that the Duffer Bros are leaving Stranger Things after season 3 are false."
EARLIER: The Duffers, who created the series, have a contract with Netflix for "at least two more projects," which is reportedly why they would scale back their role on their signature show. On top of that, the brothers, who got their start directing the movie Hidden, would reportedly like to return to feature films and the shooting schedule for Stranger Things doesn't allow them to devote much attention to anything else. This is especially true considering the brothers are self-admittedly "a little controlling" about the "handcrafted" show, which they are currently writing. Season 3 will reportedly start shooting in April for a 2019 air date.
If that premiere date seems too far away, David Harbour told Variety it will be worth the wait. "Like any good thing," he said, "[Ross and Matt] need time. And those guys work so hard. I mean, they just sit in their apartment and write for 12, 14 hours a day." It's all Stranger Things all the time with these guys, so leaving the show might be a good thing. But this report from Moviefone states that, even though the Duffers might be leaving the show, it's unlikely the series will end with them.
After all, the Duffers teased back in the summer of 2017 that they expected Stranger Things to end after four seasons, not three. "We're thinking it will be a four-season thing and then out," Ross told Vulture. Thus, if the report is true, it's likely that Stranger Things will get a new showrunner for its fourth — and maybe final — season, while the Duffers remain executive producers on the show.
As for what the brothers have in store for Season 3, which will reportedly have fewer than nine episodes, they've already teased things are going to get even weirder. The Duffers told IndieWire back in November that the new season would be "something almost weirdly more intimate" and "a lot of fun." It would also be more character-driven, focusing on the coming-of-age of these characters that have had to grow up fast in the Demogorgon-filled town of Hawkins, Indiana. After all, Matt Duffer said, adolescence "is a very dramatic part of your life, and drama is good! So I think it's good it forces the show to evolve."
Matt and Ross Duffer also told The Hollywood Reporter last year that the ending of Season 2 was open for interpretation. "We didn't want to box ourselves in for Season 3. We wanted to be able to start Season 3 on a very clean slate," Matt said. Keeping things open also allows them to play around with their teen actors who might look and sound a little different next season. "They're going to be almost a year older by the time we start shooting Season 3," Matt told THR, adding, "You can't start right after Season 4 ended. It forces you to do a time jump."
And that time jump should also help them get to ending that the brothers have envisioned. "We have an end goal; we know where we want to go," Ross told The Huffington Post last year. "We're not quite sure how long it will take to get there, but we do have a plan." He added, "We figured out what that ending is, but it'll take more than one year to get there."
While Stranger Things fans will miss the Duffer Brothers if they do decide to leave after next season, it seems that they won't have to say goodbye to Eleven just yet. As the brothers have made clear, there's still more story to tell — whether they're writing it or not.