You Need To See The 'Stranger Things' Cast's Instagrams From Their Final Day Filming Season 3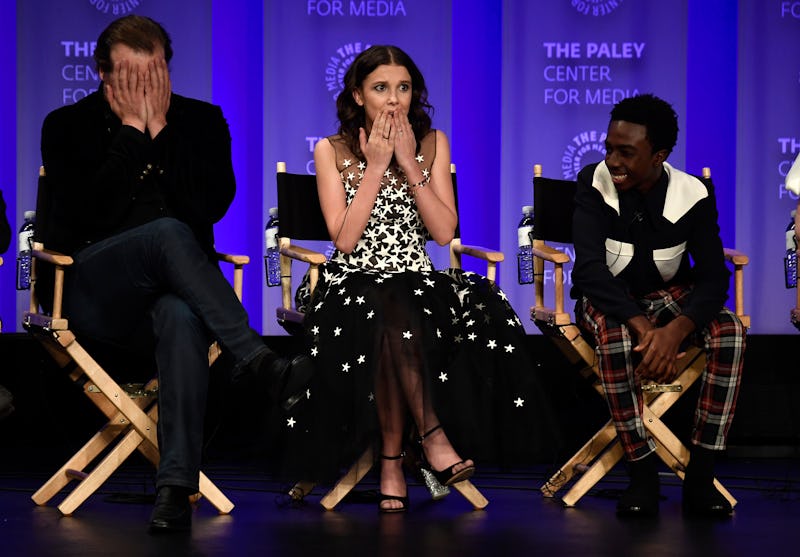 Frazer Harrison/Getty Images Entertainment/Getty Images
When the Stranger Things cast posts behind-the-scenes photos and videos from their time together on set, it's usually an exciting day on social media for fans of the Netflix show. But on days like today, when Stranger Things Season 3 finishes filming and the cast celebrates by sharing photos from their last day on set, it's extremely bittersweet.
Starting on Nov. 12, cast members such as Millie Bobby Brown, Finn Wolfhard, and Noah Schnapp took to Instagram stories to chronicle their last days on set, and they each had their own special way of processing the end. While Brown's first Instagram story of the day showed a video of the 14 year-old frowning with a caption that read "I will cry all day fyi," Wolfhard seemed to feel a sense of relief after wrapping. In his video, the actor who plays Mike Wheeler said, "Hi I'm Finn Wolfhard, and I've shaved my gross mustache for the first time in six months. And I just wrapped Stranger Things 3." Well, everyone celebrates — or mourns — in their own way.
As sad as you may feel that the Stranger Things gang won't be spending everyday together again for a while, the wrapping of the season actually means that it's one step closer to appearing on your Netflix queue. Turn that frown upside down — no pun intended.
It seems like Brown's prediction for her day turned out to be correct, as she later posted a selfie of herself crying.
As much relief as Wolfhard might feel over finally getting to shave his "gross mustache" — he probably couldn't shave while filming to maintain continuity throughout the season — co-star Schnapp who plays Will Byers had his own way of celebrating the season's end.
In Schnapp's Instagram story from the last day on set, he shared a video of himself sliding down the escalator in what looks like Starcourt Mall, which a teaser trailer for Season 3 suggests is a major setting for Stranger Thing's next season. "Last day slide down the escalator," Schnapp captioned the video which shows him sliding in between two elevators on the flat surface. These kids really are living the dream.
Even the older generation of Stranger Things stars used social media to say goodbye to the vestiges of Season 3, which all seem to be mustaches. David Harbour, aka Jim Hopper on the show, posted a photo on Instagram on Nov. 11 with a caption that reads, "Everyone say 'goodbye mustache.'" Really, this show is nothing if not a showcasing of mustaches from all stages of life.
Season 3 isn't expected to premiere on Netflix until Summer of 2019, which will give fans plenty of time to think about potential theories. They also might want to start getting mentally prepared for big changes in the tweens' friend dynamic.
According to ScreenRant, one of the creators of Stranger Things, Ross Duffer discussed Season 3 in the Netflix companion book for the show called Worlds Turned Upside Down. In the book, he teased that Season 3 will show "The final summer of [the main friend group's] childhood." He continued, writing, "They're dealing with growing up, with these complicated new relationships. They're starting to fall apart a little bit, and maybe they don't love playing Dungeons & Dragons as much as they used to. Naturally, that's going to generate conflict."
It sounds like Season 3 of Stranger Things could turn everyone's worlds upside down — in more ways than one.