Netflix Just Announced 'Stranger Things 4' With A HUGE Hint To Where They're Headed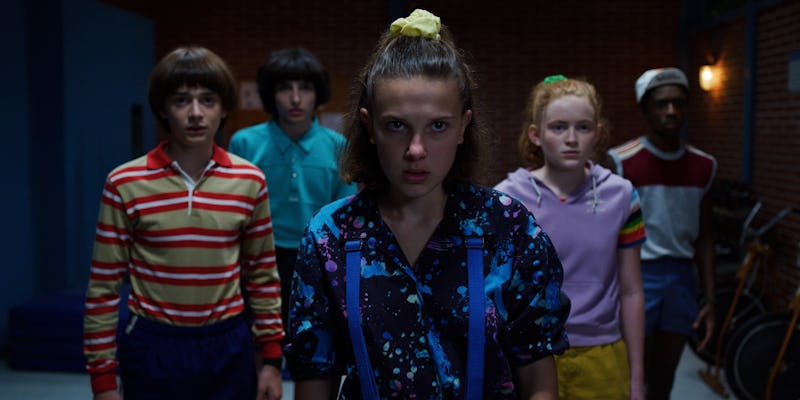 Netflix
Hawkins, Indiana may be a magnet when it comes to attracting supernatural monsters, but a new Stranger Things Season 4 teaser indicates that Eleven and Co. are about to embark towards a new and much more frightening destination: the Upside Down. In a press release provided to Bustle, Netflix announced that the series has been officially picked up for a fourth season, and while the fate of Hopper remains just as big of a mystery as ever, the promo confirms one single, solitary fact: these beloved characters are about to be in more danger than ever before. As the tagline indicates: "We're not in Hawkins anymore."
The end of Season 3 saw Will's family (including Eleven) leaving Hawkins altogether to move to an unspecified location. This prompted many viewers to wonder what this would mean for the series moving forward with many predicting that Hawkins would no longer be the focal point of the show. Those suspicions have now been officially confirmed, but it doesn't seem like the Byers family's dreams of a fresh start are going to come to fruition. On the contrary, the promo suggests that their ultimate destination lies elsewhere — to a place everyone dreads but very few have actually explored.
This Season 4 pickup isn't the only revelation the streaming platform unveiled, however. Along with the renewal news, Netflix also announced that it has signed a new multi-year television and film deal with Stranger Things creators The Duffer Brothers.
"The Duffer Brothers have captivated viewers around the world with Stranger Things and we're thrilled to expand our relationship with them to bring their vivid imaginations to other film and series projects our members will love," Netflix's Chief Content Officer, Ted Sarandos, said in a statement, as per the press release. "We can't wait to see what The Duffer Brothers have in store when they step outside the world of The Upside Down."
For their part, Ross and Matt Duffer couldn't be more excited to continue working with Netflix on various projects, both Strange and otherwise. "We are absolutely thrilled to continue our relationship with Netflix. Ted Sarandos, Cindy Holland, Brian Wright, and Matt Thunell took a huge chance on us and our show — and forever changed our lives," said The Duffer Brothers in a statement, adding:
"From our first pitch meeting to the release of Stranger Things 3, the entire team at Netflix has been nothing short of sensational, providing us with the kind of support, guidance, and creative freedom we always dreamed about. We can't wait to tell many more stories together — beginning, of course, with a return trip to Hawkins!"
Though, if the teaser is the be believed, any trip to Hawkins won't last very long. Most of the action will be taking place elsewhere in Season 4 — most likely in a place not many are able to return from in one piece. The Upside Down has always loomed over these characters as a dangerous territory. Will, Eleven, and Nancy have all been there in some capacity, though there's still a lot about the location that remains a complete mystery.
So what prompts the group to venture out into this unknown terrain? Could this indicate a possible rescue mission for Hopper? In true Stranger Things fashion, the promo raises more questions than it provides answers, but there's one thing fans know for sure: things are about to get a whole lot stranger.