Sadie Sink On How 'Stranger Things' Season 3 Can Avoid A Majorly Sexist Trope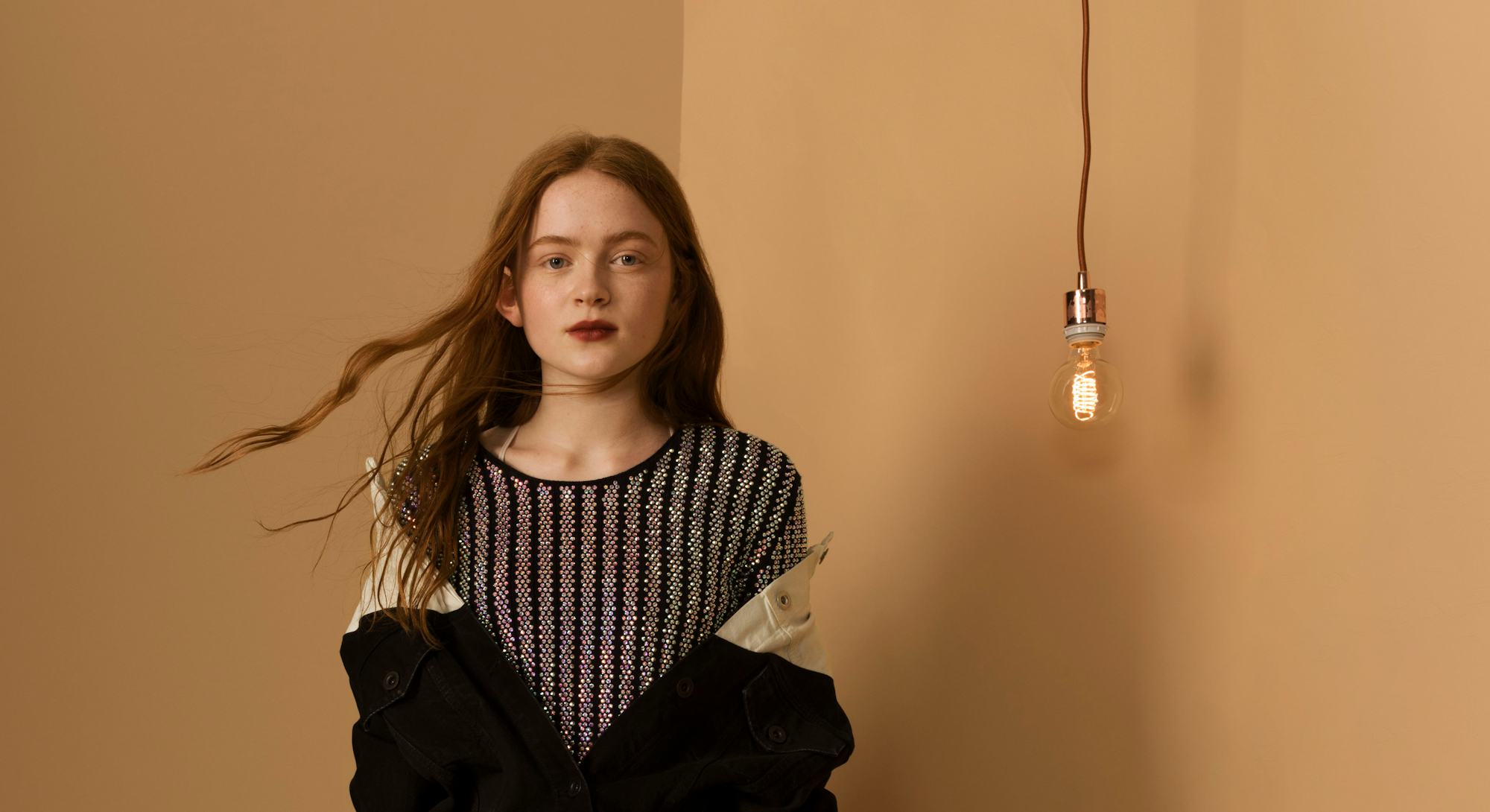 Jacket: Unravel. Top: Gucci.
We all know the feeling of the first day on the job. You step into a room, everyone's got their eyes on you. They each have their established, comfortable niche, and as the new kid on the block, you stick out like a sore thumb until you eventually figure out how you fit. The feeling rings true for Stranger Things Season 2' Max, who moves to Hawkins, Indiana, from California only to struggle to get her hesitant new friends to share even an ounce of their supernatural secrets with her. But for the Stranger Things actor herself, Sadie Sink, that new kid on the block discomfort actually wasn't a factor when she joined the lauded kid-cast— like, at all.
"It was really easy transitioning into that cast. I knew they already knew each other, but that wasn't really a problem. I think within days of being there, I felt completely comfortable with all of them," she says when we speak on the phone, a few weeks after Stranger Things Season 2's October release. "All of them are so friendly and welcoming, so that made it really easy too."
The Stranger Things kids — a crew comprised of Gaten Matarazzo, Finn Wolfhard, Millie Bobby Brown, Noah Schnapp, Caleb McLaughlin, and now Sink — have been gathering as a joyous gaggle at every awards show, Comic-Con, and industry event in the 19 months since the first season captivated an entire generation of TV fanatics. But the creators of Stranger Things, the Duffer Brothers, are nothing if not incredibly secretive when it comes to upcoming characters and episodes, so as a brand new character known as Mad Max, Sink had to sit out for much of the fun until Season 2 promo officially began this past summer.
"It's crazy because like the whole time we were filming [Season 2], all the other kids were going to Comic-Con. Every weekend they'd be in a different city and I always thought it was so cool — I'd hear all the stories they had when they came back," she says. But don't worry — since then, Sink has since been able to get her own piece of the pie. She attended 2017's San Diego Comic-Con and hours after finishing her Bustle shoot, she and her family caravanned up to Rhode Island for the local Comic-Con there, where a fan handed Sink an entire folder of letters from young fans who've been impacted by the series. "I was looking through it today and it was so sweet ... It's crazy that [my] work is able to inspire people, which I love," she says.
This level of devotion is a bit newer to Sink, unlike her co-stars who've had some time to get used to all the attention. But while she may not share all the memories and experiences that her co-stars do, she's got something of a Stranger Things family to lean on.
"It's like when you go to camp, and you make so many friends. When you leave, you still like keep in touch. It's the same with us," she offers. "We just, like, became family basically. It's important to keep in touch after even with everyone's crazy busy schedules and with traveling." To keep that bond alive, they have a group chat going most of the time, she adds.
It likely comes as quite a relief for fans to see how quickly Sink synched up with her cohorts, because on screen, her character was dealing with some nastiness in the form of her cruel, nightmarish step brother Billy (played by Dacre Montgomery). In the series, Max moves to Hawkins, Indiana with her mother, stepfather, and Billy, and from moment one, the faux-sibling makes Max's life hell by limiting who she can hang out with, threatening her friends, and generally attempting to control the young girl's life with an iron fist.
On set, however, the vibe was entirely different and actually, even somewhat goofy, according to the 15-year-old.
"[Dacre] was able to switch in and out of being Fun, Funny Dacre into this mean, Evil Billy in a matter of seconds. They'd call action and he'd be able to make that switch," she says, adding that Montgomery is thankfully the exact opposite of Max's tormentor. "I love Dacre and we'd get to like mess around and play games."
Of course, now that Max has (month-old spoiler) officially kicked Billy's attitude to the curb, she and her real-life counterpart are looking to the future (you know, the one that comes after Dustin figures out how to remove his fantastic hairsprayed, gravity-defying Snow Ball 'do, which Sink says rivals the famous Steve Harrington coif — "it would not move," she says with a laugh).
Jumpsuit: Miu Miu. Mesh Shirt: Tripp NYC. Boots: Altuzarra.
Jumpsuit: Miu Miu. Mesh Shirt: Tripp NYC.
Sink hopes to have a career much like that of the one and only Emma Stone (a fellow auburn-haired actor who similarly arrested audiences with her first major role in another boys' club setting in Superbad, for what it's worth). That might explain why she's got her sights set on a little more action in Season 3 — if the Duffer Brothers choose to grant her wish.
"I'd love to see some girl power, maybe like Max, Eleven, and Nancy all team up or something like that. That'd be pretty cool," she says with glee. "I think Eleven and Max could make a really good team." And when I ask if she thinks it's time for Max to take on a demogorgon too, she's quick to answer: "Oh yeah, she's got it in her."
After all, she thinks it's about time this series gives the people what they want — camaraderie between two powerful young women and hopefully a remedy to that not-so-beloved Season 2 scene that has some fans worried that Eleven and Max may end up being accidental rivals for the "girl spot" in Mike's gang of misfits. After all, we saw what happened in the one moment wherein Max and Mike seemed to bond in Season 2 — Eleven now famously knocked Max off her skateboard in a fit of apparent jealousy. If Sink gets her way, Season 3 will take a markedly different direction.
Bodysuit: Adam Selman. Turtleneck: Calvin Klein Collection. Pants: Stella McCartney.
Pants and Jacket: Stella McCartney. Bodysuit: Adam Selman. Turtleneck: Calvin Klein Collection.
"[I want to] have more scenes with Millie," she says, referring to their singular on-screen moment together in Season 2 — a scene that includes, well, basically the entire cast. It's not exactly the stuff of girl power dreams. "[Millie and I] would still hang out on set, but at the same time I want Eleven and Max to have their friendship. I don't want to be left off of that, so I'm hoping that's resolved."
It seems pretty likely that a character who calls herself Mad Max, takes on big ol' bullies like Billy, and takes it upon herself to illegally drive a car to save her friends is going to find a thing or two to bond over with a badass like Eleven. But if, for some reason, Stranger Things doesn't manage to satisfy Sink's girl power hopes and dreams, there may be another way.
"Ever since I was little, I loved photography and making movies. I would write scripts and make my own productions and stuff like that," she says. "That's always something I've been interested in, writing and directing."
While Hawkins, Indiana, has, so far, given Sink a platform to shine as a strong, complex, character on the small screen, that's far from the end of her story. From the sound of things, she's on her way to creating an even more empowering world.
Hair: Lacy Redway for Nexxus at The Wall Group
Makeup: Nina Park for Chanel at The Wall Group
Manicure: Elizabeth Garcia using Smith Cult
Bustle Team: Photographer: Ashley Batz; Senior Fashion Market Editor: Gabrielle Prescod; Fashion & Beauty Editor: Amanda Richards; Booking/Production Manager: Guillermo Perez; Art Director: Anna Sudit; Junior Art Director: Brit Phillips