Joe Keery & David Harbour From 'Stranger Things' Are Caught In A Love Triangle, Apparently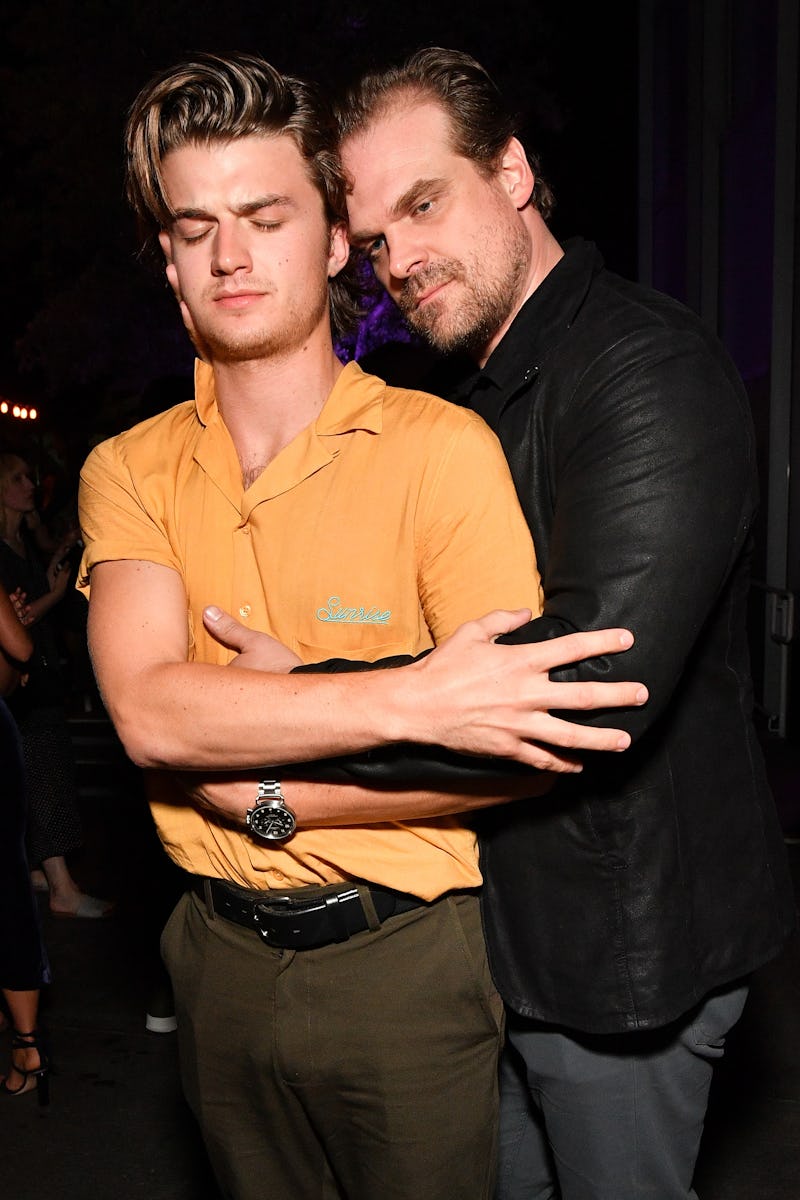 Dia Dipasupil/Getty Images Entertainment/Getty Images
Stranger Things Season 2 was incredible for a lot of reasons, but one of the most important ones is that it helped fans come to appreciate two of the show's characters even more than they did before. And now that we know David Harbor and Joe Keery were in a love triangle with a dog on the Stranger Things set, there's another reason to love these men. Forget about the days where the children of the cast took center stage; this story is just an example of how it is obviously Harbour and Keery's time to shine.
In an interview with Mashable, Harbour talked about the epic friendship he shares with his 25-year-old costar, including a fun story about a Pomeranian that belongs to one of the makeup artists who works on the show — a dog you've probably seen on their social media accounts. Apparently, the two of them have been locked in a battle of who gets to spend the most time with this dog, which makes total sense, because if you've seen the photos, you already know this is a really, really cute dog. We're talking quality canine stuff here.
Exhibit A: This selfie of Harbour with the dog, whose name he unfortunately neglected to share:
Harbour shared the story of this adorable dog when he talked about ways Steve and Hopper could share scenes in Season 3 so he and Keery could work together more. He said:
We have kind of a social media battle going — there's a Pomeranian dog on our set that is one of the makeup girls' dogs, and I fell madly in love with this dog and put a picture on Instagram, and then Joe would text me pictures of him and the dog in the makeup trailer, and I would get so jealous and mad and rageful. So I do feel like there's some kind of love triangle to be mined there with the two of us and the Pomeranian, but that might just be off set, I don't know if we would put that in the show.
First of all, that sounds exactly like something they should put on the show, even if it doesn't fit the theme they're going for. Pets don't really have the greatest fates on Stranger Things (poor Mews), but that could change. Maybe Hopper decides to get Eleven her own dog and hires Steve to walk her when they're not home. Maybe Steve and Hopper rescue the dog from a demogorgon and share custody (which would be so adorable). The possibilities are endless.
And if this dog looks familiar to you, it's because she's been a part of a pretty amazing meme involving Joe Keery and a glass of champagne. Behold:
This dog is honestly living the dream. And she looks pretty comfortable in Keery's arms — as most of us probably would be — so if she wanted to go from behind the camera to in front of it, she could probably crush some scenes with him, too.
This particular Pomeranian has also appeared on Keery's Instagram, along with Finn Wolfhard and yet another pooch, further convincing fans that the Stranger Things set must be a truly magical place.
It's going to be a long, harrowing wait for Stranger Things Season 3, but there is always the hope of more photos of this dog on set when filming picks back up again. If the writers are hurting for story ideas, they should definitely ask Harbour to dive a little deeper into his dog love triangle plot. It sounds like it could be a winner.