Katie Piper Already Has Her Eye On A Pro As She's Announced For 'Strictly' 2018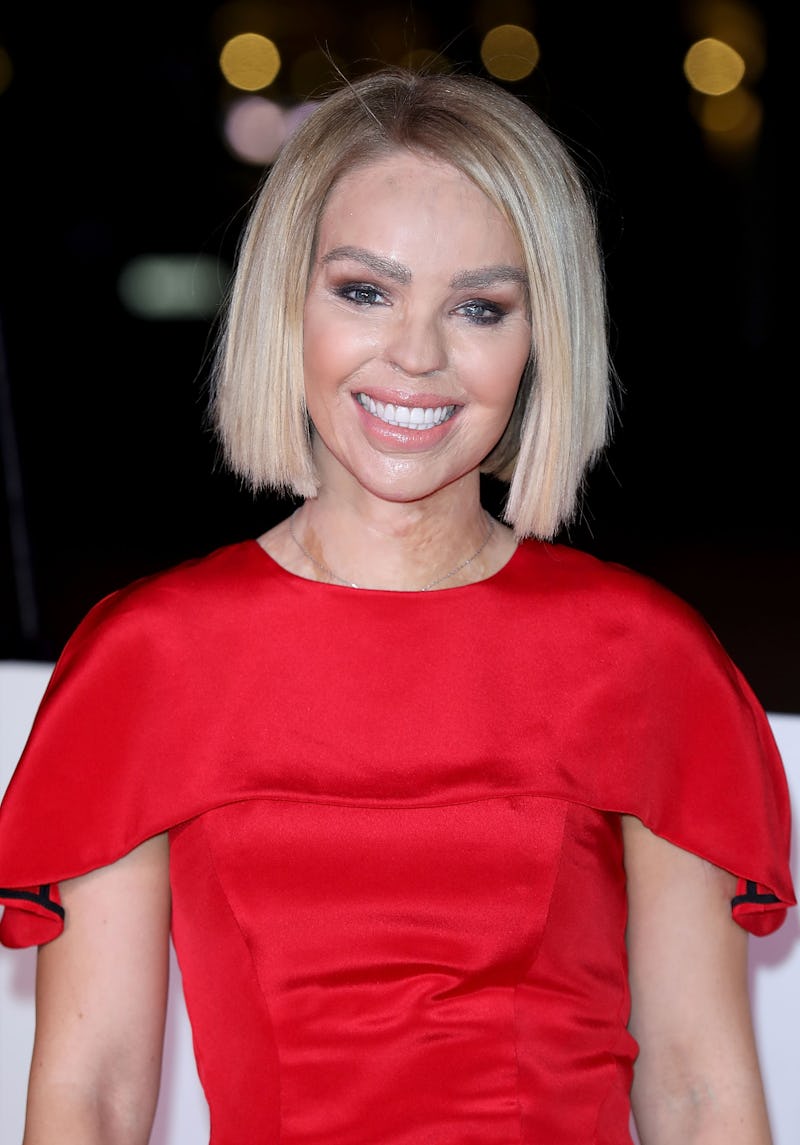 Tim P. Whitby/Getty Images Entertainment/Getty Images
Now that Love Island has finally come and gone, I've been looking for another reality TV rabbit hole to fall into. Fortunately, the BBC has stepped in to save the day because Strictly Come Dancing is returning to our screens for Series 16 in a few weeks' time, and I for one cannot wait. To get everyone hyped up for the new season (not like that's even necessary), Strictly Come Dancing confirmed Katie Piper as its first celebrity contestant on Monday, with more names set to be revealed over the course of the week.
Commenting on the news, Piper said: "I feel so privileged and excited to be part of my favourite show on TV. I already know how much of an amazing experience it will be for me and I can't wait to show my girls some of my new dance moves. I'm nervous to put on my dancing shoes but can't wait to learn a new skill and have the Strictly tan and makeover."
While there's no word on who else will be joining the super talented TV presenter, campaigner, and model just yet, during her surprise appearance on BBC Breakfast for the exclusive reveal, she did share a few more tidbits. (I half expected to see a shadowy man in a suit standing behind her, ready to pull the camera cable if she said a little too much.)
It turns out, Piper's known for "quite a while" that she would be starring on the show, which has previously seen politicians, reality TV stars, singers, and actors all come together for the glitzy competition and a gruelling crash course in ballroom dancing. While she had to keep it a secret from her work colleagues and even had to use a codename to get into the BBC offices to keep any Strictly spoilers from getting out, she did tell her husband via text message who apparently "thought [she] was joking."
Celebs are paired up with a professional dancer for the show and while even Piper knows "absolutely nothing" about who she'll be sashaying down the stage with, she has revealed who she's secretly hoping to be partnered with. She said: "I'd like to be partnered with Giovanni [Pernice] but I have no sway in that. So Giovanni, if you're watching, I'm coming for you."
Pernice has been around the Strictly block before, pairing up with the likes of Coronation Street's Georgia May Foote back when he first started on the show in 2015, and last year soared into the finals alongside his celeb partner national treasure Debbie McGee.
Although he's come close, he's never quite snagged the Strictly crown but maybe he could get lucky this lucky year - especially if Piper's wishes come true and they wind up pairing off. There's been a big shake up in the Strictly Come Dancing pro line-up however, as Brendan Cole who's been there since day one has sadly been axed. There's also been a few more additions to the fold, including Johannes Radebe, Luba Mushtuk, and Burn the Floor's Graziano Di Prima. It's a big change for the show as it means there's going to be one more pros than usual, which could mean we get an extra celeb guest too...
Piper's partner could have their work cut out for them though, as she revealed that while she loves a boogie, she's not the most musical person around. She said: "I went to a musical on Thursday with my friend Toby and he noted I wasn't even clapping in time. So in terms of rhythm, I don't know how well that's going to go...I don't have the natural rhythm, but I like the side of it being a challenge because I'm quite a competitive person. If I do have something in my life I can't do, it inspires me to want to learn it."
And Piper is certainly somebody that life hasn't been able to keep down, as her struggles in life have been covered in her award-winning documentary Katie: My Beautiful Face. The former model was violently attacked with sulphuric acid in 2008 — an assault planned by her ex-boyfriend, who had previously raped her, as reported by the Guardian. The sulphuric acid used burned her skin down to the bone, leaving her with severe scarring to her face and neck. She is also now blind in one eye.
Despite the trauma, in 2009, Piper made the brave decision to waive her anonymity and use her voice to campaign for change and spread awareness about the issue — and personally, I think Strictly is a great way for her to continue to do that.
Piper added: "I think [my appearance on Strictly] gives a wider message that actually [my past is] irrelevant, or the way I look or anything like that. To be able to go forward and be able to do these things is a bigger, wider message, and that's something I'm really proud of. From a personal point of view, it's so refreshing to be doing something so light-hearted and just so fun."
As for which other famous faces will be joining her? Unfortunately, it seems like we're all in the same boat and will have to wait until the next announcement.
"I actually don't know anything," she said. "And when there are leaks, I'm like, 'Oh, I wonder if they're in it?' When I ask, no one will confirm any speculation. So when I was being announced today, I was like 'Oh, wow, I'm the first.' Is that good, is that bad?"
Well, we'll just have to wait to find out. While Strictly's official airdate for the new series is yet to be announced, it typically takes place in September and you can bet I'll be on the edge of my seat. Goodbye weekend evenings, hello glitter ball trophy.