Dr Ranj Just Revealed He's Still Working Night Shifts While On 'Strictly' & My Heart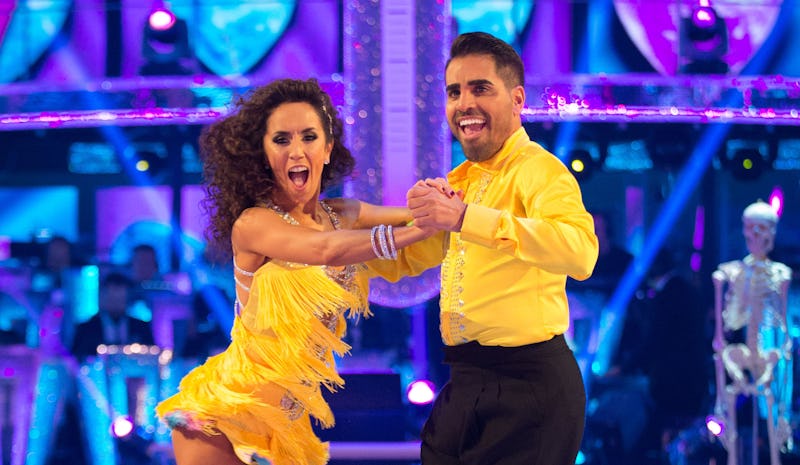 BBC/Guy Levy
It's not unusual for the Strictly Come Dancing celebrities to squeeze in dance rehearsals around their day jobs: this year Vick Hope's continuing to present the Capital FM breakfast show, for example, while Lauren Steadman performed right after winning para-triathlon gold in the ITU World Championships. But there's one multitasker who's surely establishing a show first: Strictly Come Dancing's Dr Ranj Singh, who's juggling his Strictly training with his job at a major London hospital. Wonder if he treats his patients to a preview performance or two?
Dr Ranj revealed his hectic schedule (bit of an understatement) in his column for the Radio Times, writing about his "new NHS job in a major trauma centre in London as a paediatric emergency medicine physician." Assuming he must be working part-time while Strictly's on, or cutting short his dance rehearsals with partner Janette Manrara? Nope! Dr Ranj has been going from "six hours of exhausting rehearsals straight into a 13-hour night shift at the hospital." My daily post-work nap is looking increasingly difficult to justify.
The medic, who works at St George's Hospital in the capital, is not immune to exhaustion: "There have been times when even standing up on my ward rounds has been a struggle, as my legs felt like jelly," he wrote in the Radio Times. And he's been forced to get creative when it comes to squeezing in rehearsals — "I've looked a right plonker trying to practise my steps down the corridors when nobody's looking," he admitted. Personally, I'd love a dancing doctor to liven up a dreary hospital stay — wouldn't you?
Anyone who watched Dr Ranj and Manrara's first live performance — a cha-cha-chá to Whitney Houston's "How Will I Know" — probably imagined the doctor had plenty of time to focus and prepare before taking to the stage. After all, the couple placed joint third on the leaderboard after scoring an impressive 27 points, as Metro reports. Turns out that wasn't quite the case: in fact, he delivered a baby on the morning of his live show debut, he told Claudia Winkleman. And dance partner Manrara went on to reveal, "One day he was up for 36 hours!"
Unsurprisingly, given the hours he's putting in, it hasn't been an easy ride for Dr Ranj: "It's been a tough start, and I realise it's only going to get tougher," he wrote in his Radio Times column.
But despite his draining schedule, it sounds like Dr Ranj's relishing his Strictly Come Dancing experience. Calling himself a "superfan" of the show, he confessed that he "had dreams of maybe one day getting that special call" (which he finally received in a train toilet, apparently). And he landed his perfect partner: "I was genuinely stoked to be matched with Janette Manrara," the doctor wrote.
So what's Dr Ranj Singh got lined up for Strictly fans tonight? According to the Radio Times, he'll be performing a salsa to Pitbull and John Ryan's "Fireball." Let's hope for his sake that, in between this week's rehearsals and night shifts, he managed to squeeze in a quick nap or two.