'Strictly's Stacey Dooley Is Taking On THIS Iconic Character For Halloween Week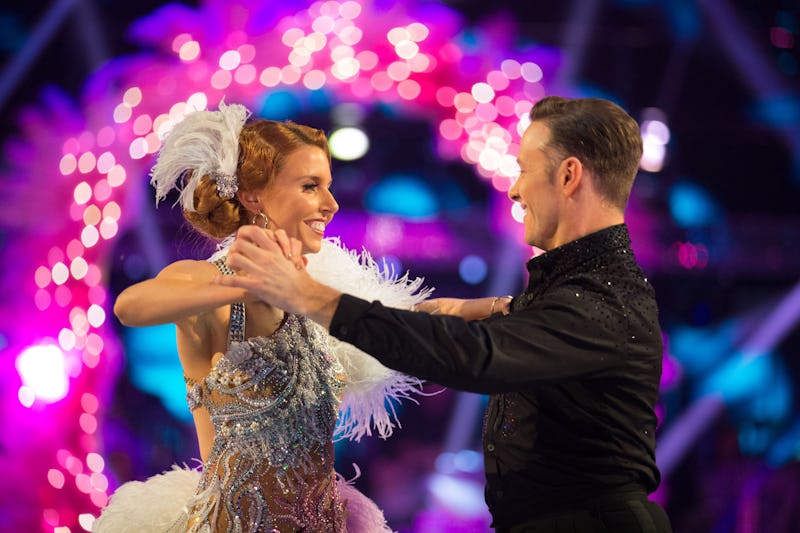 Guy Levy/BBC
Stacey Dooley and partner Kevin Clifton have already taken on one of the most iconic figures of 21st century pop culture in this series of Strictly: I'm talking, of course, about the Minions. But for Halloween week, the documentarian will embody an even more significant character. Strictly Come Dancing's Stacey Dooley will play Jodie Whittaker's Doctor in a tango to the Doctor Who theme tune, she revealed on last night's It Takes Two. Stacey and Kevin also plan to pay tribute to Whittaker's status as the first female Doctor Who lead by switching the standard roles of the dancefloor. Stacey will take the traditional male "lead" role, the couple explained, while Kevin will take the female.
"This Saturday, Zoe, I'm gonna be Doctor Who," Stacey told It Takes Two host Zoe Ball, as Digital Spy reports. "It's nice as as well because we're playing with the routine a little bit, because we're looking at the fact that she's the first female Doctor." She added, "She's fierce. She's her own independent woman. She's got it going on! We're trying to incorporate that. It's exciting."
"It's a bit of role reversal," Kevin explained. "Because [Whittaker] is the first female to play what has been a male role for so many years, we're actually playing with that within our tango. Stacey is going to be dancing the typical male role and I'll be dancing the female."
So Stacey will be playing the Doctor (complete with yellow braces, I should imagine). Which Doctor Who character could possibly accompany the Time Lord in a tango? Well, according to the pair, it's kind of a weird one: Kevin will be playing a Cyberman. I don't doubt, given the couple's track record, that the finished routine will be phenomenal; it's just ever so slightly difficult to envision the Doctor taking a whirl around the dancefloor with her second greatest metallic foe (the greatest metallic foe is, of course, the Dalek, but that would be an admittedly cumbersome costume for Kevin to dance in).
Last week, Stacey and Kevin scored a giant 33 points with their samba, putting them in joint third place on the leaderboard (they tied with Faye Tozer and Giovanni Pernice). But according to Kevin, it wasn't hard work to teach Stacey the crowd-pleasing routine. "She's an amazing student," he told Zoe Ball. "She's such fun in the training room and so enthusiastic all the time."
And things got even sweeter as Kevin turned to address Stacey directly. "I really couldn't ask for a better partner," he told her. "You're brilliant. I just love working with you. This is not work for me, this is fun." With that, the hearts of the viewing public collectively melted — as, it seems, did Stacey's. "Oh, Kev!" she said.
Three days left, then, until the Doctor takes to the dancefloor with a Cyberman, and Doctor Who canon gets extremely confusing. And as somebody who listens to the Doctor Who theme tune approximately three times a week, I'm pretty darn excited.