Subway Just Launched CHEESY GARLIC BREAD You Can Put On Any Sandwich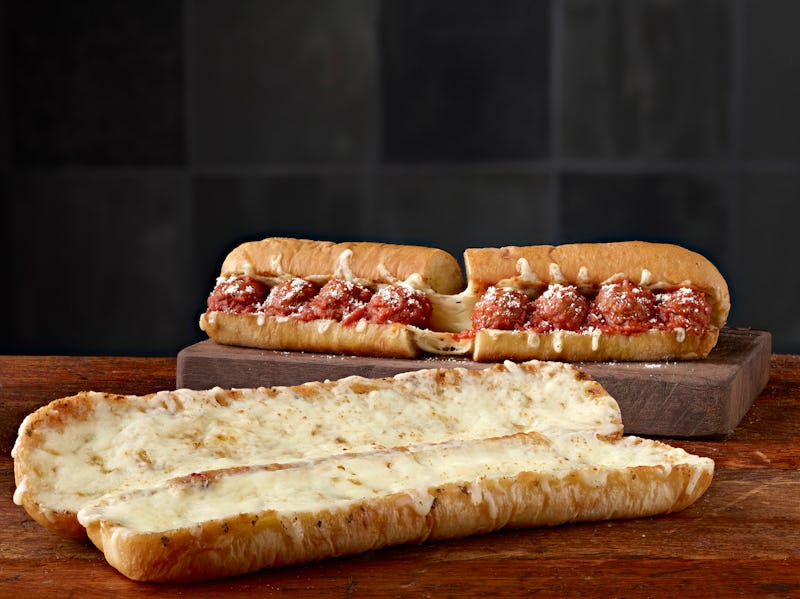 Subway
Subway has been making headlines a lot as of late. The sandwich chain announced earlier this year its decision to cease sales of its legendary $5 Footlong. On the other hand, Subway also gave away free sandwiches on Valentine's Day. But it would seem Subway has been saving its best trick for last, this year. Starting today, you can get any Subway sandwich on its Ultimate Cheesy Garlic Bread.
The Ultimate Cheesy Garlic Bread transforms a side dish staple into a vehicle for meat, cheese, or whatever your little sandwich-loving heart desires. In a press release to Bustle, Subway describes the new menu addition as featuring a, "...garlic butter spread made with real butter and roasted garlic, melted parmesan and shredded mozzarella cheese that create gooey, bubbling perfection." It is reminiscent of a garlic knot, but with the addition of cheese and maximum sliceability for sandwich stacking.
To celebrate the new bread, Subway is offering to of its best-loved subs reinvented, served on Ultimate Cheesy Garlic Bread.
Starting Dec. 5, you can get The Ultimate Meatball Marinara Sandwich. Meatballs are drenched in irresistible marinara sauce and stacked high on a warm roll of New Ultimate Cheesy Garlic Bread to created this upgraded classic. The Ultimate Spicy Italian comes packed with the perfect combination of pepperoni and Genoa salami tucked tightly in a roll of the gooey New Ultimate Cheesy Garlic Bread. The layers of flavor in this sandwich essential are guaranteed to give you an entirely new Subway-eating experience.
Len Van Popering, vice president of global brand & innovation at Subway, said in a press release, "When people first hear about the New Ultimate Cheesy Garlic Bread, they usually tell us we had them at hello... Pairing two of our most iconic sandwiches with arguably the most delicious cheesy garlic bread ever served delivers a flavor experience unlike anything in the market today."
Earlier this year, Subway rolled out the new signature wrap collection, proving their versatility as sandwich crafters. The collection includes three signature wraps: the Chipotle Southwest Steak & Cheese, the Turkey, Bacon & Guacamole, and Savory Rotisserie-Style Chicken Caesar. Per a press release, the first features sliced steak, Monterey cheddar cheese, lettuce, tomato, green pepper, and onion. It is topped with jalapeños, guacamole, and a spicy signature southwest sauce. The second is pretty much a club sandwich in wrap form. In addition to turkey and bacon, tomatoes, onion, lettuce, guacamole, and ranch are wrapped in a tomato basil tortilla. Finally, the Savory rotisserie-Style Chicken Caesar is your favorite salad, but better. Rotisserie chicken, Monterey cheddar, lettuce, tomatoes, parmesan, and Caesar dressing are folded into a spinach tortilla. If none of these are quite your speed, you can also make your own wrap in the same way you would make your own sub. Personalization is key.
At publishing, the Signature Wrap Collection is still available at Subway locations nationwide. But, don't wait too long before your next visit; The New Ultimate Cheesy Garlic Bread will only be available through Feb. 27.